The Socialist 18 September 2019
Ditch the Tories - and austerity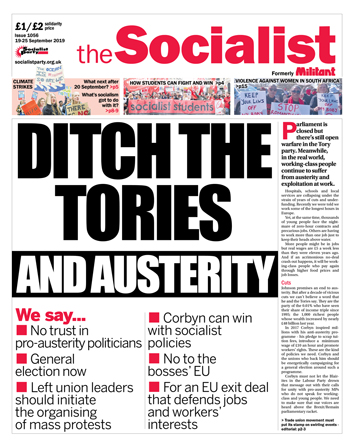 ---
Ditch the Tories - and austerity
Trade union movement must put its stamp on swirling events
---
Climate protests: which way forward after 20 September?
Climate change: what's socialism got to do with it?
---
How students can fight and win
---
Northern Ireland: Campaign mounts over historic sexual abuse allegations cover-up
---
PCS general secretary candidate: unions must mobilise to drive out Boris
Strike back to stop bullying Royal Mail bosses
Lincolnshire health visitors strike boost
DVSA strike - employer asks for talks
Nottingham College UCU - more strike action planned
PCS members at BEIS maintain just fightback
Ilford: strike forces school management to back down
---
Violence against women in South Africa
---
South Yorkshire defeats fire cuts
Donate to help us move our press by October
March planned to save Bewdley Fire Station
London: packed public meeting discusses political crisis
---
Peterloo - fighting for democracy and a better life
PO Box 1398, Enfield EN1 9GT
020 8988 8777

Link to this page: https://www.socialistparty.org.uk/issue/1056/29577
Home | The Socialist 18 September 2019 | Join the Socialist Party
Subscribe | Donate | Audio | PDF | ebook
Help us move our press by October: pay in your building appeal pledge!
Ken Douglas, Socialist Party national treasurer
Regular readers of the Socialist will know that the Socialist Party launched a building appeal in 2018, following our eviction from the premises we had occupied for nearly 20 years.
We set an initial target of £150,000 and the response has surpassed all our expectations. The appeal has now reached an incredible £201,501 of paid donations: 134%.
This has only been achieved through the tremendous sacrifices made by members and supporters of the Socialist Party throughout England and Wales. They have donated up to a week's income, or more, over the course of the appeal - because they recognise the importance of maintaining our national centre in London.
Together with a mortgage, it has enabled us to buy the new premises we recently moved to. We have just held our first national committee meeting here as well, saving on the costs of hiring an expensive venue.
We will shortly also be moving our printshop, where we print our monthly journal Socialism Today along with all our leaflets, placards, posters and pamphlets. This will be the first time for 20 years that we have been able to accommodate the printshop in the same place as our headquarters.
We are appealing to all our readers and supporters to help with the costs of this move. It will cost up to £4,000 to move our press alone - plus all the other equipment, including the finisher, guillotine and strapper that we use for producing and distributing all our material.
We have to complete the move by the end of October. If you have already promised a donation - and there is still £26,000 in outstanding pledges - can you pay some or all of it in the next two months?
Our new premises will be a great asset for the Socialist Party as we head into a tumultuous political period, campaigning for a socialist Brexit, for a Corbyn-led Labour government with socialist policies, and building support for socialist ideas. We thank all our members, and readers of the Socialist, who have helped to achieve this.
---
In this issue
---
What we think

Ditch the Tories - and austerity

Trade union movement must put its stamp on swirling events
---
Climate change

Climate protests: which way forward after 20 September?

Climate change: what's socialism got to do with it?
---
Socialist Students

How students can fight and win
---
Socialist Party feature

Northern Ireland: Campaign mounts over historic sexual abuse allegations cover-up
---
Socialist Party workplace news

PCS general secretary candidate: unions must mobilise to drive out Boris

Strike back to stop bullying Royal Mail bosses

Lincolnshire health visitors strike boost

DVSA strike - employer asks for talks

Nottingham College UCU - more strike action planned

PCS members at BEIS maintain just fightback

Ilford: strike forces school management to back down
---
International socialist news and analysis

Violence against women in South Africa
---
Socialist Party reports and campaigns

South Yorkshire defeats fire cuts

Donate to help us move our press by October

March planned to save Bewdley Fire Station

London: packed public meeting discusses political crisis

Selling the Socialist
---
Opinion

Peterloo - fighting for democracy and a better life

The Socialist inbox
---
Home | The Socialist 18 September 2019 | Join the Socialist Party