The Socialist 2 October 2019
Battered Boris must go… and all the Tories with him!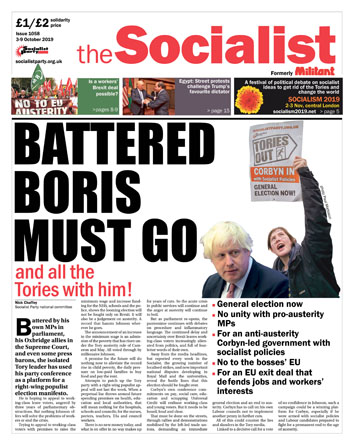 ---
Capitalist elite split - fight for a government in the interests of the working class
40 years on: Mandatory reselection more vital for Labour than ever
---
Is a workers' Brexit deal possible?
---
Freshers fairs 2019: Students impatient for change and determined to fight
---
Battered Boris must go... and all the Tories with him!
Nationalisation only way to safeguard jobs and skills at Wrightbus
Labour's mass social housing pledge
---
Royal Mail dispute: Workers determined to fight bosses' injustices
PCS general secretary election - Support Marion Lloyd
Bromley libraries strikers proved right
Hull: Construction workers' walkout forces employer to back down
Crown Paints dispute - union senior steward speaks out
End low pay - support Salford Royal security workers' action
---
Catalonia independence movement two years on
Egypt: Street protests challenge Trump's favourite dictator
---
Socialism 2019: An unmissable event
Now is the moment to join the Socialist Party
---
Active and strong member of Socialist Party reaches 80
PO Box 1398, Enfield EN1 9GT
020 8988 8777

Link to this page: https://www.socialistparty.org.uk/issue/1058/29652
Home | The Socialist 2 October 2019 | Join the Socialist Party
Subscribe | Donate | Audio | PDF | ebook
The Socialist inbox
Do you have something to say?
Send your news, views and criticism in not more than 150 words to Socialist Postbox, PO Box 24697, London E11 1YD, phone 020 8988 8771 or email [email protected]
We reserve the right to shorten and edit letters. Don't forget to give your name, address and phone number. Confidentiality will be respected if requested.
Views of letter writers do not necessarily match those of the Socialist Party.
---
Menopause policies
One of the last taboo issues for women, the menopause, is now getting the attention it deserves.
In 2014, I, along with other trade union caseworkers in the National Education Union, had identified that older women were being targeted by managers for capability issues. Nicky Downes and myself, both Socialist Party members, wrote a motion for our conference leading to policy and advice documents which were taken up by other trade unions and the Trade Union Congress on the menopause.
At the Labour Party conference recently, I was pleased to see Dawn Butler, Labour's shadow equalities minister, announced that companies with more than 250 employees are to be required to train managers on the effects of the menopause so they can accommodate the needs of employees.
As well as this, they would need to look at their sickness absence policies to ensure women were not discriminated against. Thousands of women suffering from the impact of the menopause could therefore be protected from discrimination.
However, the limit on 250 employees would mean that many women would not be protected and that cannot be fair.
All women need protection and better working conditions with proper ventilation and access to regular breaks. We need much more research into the menopause and how it impacts on women.
Access to earlier retirement, shorter working weeks and flexible working, without a loss in income, would also help all workers, but especially women.
The taboo is broken, now we have to fight for our rights.
Jane Nellist, Coventry
---
Rebel Music
Rebel Music is a coming of age story set in Birmingham during the late 1970s. Through teenagers Denise and Trudi, the play follows the emergence of punk and two tone against a backdrop of rising unemployment and far-right violence.
While Denise, whose dad is from Jamaica, becomes an activist in the Rock Against Racism movement, the brother of second generation Irish Trudi is drawn towards the fascist National Front after being made redundant from the BL car plant at Longbridge.
Though not a detailed political history, Robin French's script captures the mood and the music of the time with relatable and sharp-witted working-class characters skilfully brought to life by the cast of three, with classic punk and reggae songs re-worded to tell the story. An entertaining and energising evening, whether you're old enough to remember the events shown or not.
Nick Hart, Wolverhampton
At Birmingham Rep until 5 October, then on tour around Birmingham and the Black Country throughout October
---
Chirac the crook
When recently deceased Jacques Chirac stood against Jean-Marie Le Pen in the presidential election of 2002, the slogan which sticks in my mind was 'vote for the crook not the Nazi'. The BBC showed voters who ritually disinfected themselves after voting for Chirac. Hardly a ringing endorsement.
The slogan was in fact prescient because in 2011 he became the first former president to be convicted of corruption following embezzlement charges in a party funding scandal when he was mayor of Paris. The courts were exceptionally lenient, letting him off with a token suspended sentence. This contrasts with the detention of the 'sans papiers' (undocumented immigrants) who faced time in jail when they had not committed a crime.
France is no stranger to corrupt politicians but Chirac managed to stand out as a hideous example.
Derek McMillan, Worthing, West Sussex
---
Where will votes go?
The establishment and their pseudoexperts pontificate about whether the Leave vote will go to the Tory party or Brexit Party.
Are these people ignorant, or is it pure propaganda? I'd remind that a percentage of both Leave and Remain voters also voted for Corbyn in 2017.
They also completely ignore the youth vote. A substantial amount of that vote will go to Corbyn if he pursues the left wing programme of 2017: scrapping zero-hour contracts, tuition fees, a £10 an hour minimum wage, and building 500,000 affordable public homes. With regards to the narrative 'are you Leave or Remain', the answer should be unequivocal - we are an anti-austerity party.
Don't let Johnson fight the election on the Brexit debacle. Fight it on socialist policies. They try to bury their rotten policies behind the Brexit debate. The beneficiaries of some Tory Remain voters will be the Lib Dems. Equally some Leavers will vote for the Brexit Party.
Either way the Tories could lose seats. The situation is very fluid with votes cast all over the place. All the more reason for Corbyn to stand by his left-wing message.
Bill Buchanan, Nottingham
---
In this issue
---
What we think

Capitalist elite split - fight for a government in the interests of the working class

40 years on: Mandatory reselection more vital for Labour than ever
---
Brexit

Is a workers' Brexit deal possible?
---
Fresher's fairs

Freshers fairs 2019: Students impatient for change and determined to fight
---
News

Battered Boris must go... and all the Tories with him!

Nationalisation only way to safeguard jobs and skills at Wrightbus

Labour's mass social housing pledge

Them&Us
---
Workplace news

Royal Mail dispute: Workers determined to fight bosses' injustices

PCS general secretary election - Support Marion Lloyd

Bromley libraries strikers proved right

Hull: Construction workers' walkout forces employer to back down

Crown Paints dispute - union senior steward speaks out

End low pay - support Salford Royal security workers' action

Karro Foods victory Hull
---
International socialist news and analysis

Catalonia independence movement two years on

Egypt: Street protests challenge Trump's favourite dictator
---
Socialist Party reports and campaigns

Socialism 2019: An unmissable event

Now is the moment to join the Socialist Party

Financing socialist struggle
---
Reader's opinion

The Socialist inbox

Active and strong member of Socialist Party reaches 80
---
Home | The Socialist 2 October 2019 | Join the Socialist Party