The Socialist 5 February 2020
6.5 million working poor: Fight to end low pay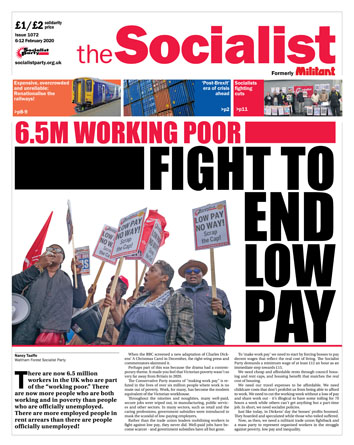 ---
6.5 million working poor: Fight to end low pay
Labour leadership contest and public ownership
Coronavirus exposes capitalism's weaknesses in healthcare and economy
Record dissatisfaction with democracy: capitalism's dead end
Refuges turn away 64% of women - set no-cuts budgets now!
Grenfell watch: Unions challenge 'mockery of justice'
---
Nationalise the railways: For an integrated public transport system
Expensive, overcrowded and unreliable: Renationalise the railways!
Cancel the franchise, not our trains
Will the North get investment and transport infrastructure?
---
'Post-Brexit' era of crisis ahead
---
Huge victory for Bromley library workers after 241 days on indefinite strike!
14 more days of university strikes over pensions, pay and conditions
500 BBC journalists' jobs under threat
Newham council tax workers' pay victory
No to academisation of east London schools!
Ealing tax office workers strike against closure
---
Outrageous waiting times will put lives at risk
NHS: Save stroke beds in Coventry and Warwickshire
---
Syria: Assad regime consolidates power after brutal counterrevolution
Israel/Palestine: Trump 'peace plan' promises further conflict
---
Socialist Party calls anti-austerity protest on Budget Day
Sadiq Khan "out-Tories" himself to defend tech firms' tax bonanza
Reading Labour council: Stop privatising our leisure services
The rich fund the Tories and Blairites, so help fund the working-class fightback
Support the working-class press in 2020
Defend and fight for warm, safe housing for Samira and everyone
Alternative Burns Night success
---
Liverpool council: "No more cuts" - Is Joe Anderson serious?
PO Box 1398, Enfield EN1 9GT
020 8988 8777