The Socialist 1 July 2020
Tories put profit before lives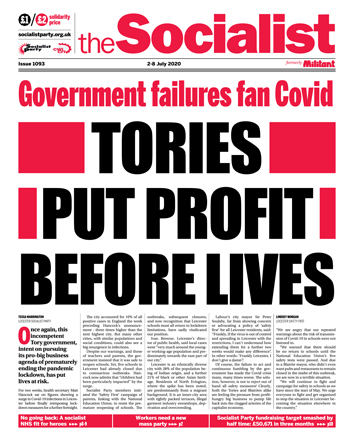 ---
A socialist NHS fit for heroes
---
PCS: Change in leadership needed to secure union's future
Sunday trading: Government blinks first
Trade unionists stand in solidarity with Maxine Peake
Equity union president elections
---
Workers need a new mass party to defend their interests
---
Tories put profit before lives
Tory full return to school plans gamble with lives
Yes to self-identity: Fight for trans rights
Benefits system being used to force return to unsafe workplaces
Leeds City Council in danger of bankruptcy
Capitalism and corruption go hand in hand
---
I left Labour and want to end capitalism - join us in Socialist Party
Cardiff community fights nursery closure: Council must step in
Fighting Fund: Target smashed by half time
Black Lives Matter has not stopped - protesters flock to Socialists
Red flags line road for Ken Douglas
---
75th anniversary of the Attlee Labour government
---
From slavery to Black Lives Matter - racism and capitalist injustice exposed
PO Box 1398, Enfield EN1 9GT
020 8988 8777

Link to this page: https://www.socialistparty.org.uk/issue/1093/31011
Home | The Socialist 1 July 2020 | Join the Socialist Party
Subscribe | Donate | Audio | PDF | ebook
I left Labour and want to end capitalism - join us in Socialist Party
Thea Everett, South East London Socialist Party
I feel fortunate to have been raised by socialist parents. In my house in the 1990s and 2000s, Blair was as dirty a name as Thatcher.
Mistrust of Labour and the Tories was instilled in me. I knew they did not represent the interests of 99% of people.
Growing up in Lewisham, south London, I watched good schools become academies, local services get cut to the bone by Labour councils and, over the last ten years, the rapid gentrification of the area I call home.
Until 2015, when Jeremy Corbyn was elected leader of the Labour Party, I had lived my entire life with no mainstream political party representing my views. Corbyn becoming leader jerked me into action.
It filled me, and tens of thousands of other young people, with excitement and optimism. I joined the party I thought I never would, and canvassed for Labour in the 2017 and 2019 general elections.
Knocking doors in Eltham, Putney and Stevenage, it was obvious what we were up against. The establishment media had presented Corbyn so abominably.
My dad is Jewish. I was further disgusted by the right wing of Labour demeaning antisemitism by using it as a political tool to tarnish Corbyn, and by the media giving this so much more airtime than policy.
I've been aware of the Socialist Party for as long as I can remember. My Dad is a member of 37 years.
I would read articles in the Socialist around the house, and attended the November Socialism conferences a handful of times. Everything I heard I agreed with.
After the hurt of the 2019 election result, I knew that the Labour Party was not, and never could be, a route to ending capitalism. I decided to turn my attention to the Socialist Party, which had predicted that Corbyn's failure to purge the right wing of the party would be his downfall.
Since joining two months ago, I have learnt more and been more politically involved than I ever was in Labour. Until joining, I had no idea how active our members are in the unions, and what a difference we make in the movement.
The recent sacking of Rebecca Long-Bailey is for some the final straw. The need for a new workers' party is now brutally apparent. If you too have left Labour and want to end capitalism, please consider joining us in the Socialist Party.
If you felt electrified by Corbyn's politics, I can tell you being surrounded by a whole party of people fighting for a society run for the needs of all is truly invigorating. You will feel at home.
---
In this issue
---
No going back

A socialist NHS fit for heroes
---
Workplace news

PCS: Change in leadership needed to secure union's future

Come to the NSSN conference

Sunday trading: Government blinks first

Trade unionists stand in solidarity with Maxine Peake

Equity union president elections

Tower Hamlets council strike

MoJ cleaners' covid outbreak
---
What we think

Workers need a new mass party to defend their interests
---
News

Tories put profit before lives

Boris's new big deal

Tory full return to school plans gamble with lives

Yes to self-identity: Fight for trans rights

Benefits system being used to force return to unsafe workplaces

Leeds City Council in danger of bankruptcy

Capitalism and corruption go hand in hand

Plastic waste ignored

News in brief
---
Campaigns

I left Labour and want to end capitalism - join us in Socialist Party

Cardiff community fights nursery closure: Council must step in

Fighting Fund: Target smashed by half time

Black Lives Matter has not stopped - protesters flock to Socialists

Selling the Socialist

Red flags line road for Ken Douglas
---
Lessons from history

75th anniversary of the Attlee Labour government
---
Readers' opinion

From slavery to Black Lives Matter - racism and capitalist injustice exposed

Readers' opinion
---
Home | The Socialist 1 July 2020 | Join the Socialist Party