The Socialist 1 July 2020
Tories put profit before lives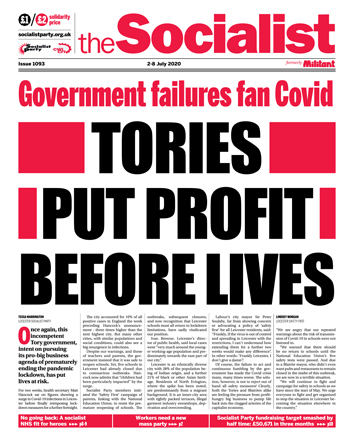 ---
A socialist NHS fit for heroes
---
PCS: Change in leadership needed to secure union's future
Sunday trading: Government blinks first
Trade unionists stand in solidarity with Maxine Peake
Equity union president elections
---
Workers need a new mass party to defend their interests
---
Tories put profit before lives
Tory full return to school plans gamble with lives
Yes to self-identity: Fight for trans rights
Benefits system being used to force return to unsafe workplaces
Leeds City Council in danger of bankruptcy
Capitalism and corruption go hand in hand
---
I left Labour and want to end capitalism - join us in Socialist Party
Cardiff community fights nursery closure: Council must step in
Fighting Fund: Target smashed by half time
Black Lives Matter has not stopped - protesters flock to Socialists
Red flags line road for Ken Douglas
---
75th anniversary of the Attlee Labour government
---
From slavery to Black Lives Matter - racism and capitalist injustice exposed
PO Box 1398, Enfield EN1 9GT
020 8988 8777

Link to this page: https://www.socialistparty.org.uk/issue/1093/31012
Home | The Socialist 1 July 2020 | Join the Socialist Party
Subscribe | Donate | Audio | PDF | ebook
Red flags line road for Ken Douglas
On the day of his funeral, Socialist Party members, neighbours and family lined the street of Socialist Party executive committee member Ken Douglas, who sadly died age 58.
Always campaigning, Ken's family secured free parking from the council on the day so more people could come.
Many wore red dresses, red ties, red masks, or carried red flags. We sang socialist songs together before a moving funeral Zoomed online.
You can read Ken's obituary 'Ken Douglas - a tireless and determined fighter for socialism' on the Socialist Party website.
Ken was our national treasurer and Socialist Party members have donated thousands of pounds for his memorial fund. This will be used to buy or do something that furthers the work of the Socialist Party in Ken's memory.
---
In this issue
---
No going back

A socialist NHS fit for heroes
---
Workplace news

PCS: Change in leadership needed to secure union's future

Come to the NSSN conference

Sunday trading: Government blinks first

Trade unionists stand in solidarity with Maxine Peake

Equity union president elections

Tower Hamlets council strike

MoJ cleaners' covid outbreak
---
What we think

Workers need a new mass party to defend their interests
---
News

Tories put profit before lives

Boris's new big deal

Tory full return to school plans gamble with lives

Yes to self-identity: Fight for trans rights

Benefits system being used to force return to unsafe workplaces

Leeds City Council in danger of bankruptcy

Capitalism and corruption go hand in hand

Plastic waste ignored

News in brief
---
Campaigns

I left Labour and want to end capitalism - join us in Socialist Party

Cardiff community fights nursery closure: Council must step in

Fighting Fund: Target smashed by half time

Black Lives Matter has not stopped - protesters flock to Socialists

Selling the Socialist

Red flags line road for Ken Douglas
---
Lessons from history

75th anniversary of the Attlee Labour government
---
Readers' opinion

From slavery to Black Lives Matter - racism and capitalist injustice exposed

Readers' opinion
---
Home | The Socialist 1 July 2020 | Join the Socialist Party