The Socialist 11 November 2020
Capitalists vs working class - not in it together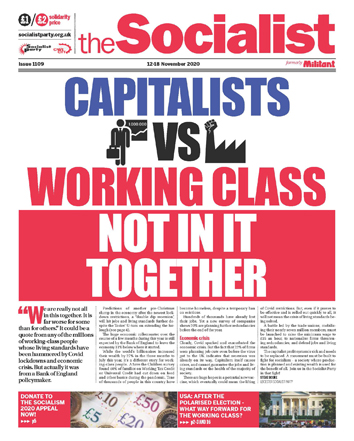 ---
Capitalists vs working class - not in it together
Tory U-turn: Free school meals
Tory U-turn: Furlough extended - not enough to save jobs
Covid and poverty rising - Welsh lockdown ends with little progress
Covid law used against striking workers - for workers' control of safety measures
Schools need union action for safety
---
After the polarised elections - what way forward?
Trump out! But mass workers' struggle needed
Trump is out - our readers react
---
Spycops inquiry : why the capitalist state feared and continues to fear socialism
---
Rolls-Royce: Lancashire workers' strike shows the way to fight aerospace cuts and job losses
RMT union AGM votes to defend union democracy
Sainsbury's and Argos: Closures, cuts and soaring sales
Fight the witch-hunt of Corbyn and his supporters
---
Donate to the Socialism 2020 appeal now!
Solidarity with Manchester students - fight for democratic control of campus safety
Southampton trade unionists demand: "We won't pay for Covid"
Labour movement conference to defend Corbyn and discuss new party
The struggle for a new mass workers' party
---
Trotsky's ideas live on in the CWI
Readers of the Socialist react to effects of lockdown
PO Box 1398, Enfield EN1 9GT
020 8988 8777