The Socialist 20 January 2021
Make the super-rich pay, not the poorest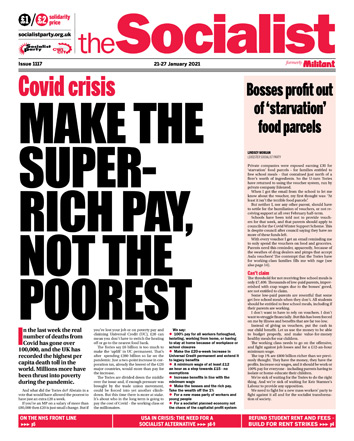 ---
Make the super-rich pay, not the poorest
Bosses profit out of 'starvation' food parcels
Teachers: On the front line, in their own words
Peace and Justice Project - no way forward for socialism
Millionaire tendency regains control of Scottish Labour
---
The Tory blame game: scapegoating the working class - 100% pay for all now
Covid: Bosses chase profit and put workers in danger
Vaccine confidence - a worker's response
Life in lockdown - being home from school when you're poor is hard
---
---
Police use Covid laws to intimidate BLM protesters
New Cross Gate fire 40 years ago
---
USA in crisis - the need for a socialist alternative
Trump Twitter ban: only independent workers' voice can defeat right
---
PCS Broad Left Network conference
Rolls-Royce Barnoldswick factory future secured following strike action
Morrisons - £10/hr headline hides divisive pay offer
A day in the life of an agency worker
---
Plymouth rent strike continues
Scrap fees, refund rents and pay a living grant
---
London's May elections: Tories and Labour's Khan both vying to slash public services
Socialist Party national women's meeting
Why I joined the Socialist Party
Christmas Crossword Competition
---
Books that inspired me: The Road to Wigan Pier
---
PO Box 1398, Enfield EN1 9GT
020 8988 8777

Link to this page: https://www.socialistparty.org.uk/issue/1117/31889
Home | The Socialist 20 January 2021 | Join the Socialist Party
Subscribe | Donate | Audio | PDF | ebook
New Cross Gate fire 40 years ago
Forty years ago, on 18 January, a fire started deliberately by suspected racists swept through a house where a 16th birthday party was being celebrated by young black people in New Cross Gate, south east London. 13 died and many were injured. But instead of pursuing the assailants, the police and establishment media blamed the fire on some teenagers attending the party. This was despite a series of earlier racist petrol bomb attacks in the area.
The outrage among the black community led to a large weekday protest demonstration on 2 March 1981 from New Cross to central London in which Militant (forerunner of the Socialist) supporters participated, and which shook the Thatcher Tory government.
An article on this historic march will appear in a future issue of the Socialist.
---
In this issue
---
News

Make the super-rich pay, not the poorest

Bosses profit out of 'starvation' food parcels

Teachers: On the front line, in their own words

Peace and Justice Project - no way forward for socialism

Millionaire tendency regains control of Scottish Labour

News in Brief
---
Covid-19

The Tory blame game: scapegoating the working class - 100% pay for all now

Covid: Bosses chase profit and put workers in danger

Vaccine confidence - a worker's response

Life in lockdown - being home from school when you're poor is hard
---
NHS

On the NHS front line
---
Black Lives Matter

Justice for Mohamud Hassan!

Police use Covid laws to intimidate BLM protesters

New Cross Gate fire 40 years ago
---
International News

USA in crisis - the need for a socialist alternative

Trump Twitter ban: only independent workers' voice can defeat right
---
Workplace

PCS Broad Left Network conference

Rolls-Royce Barnoldswick factory future secured following strike action

Morrisons - £10/hr headline hides divisive pay offer

A day in the life of an agency worker

British Gas strike continues
---
Students

Refund student rent and fees

Plymouth rent strike continues

Scrap fees, refund rents and pay a living grant
---
Campaigns

London's May elections: Tories and Labour's Khan both vying to slash public services

Socialist Party national women's meeting

Why I joined the Socialist Party

Christmas Crossword Competition
---
Readers' Opinion

Books that inspired me: The Road to Wigan Pier
---
Obituary

Obituary - Jeff Edwards
---
Home | The Socialist 20 January 2021 | Join the Socialist Party