The Socialist 24 March 2021
NHS crisis, mass sackings, violence against women... Protesting is not a crime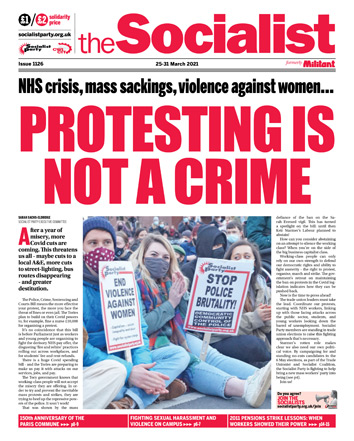 ---
Defying the anti-protest restrictions
Police attempt to silence mothers
---
Haringey: Hands off our GP practices
---
Battle for a fighting, anti-austerity Liverpool mayor
Help fund the Socialist Party's stand as part of TUSC
---
Fighting sexual harassment and gender violence on campus
---
150th anniversary of the Paris Commune
---
Lessons of the 2011 pensions strike: when workers showed their power
---
PCS elections: increased support for Broad Left Network
Engineering workers strike against 'fire and rehire' in Leicester
'Sleep-ins' ruling must lead to a huge campaign for social care workers' rights
Shrewsbury Pickets win: Convictions overturned
Sparks continue protests against deskilling
Beal High school strike as management refuse to negotiate over fair sick pay scheme
Preparing to organise workers in Enfield
Support victimised bus driver reps and Socialist Party members Declan and Moe
Goodlord workers continue all-out strike
---
Save John Carroll - fight is far from over!
Stop evictions and drop the debts
Online meeting - Ending violence against women, the socialist approach
Socialist Party regional conferences meet online
---
PO Box 1398, Enfield EN1 9GT
020 8988 8777

Link to this page: https://www.socialistparty.org.uk/issue/1126/32230
Home | The Socialist 24 March 2021 | Join the Socialist Party
Subscribe | Donate | Audio | PDF | ebook
Haringey: Hands off our GP practices
Nasso Christou, Haringey TUSC
Socialist Party and Trade Unionist and Socialist Coalition (TUSC) supporters joined Keep Our NHS Public, and other local campaigners, including Unite the Union and the local trades union council, for a flash picket event outside the Laurels GP practice in Haringey, north London on 19 March.
Centene Corporation, an American health insurance giant, has acquired the Laurels through its UK subsidiary - Operose Health Ltd. This corporation has so far acquired 49 GP practices in 19 London boroughs covering over 370,000 patients, and 21 further GP practices across the country.
It is now the biggest GP group in the UK. Even the Daily Mail called Centene a 'profit-greedy American health giant'.
Privatisation has to be exposed and challenged. Friday's action alerted the local community and users of the Laurels. Many were completely unaware that their GP surgery had been sold to a US corporation, and were understandably shocked.
Although in theory these companies have to maintain GP services, they are known to cut jobs and employ lower-paid staff to increase their profits. They have closed GP surgeries, if they are judged to be unprofitable, leaving patients stranded and having to travel long distances.
Their main interest though is to control this key NHS service, with a view to greater profits if private healthcare is expanded, presenting opportunities to make money by harvesting patient data.
This Tory government is rewarding NHS staff with a pay cut for their heroic service during the pandemic. Despite the Tories toe-curling, constant references to 'our NHS', they are selling off as much of it as they can on the quiet.
---
In this issue
---
Protest

Protesting is not a crime

Defying the anti-protest restrictions

Police attempt to silence mothers

Police invade student homes
---
NHS

NHS pay: 15% now

Fighting NHS privatisation

Haringey: Hands off our GP practices
---
Elections

Battle for a fighting, anti-austerity Liverpool mayor

Why I am standing for TUSC

Help fund the Socialist Party's stand as part of TUSC
---
Fighting Sexual Harassment

Fighting sexual harassment and gender violence on campus

Justice for Blessing Olusegun

Film Review: Moxie
---
Paris Commune 150 Years

150th anniversary of the Paris Commune
---
2011 Pensions Strike

Lessons of the 2011 pensions strike: when workers showed their power
---
Workplace News

PCS elections: increased support for Broad Left Network

Engineering workers strike against 'fire and rehire' in Leicester

'Sleep-ins' ruling must lead to a huge campaign for social care workers' rights

Shrewsbury Pickets win: Convictions overturned

Sparks continue protests against deskilling

Beal High school strike as management refuse to negotiate over fair sick pay scheme

Preparing to organise workers in Enfield

Support victimised bus driver reps and Socialist Party members Declan and Moe

Goodlord workers continue all-out strike
---
Campaigns

Save John Carroll - fight is far from over!

Stop evictions and drop the debts

Online meeting - Ending violence against women, the socialist approach

Socialist Party regional conferences meet online
---
Readers' Opinion

The Socialist Inbox
---
Home | The Socialist 24 March 2021 | Join the Socialist Party