The Socialist 21 April 2021
Build a socialist alternative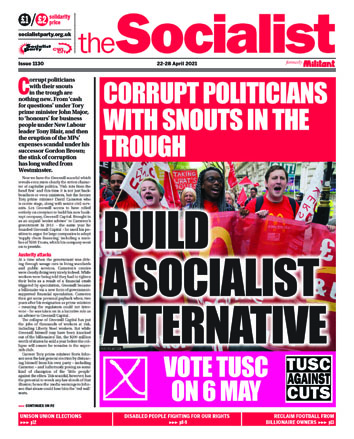 ---
Capitalism discriminates against us - Disabled people fighting for our rights
---
Football: no trust in billionaire owners - kick them out and reclaim the game
---
Left candidate, Pedro Castillo - surprise of Peruvian elections
USA: cop killings and the anti-racist movement
Superpowers' tensions continue to ratchet up
---
Don't trust the Labour right's empty promises
Keep Liverpool council's One Stop Shops open
Liverpool hustings - only TUSC has a strategy to take on the Tories
Essex: Why I'm standing for TUSC
Socialist Party northern region meeting
With public campaigning back in full swing - now is the time to raise fighting fund
---
Socialist Party members - part of a left challenge for Unison's leadership
Fight back against British Gas bosses' 'fire and rehire' offensive
Retail workers desperately need a fighting and democratic union
CWU BT ballot - time for action now!
Thurrock bin workers solid in strike against pay cuts
Bus workers protest Go-Ahead's 'fire and rehire'
Ballots to defend reps on Woolwich Ferry
PCS leadership ballot underway
---
Long Covid: Fight for jobs, benefits and services
Climate change - Johnson spouts 'greenwash 2.0'
Covid and precarious workers - union organisation vital
---
Housing activists storm rental firm's offices
Protests continue against proposed anti-protest laws
PO Box 1398, Enfield EN1 9GT
020 8988 8777

Link to this page: https://www.socialistparty.org.uk/issue/1130/32412
Home | The Socialist 21 April 2021 | Join the Socialist Party
Subscribe | Donate | Audio | PDF | ebook
Housing activists storm multi-million pound rental firm's offices
Scott Jones
East London Socialist Party
A lively and energetic day of action on housing swept through East London on 17 April. Socialist Party members, Refugee Rights activists, housing campaigners, striking workers and others protested outside and inside the offices of property management firm City Rooms in Stepney Green. The action was called by the Unite housing workers' branch and the Social Housing Action Campaign in response to the housing crisis which has plunged to new depths during the pandemic. The protesters put forward the slogan 'stop the evictions, drop the debts'. At the same time, further protests took place outside offices in Stratford.
City Rooms has told Socialist Party member Lawanya that she owes thousands of pounds after she was forced to break her contract because she could not afford their exorbitant rent.
The protest in Stepney Green followed a march from the country's first ever council housing estate in Shoreditch which garnered big support from passers-by as it made its way through the East End.
At the same time, in Newham, the London Renters Union picketed the office there, and earlier, Socialist Party members took part in a protest on the Carpenter's estate demanding that empty homes are filled with people who need them and that those homes should be 'social' and affordable.
Speaking at the opening rally at the Boundary estate, Lawanya said: "I spent three quarters of my wages on rent to City Rooms, a multi-million pound company which is now chasing me for rent for time I did not live there. This is a situation faced by many."
City Rooms - the trading name of Oliver Walton Ltd - last year filed a turnover of almost £21 million for 2019, with reserves of over £978,000. Its total profit was just shy of £895,000, with shareholders receiving £850,000 in dividends.
Workers must unionise
By picketing, occupying, protesting and handing in a letter to City Rooms, we sent a message that Lawanya has a campaign behind her that will not stop until the outrageous demands placed upon her are dropped. In occupying the City Rooms office, we also urged workers there to join a union, a call led by Unite assistant general secretary Howard Beckett who spoke at the rally and marched with us right into the City Rooms offices.
Other speakers included Paul Kershaw and Jack Jeffrey from the Unite housing workers' branch and Ferdy Lyons, a Social Housing Action Campaign committee member, all of whom are Socialist Party members and candidates for the Trade Unionist and Socialist Coalition on the London-wide list for the Greater London Assembly. Athena Parnell, a striking worker at Goodlord tenant referencing agency spoke, as did Doug Holton, from Equity entertainment workers' union and Hackney Trades Union Council. A solidarity message was also received from the London Renters Union.
The Socialist Party is standing as part of TUSC in this May's elections on a programme which includes solving the housing crisis. For mass building of council homes and democratically set rent caps. Secure tenancies for all, and the right to leave tenancies without extortionate debt claims.