The Socialist 28 April 2021
No service cuts and council tax rises - vote TUSC on 6 May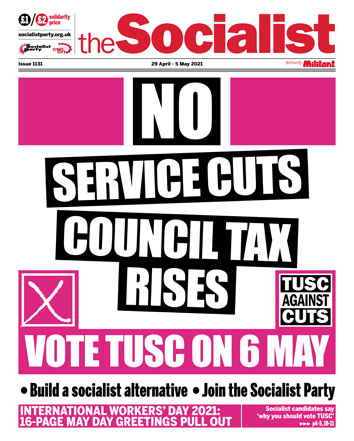 ---
Vote TUSC to oppose sleazy capitalism
Campaigning for a no-cuts, socialist Liverpool mayor
---
India's health system in meltdown under Modi's misrule
---
Socialist Student action marks the way for a national student movement for free education
South West regional conference shows that socialist ideas can grow
To get Socialist ideas out there, we need to have the funds
---
Protesting works - unite to defend the right to protest
No trust in billionaire football owners - kick them out and reclaim the game
Private sector is stealing the NHS
39 'postmasters' cleared - now clear the rest
---
Usdaw's virtual annual conference - a mockery of union democracy
PCS ballots members in Jobcentres over safety
Goodlord strikers fight fire and rehire as part of day of action
Devonport tugboat crews strike against rota changes
Thurrock bin strike in third week
---
How partition of Ireland derailed a revolutionary struggle for national and social liberation
Irish police aid strike-breaking at Debenhams store in Dublin
---
Poverty increasing. Welfare state in crisis. Do we need a new Beveridge Report?
---
What councils can do to protect the environment
---
---
International Workers' Day - struggle, solidarity, socialism
PO Box 1398, Enfield EN1 9GT
020 8988 8777

Link to this page: https://www.socialistparty.org.uk/issue/1131/32424
Home | The Socialist 28 April 2021 | Join the Socialist Party
Subscribe | Donate | Audio | PDF | ebook
Super League defeated
No trust in billionaire football owners - kick them out and reclaim the game
Socialist Party members Lenny Shail, who is a Chelsea fan and was at the Stamford Bridge protest, and Leeds fan Ian Pattison said:
The withdrawal of the six football clubs in England from the Super League - after protests and action by fans, players and other club staff - is rightly celebrated. Fans protested in their hundreds at Leeds, and in their thousands at Chelsea and Arsenal.
Liverpool supporters joined the Leeds protest. And supporters of Arsenal, Aston Villa, Liverpool, Manchester City and West Ham were welcomed at the Chelsea protest.
There was reportedly uproar at a Chelsea staff meeting. And Liverpool players simultaneously voiced their opposition.
Premier League club captains were reportedly planning to meet to oppose the plans. Even the security staff at Chelsea were celebrating the news that all but signals the death of the Super League.
But the billionaire owners who attempted to rob our clubs and game are still in charge. They cannot be trusted and must be removed, along with the rest of their big business mates and structures in football.
Now, democratically elected representatives - of fans, of players and other club staff, their trade unions, the wider workers' movement, and local communities around football clubs - must come together to begin the process of reorganising football. We should have the opportunity to inspect the financial books of football clubs, especially the richest that wanted to break away.
Let's see what they really can afford. Football without the billionaire owners could decide to drastically reduce ticket prices, and allow local communities to benefit from club facilities.
And for starters, the new coefficient rule in the existing Champions League - allowing in the richest clubs based on past performance - must be scrapped. This was only introduced as a sop to the owners of the Super League clubs.
Arsenal fans in the Socialist Party protested with thousands of others.
---
In this issue
---
Elections

Vote TUSC to oppose sleazy capitalism

Why you should vote for TUSC

Campaigning for a no-cuts, socialist Liverpool mayor
---
International news

India's health system in meltdown under Modi's misrule
---
Campaigns news

Socialist Student action marks the way for a national student movement for free education

South West regional conference shows that socialist ideas can grow

To get Socialist ideas out there, we need to have the funds
---
News

Protesting works - unite to defend the right to protest

No trust in billionaire football owners - kick them out and reclaim the game

Private sector is stealing the NHS

39 'postmasters' cleared - now clear the rest

Generation eviction
---
Workplace news

Usdaw's virtual annual conference - a mockery of union democracy

PCS ballots members in Jobcentres over safety

Goodlord strikers fight fire and rehire as part of day of action

Devonport tugboat crews strike against rota changes

St Mungo's workers walkout

Thurrock bin strike in third week
---
Ireland

How partition of Ireland derailed a revolutionary struggle for national and social liberation

Irish police aid strike-breaking at Debenhams store in Dublin
---
Welfare state

Poverty increasing. Welfare state in crisis. Do we need a new Beveridge Report?
---
Environment

What councils can do to protect the environment
---
Readers' opinion

The Socialist Inbox
---
May Day Greetings 2021

International Workers' Day - struggle, solidarity, socialism
---
Home | The Socialist 28 April 2021 | Join the Socialist Party