The Socialist 28 April 2021
No service cuts and council tax rises - vote TUSC on 6 May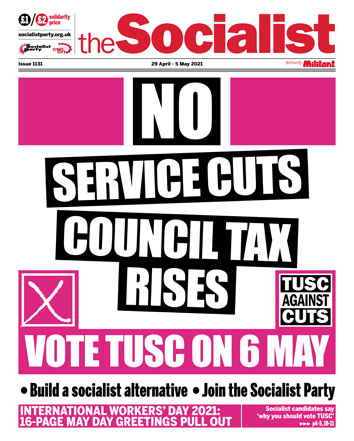 ---
Vote TUSC to oppose sleazy capitalism
Campaigning for a no-cuts, socialist Liverpool mayor
---
India's health system in meltdown under Modi's misrule
---
Socialist Student action marks the way for a national student movement for free education
South West regional conference shows that socialist ideas can grow
To get Socialist ideas out there, we need to have the funds
---
Protesting works - unite to defend the right to protest
No trust in billionaire football owners - kick them out and reclaim the game
Private sector is stealing the NHS
39 'postmasters' cleared - now clear the rest
---
Usdaw's virtual annual conference - a mockery of union democracy
PCS ballots members in Jobcentres over safety
Goodlord strikers fight fire and rehire as part of day of action
Devonport tugboat crews strike against rota changes
Thurrock bin strike in third week
---
How partition of Ireland derailed a revolutionary struggle for national and social liberation
Irish police aid strike-breaking at Debenhams store in Dublin
---
Poverty increasing. Welfare state in crisis. Do we need a new Beveridge Report?
---
What councils can do to protect the environment
---
---
International Workers' Day - struggle, solidarity, socialism
PO Box 1398, Enfield EN1 9GT
020 8988 8777

Link to this page: https://www.socialistparty.org.uk/issue/1131/32435
Home | The Socialist 28 April 2021 | Join the Socialist Party
Subscribe | Donate | Audio | PDF | ebook
Socialist Student action marks the way for a national student movement for free education
Theo Sharieff, Socialist Students National Organiser
Socialist Students were out in force on Wednesday 21 April across the country campaigning for tuition fee and rent refunds for students, and for free education.
Across 26 different campuses, Socialist Students held lively campaign stalls, open-air meetings and protests to discuss with students how we can build the campaign on our local campuses, and link up with students in struggle across the country.
Even though face-to-face teaching has yet again been delayed on campuses, meaning some universities were quieter than they would usually be after the Easter holidays, hundreds of students across the country put their names to petitions demanding fee refunds and signed up to get involved with Socialist Students.
The further delay to campus reopening has only fuelled student anger and added to the feeling that once again, students have been left behind. Socialist Students lays the blame for this delay at the feet of university management and the Tories, who thanks to years of cuts have collectively failed to make our campuses safe for students and staff.
There was widespread agreement that we need to build a national student movement to fight for all this. Students this year have gone to battle against marketisation using rent strikes.
Students have won various levels of rebates from universities, also winning tens of millions of pounds of emergency funding for universities from government.
But imagine how much further we could go if actions across different campuses were linked and coordinated nationally!
Socialist Students has laid down the marker for what is needed to end the crisis facing students and staff on the university campuses - a new national student movement to fight for free education, to scrap fees, for a cancellation of student debt, and for the introduction of living grants for students.
---
Nottingham
Our campaigning at Nottingham Trent University (NTU), as part of the Socialist Students day of action, had a very good response. Students who had seen it advertised came along to help leaflet and campaign with us for the first time. While speaking to students about tuition fees and rent refunds, it was clear there was anger about the situation that we have been left in, many talking about the need for a protest on campus to demand refunds.
Due to mounting pressure by rent strike groups, NTU, along with some other universities, has eventually given some rent reductions. But as one student said, many are in private accommodation and have not yet got concessions.
At some points there were queues to sign our petition to refund fees, and quite a few students agreed to attend the follow-up Zoom meeting on the 25 April. Socialist Students now has enough signatures to start an official society at NTU.
There was definitely a mood among students that it's necessary to continue the fight for these concessions by protesting, with a lot agreeing that a campaign to return to free education was needed. And that they wanted to take it further and push for socialism.
Jake George, Nottingham Trent Socialist Students
---
University of the Arts London
Since the beginning of the pandemic, students across campuses at the University of the Arts London (UAL) have been left feeling misled and short-changed. We handed over tuition fees and signed onto courses with the assurance that we would be provided with practical and hands-on learning, with free and regular access to the vital training and facilities.
In the light of continuing gains made by the collective action and struggles of many students throughout the last year, it is clear now more than ever that student action must be taken in order for our discontent to be heard and demands met.
Since the beginning of the academic year UAL Socialist Students has been gaining support and momentum, and on the 21 April we called for a campus protest to be held outside Central St Martins College of Art.
Our demands were that the university refund tuition fees for the years affected by the pandemic, and that it is vital that these funds are made up for by the government, as a stepping stone within the wider struggle for free education and against Tory cuts. It is imperative that students fight now, otherwise we will face footing the bill of the impending economic crisis.
Stanley Harris, UAL Socialist Students
---
York
On 21 April, members of the Socialist Party and Young Socialists gathered in St Helen's Square alongside speakers from the Independent Workers' Union of Great Britain, York Student Solidarity Network and others, to demand free education and to speak of their experiences within an increasingly corporatised education system.
A persistent theme was the crisis in youth mental health, with speakers highlighting the devastating consequences of privatisation and cuts to healthcare, exacerbated by mishandling of the Covid pandemic. Also highlighted was the systematic denial and cover-up of sexual harassment and violence at all levels of education.
Connections were made with other struggles, as youth unemployment fuels the gig economy and students are increasingly forced to work alongside their studies. Those present were also reminded of the necessity of opposing the new anti-protest bill, so that our voices may continue to be heard on these and other issues.
Alistair Mansfield, York Socialist Students
---
Leeds
Students from Leeds colleges and universities and Socialist Party members rallied at Leeds University Union on 21 April to fight for tuition fee refunds for the year.
With many people enjoying nearby outdoor seating areas, we managed to approach a lot of these and give them information about what we were up to. There was a lot of footfall through the campus, and people were receptive to our efforts in fighting for tuition fee refunds. Kat, a Leeds Socialist Party member, managed to do four interviews with local radio stations and a segment was featured on the ITV news website.
Alice Hennigan, Leeds Socialist Students
---
In this issue
---
Elections

Vote TUSC to oppose sleazy capitalism

Why you should vote for TUSC

Campaigning for a no-cuts, socialist Liverpool mayor
---
International news

India's health system in meltdown under Modi's misrule
---
Campaigns news

Socialist Student action marks the way for a national student movement for free education

South West regional conference shows that socialist ideas can grow

To get Socialist ideas out there, we need to have the funds
---
News

Protesting works - unite to defend the right to protest

No trust in billionaire football owners - kick them out and reclaim the game

Private sector is stealing the NHS

39 'postmasters' cleared - now clear the rest

Generation eviction
---
Workplace news

Usdaw's virtual annual conference - a mockery of union democracy

PCS ballots members in Jobcentres over safety

Goodlord strikers fight fire and rehire as part of day of action

Devonport tugboat crews strike against rota changes

St Mungo's workers walkout

Thurrock bin strike in third week
---
Ireland

How partition of Ireland derailed a revolutionary struggle for national and social liberation

Irish police aid strike-breaking at Debenhams store in Dublin
---
Welfare state

Poverty increasing. Welfare state in crisis. Do we need a new Beveridge Report?
---
Environment

What councils can do to protect the environment
---
Readers' opinion

The Socialist Inbox
---
May Day Greetings 2021

International Workers' Day - struggle, solidarity, socialism
---
Home | The Socialist 28 April 2021 | Join the Socialist Party