The Socialist 28 April 2021
No service cuts and council tax rises - vote TUSC on 6 May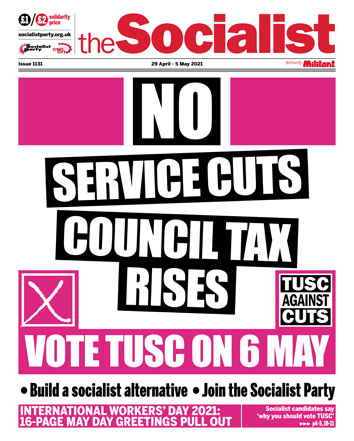 ---
Vote TUSC to oppose sleazy capitalism
Campaigning for a no-cuts, socialist Liverpool mayor
---
India's health system in meltdown under Modi's misrule
---
Socialist Student action marks the way for a national student movement for free education
South West regional conference shows that socialist ideas can grow
To get Socialist ideas out there, we need to have the funds
---
Protesting works - unite to defend the right to protest
No trust in billionaire football owners - kick them out and reclaim the game
Private sector is stealing the NHS
39 'postmasters' cleared - now clear the rest
---
Usdaw's virtual annual conference - a mockery of union democracy
PCS ballots members in Jobcentres over safety
Goodlord strikers fight fire and rehire as part of day of action
Devonport tugboat crews strike against rota changes
Thurrock bin strike in third week
---
How partition of Ireland derailed a revolutionary struggle for national and social liberation
Irish police aid strike-breaking at Debenhams store in Dublin
---
Poverty increasing. Welfare state in crisis. Do we need a new Beveridge Report?
---
What councils can do to protect the environment
---
---
International Workers' Day - struggle, solidarity, socialism
PO Box 1398, Enfield EN1 9GT
020 8988 8777

Link to this page: https://www.socialistparty.org.uk/issue/1131/32445
Home | The Socialist 28 April 2021 | Join the Socialist Party
Subscribe | Donate | Audio | PDF | ebook
International Workers' Day - struggle, solidarity, socialism
May Day is an annual celebration of workers' struggle against capitalism.
Its origins lie in the general strike for an eight-hour working day, put down by police gunfire in Chicago in 1886, and the foundation of the Second International, bringing together revolutionary socialists around the world in 1889. Its history teaches us the power of the working class to transform society, and the need to overturn the capitalist state.
The Socialist Party's links with the organised working class - the agent of socialist change - are fundamental to our work. Each year, we ask groups of workers and trade unionists to support the Socialist newspaper and its ideas by financing a May Day greeting.
Despite the organisational impediments and financial constraints caused by the pandemic there has been a fantastic response to our campaign. We have once again received pledges totalling over £8,000, represented by over 80 greetings across 16 pages.
Scott Jones, May Day greetings organiser
---
There couldn't be a more poignant time to mark two of the most important dates in the calendar of the labour and trade union movement. On 28 April, International Workers' Memorial Day will be commemorated while on 1 May, May Day - the global Workers' Day - will be celebrated. Both days will bring home the two primary challenges facing workers and their unions - the need for workplace safety during Covid, and the fight against the offensive of the bosses and their Tory government.
There has never been a more important time for workers to be organised in a union, in the fight for our lives and livelihoods. A year ago, too many at leadership level in the unions capitulated to the idea of 'national unity' with Johnson's government and the employers, calling off action and suspending disputes. But the brutal 'fire and rehire' that has sacked hundreds of British Gas workers, and been rolled out in many other sectors, has shown once and for all that there is no common cause with the bosses and we have to be organised for the fight of our lives.
And workers are showing that they are up for the fight. Not only are the number of strikes increasing but so is their intensity, with more days of action and many going on indefinitely. We have to use the platform of May Day to spread the word about the disputes that are building and the need for the unions to fight together. The motto for International Workers' Memorial Day has never been more important "remember the dead and fight for the living".
Rob Williams, NSSN chair and Socialist Party workplace organiser
---
In this issue
---
Elections

Vote TUSC to oppose sleazy capitalism

Why you should vote for TUSC

Campaigning for a no-cuts, socialist Liverpool mayor
---
International news

India's health system in meltdown under Modi's misrule
---
Campaigns news

Socialist Student action marks the way for a national student movement for free education

South West regional conference shows that socialist ideas can grow

To get Socialist ideas out there, we need to have the funds
---
News

Protesting works - unite to defend the right to protest

No trust in billionaire football owners - kick them out and reclaim the game

Private sector is stealing the NHS

39 'postmasters' cleared - now clear the rest

Generation eviction
---
Workplace news

Usdaw's virtual annual conference - a mockery of union democracy

PCS ballots members in Jobcentres over safety

Goodlord strikers fight fire and rehire as part of day of action

Devonport tugboat crews strike against rota changes

St Mungo's workers walkout

Thurrock bin strike in third week
---
Ireland

How partition of Ireland derailed a revolutionary struggle for national and social liberation

Irish police aid strike-breaking at Debenhams store in Dublin
---
Welfare state

Poverty increasing. Welfare state in crisis. Do we need a new Beveridge Report?
---
Environment

What councils can do to protect the environment
---
Readers' opinion

The Socialist Inbox
---
May Day Greetings 2021

International Workers' Day - struggle, solidarity, socialism
---
Home | The Socialist 28 April 2021 | Join the Socialist Party