The Socialist 2 June 2021
NHS pay and funding: 'If we fight we can win'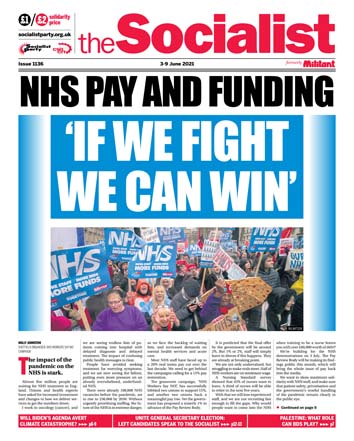 ---
3 July day of protest - save our NHS from the Tories
---
---
Unite general secretary campaign: Statement from Sharon Graham
Unite general secretary campaign: Statement from Howard Beckett
---
Boycotts - what role can these play in the struggle for a Palestinian state?
Stop Israeli state terror: solidarity protests continue
---
Will Biden's 'green' agenda avert an impending climate change catastrophe?
---
Sparks force bosses to talk after blockading AWE
Save jobs, save livelihoods, save GKN Automotive - nationalise the plant!
---
Belarus: Lukashenko's desperate attempt to silence opposition
Colombia: General strikes continue
---
Cladding danger: Protest 5 June!
Pimlico Academy protest demands elected governors
York students demand democratic control of schools
Protests against anti-protest bill
Waltham Forest byelections: Council homes not unaffordable flats
Raising Fighting Fund in Southern region
Hillsborough crimes go unpunished
---
University funding reform: Fight for free, fully funded education for all
PO Box 1398, Enfield EN1 9GT
020 8988 8777