The Socialist 14 July 2021
NHS: Kick out the privatisers, fight for a 15% pay rise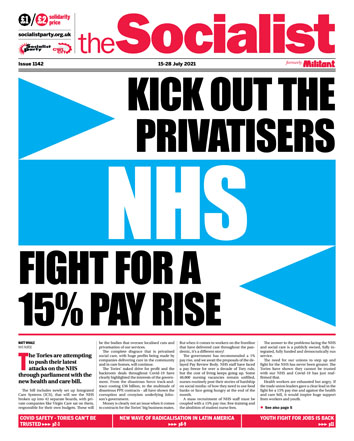 ---
NHS: Kick out the privatisers - Fight for a 15% Pay rise
Scrap the privatising health and care bill
Tories threaten to axe free prescriptions for older workers
---
We cannot trust this government over Covid: Fight for a new workers' party
Trade unions must continue the fight for Covid safety
---
Pride is protest - Build a mass movement for LGBTQ+ liberation and socialism
---
Dagenham school workers strike against 'fire and rehire' pay cuts
St Mungo's strikers end 12-week strike
Telecoms workers angry at CWU deal with BT
GKN Birmingham workers rally against plant closure
Brush workers into eighth week of strike
---
New wave of radicalisation in Latin America
Putting the Olympic gravy train ahead of public health
Kazakhstan: Solidarity with protesters attacked by regime forces
---
Keep the Universal Credit uplift
Defend the triple lock - Fight to end poverty pensions
Right-wing study concludes youth like socialism
---
We need councillors who will end housing crisis - vote TUSC in Staines on 22 July
Why I joined the Socialist Party
Everyone can spot Socialist Party in Stoke
Socialist Party meetings say: We're ready to go out and campaign
---
Farewell Leicester Square - the story of Britain's first black bus driver
PO Box 1398, Enfield EN1 9GT
020 8988 8777

Link to this page: https://www.socialistparty.org.uk/issue/1142/32811
Home | The Socialist 14 July 2021 | Join the Socialist Party
Subscribe | Donate | Audio | PDF | ebook
Wealth chasm widens
The rich have got richer during the pandemic. For those who own expensive property or other assets, they have seen a big jump in their family wealth, widening the already existing wealth chasm. The continued rise in house prices has helped. Not much use if you are a lower-paid worker looking to buy a home.
A year of Covid restrictions has meant that those who are better off have been less likely to spend and have increased their savings. For those worse off, they are more likely to have lost their job, taken a 20% pay cut on furlough, or taken the opportunity to pay off debts.
The report states that total UK wealth has increased by £900 billion during the course of the pandemic. It is clear that the Tories want to keep this wealth in the hands of the rich. That explains the planned end of the Universal Credit uplift and triple lock on pensions. It is also clear that Labour is unprepared to challenge them. We need a new mass workers' party that fights in the interests of the working class with a socialist programme to take the wealth off the super-rich to end poverty and inequality.
News