The Socialist 14 July 2021
NHS: Kick out the privatisers, fight for a 15% pay rise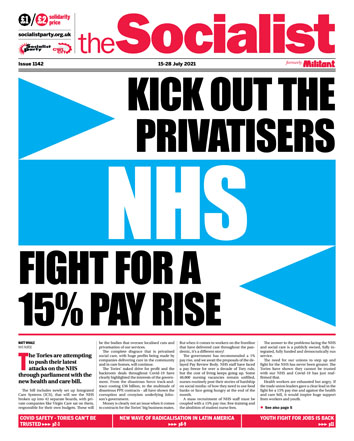 ---
NHS: Kick out the privatisers - Fight for a 15% Pay rise
Scrap the privatising health and care bill
Tories threaten to axe free prescriptions for older workers
---
We cannot trust this government over Covid: Fight for a new workers' party
Trade unions must continue the fight for Covid safety
---
Pride is protest - Build a mass movement for LGBTQ+ liberation and socialism
---
Dagenham school workers strike against 'fire and rehire' pay cuts
St Mungo's strikers end 12-week strike
Telecoms workers angry at CWU deal with BT
GKN Birmingham workers rally against plant closure
Brush workers into eighth week of strike
---
New wave of radicalisation in Latin America
Putting the Olympic gravy train ahead of public health
Kazakhstan: Solidarity with protesters attacked by regime forces
---
Keep the Universal Credit uplift
Defend the triple lock - Fight to end poverty pensions
Right-wing study concludes youth like socialism
---
We need councillors who will end housing crisis - vote TUSC in Staines on 22 July
Why I joined the Socialist Party
Everyone can spot Socialist Party in Stoke
Socialist Party meetings say: We're ready to go out and campaign
---
Farewell Leicester Square - the story of Britain's first black bus driver
PO Box 1398, Enfield EN1 9GT
020 8988 8777

Link to this page: https://www.socialistparty.org.uk/issue/1142/32812
Home | The Socialist 14 July 2021 | Join the Socialist Party
Subscribe | Donate | Audio | PDF | ebook
Dagenham school workers strike against 'fire and rehire' pay cuts
Jay Coward, East London Socialist Party
School workers at Valence Primary School in Dagenham, east London are on strike against grim mistreatment through 'fire and rehire' pay cuts and demotions.
Management at this community school - run by a Labour council - plans detrimental changes to the lives of Valence Primary staff. These include forcing teachers to reapply for positions they already hold but with less pay and benefits, and proposing pay cuts or demotions for a third of the workforce.
The need for a working-class political alternative to the Tories and Labour is clear from the role of multiple Labour councils like this one backing attacks on school workforces.
On the picket line it's evident that the workers at Valence Primary are full of passion for the children they teach and supportive of one another and their students' parents. School workers have suffered years of real-terms pay cuts from austerity, then put their lives on the line in the pandemic. They should be getting pay rises, not cuts and demotions!
Driven out
The workforce could be demoralised by this abuse, and some could end up driven out. This would also lower the quality of care and education for the students, and increase further the workload for remaining staff.
After management refused to listen, the school workers rightly decided to stand up for themselves collectively. The Barking and Dagenham branch of the National Education Union is due to hold its fifth and sixth days of strike action in three weeks as we go to press.
The NEU is picking up new members in the school, and the union is fully prepared to call further action if there is not meaningful negotiation from the employer.
East London Socialist Party is completely in support of the Valence Primary strike.
Schools across the country are facing similar circumstances, after years of the government driving down conditions without a national fightback being led by the unions. The same support Valence has had is required nationally for the good of school workers and a proper education system for the working class.