The Socialist 15 September 2021
Take the wealth off the super-rich to fund: NHS and social care, pay and benefit rises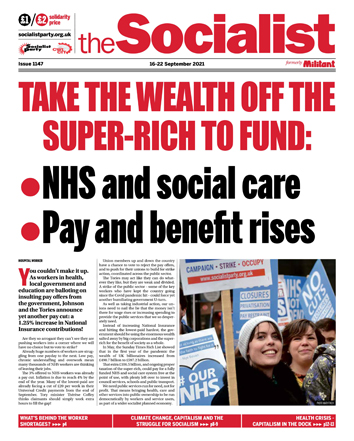 ---
We need a new political party for workers and youth
What's behind the worker shortages, and what can be done about it?
---
Social care plans: A sticking plaster instead of surgery
Hands off the Universal Credit uplift
Unite young and old to defend the pensions triple lock
---
Climate change, capitalism, and the struggle for socialism
---
We won't pay for capitalism's failings
Scrap tuition fees - end university marketisation
Returning to campus: Students need to fight
Campaigning for socialism at Oxford Brookes Uni
Youth Fight for Jobs launches campaign in Brighton
---
NSSN trade union rally reflects working-class anger to fight back
Oaks Park school: Redbridge Labour council backs strike-breaking bullies
Save jobs and services - nationalise rail
Weetabix - workers have had enough
Carmarthenshire Unison: 'Recognise our union!'
Goodlord dispute: Labour's leadership weasled out of backing strike action
---
Take the wealth off the super-rich to fund: NHS and social care, pay and benefit rises
Deaths of despair: Health crisis - capitalism in the dock
On the frontline, and still fighting for the NHS
Solidarity to the striking workers at Charité and Vivantes hospitals in Berlin
---
Putting socialism on the map in Chichester
Reclaiming Pride as protest in Nottingham
Fighting fund target reached: Help us continue to raise our banner and programme
---
Nuclear Folly: A New History of the Cuban Missile Crisis
TV review - Grenfell: The Untold Story
PO Box 1398, Enfield EN1 9GT
020 8988 8777

Link to this page: https://www.socialistparty.org.uk/issue/1147/33008
Home | The Socialist 15 September 2021 | Join the Socialist Party
Subscribe | Donate | Audio | PDF | ebook
Unite young and old to defend the pensions triple lock
Terry Pearce, Bracknell Socialist Party and Thames Valley National Pensioners Convention
The UK State Pension is £179.60 a week, among the lowest in Europe. It leaves over 2 million pensioners in poverty.
Introduced by the coalition government in 2010, the triple lock was designed to bring pensions up to the level of leading European countries like France and Germany. Now the Tories are breaking a 2019 election promise by suspending it for a year, deleting average earnings from the equation.
The triple lock would have meant pensions rising 8% next year and the Tories don't want to pay up. Pensioners can now expect a lower pension rise based on the highest of either the cost of living index, or 2.5%. This will make the 2 million pensioners already living in poverty, even poorer.
This attack on pensioners is just part of the Tory onslaught on the poor and vulnerable. The cut to Universal Credit, public sector pay freeze, and the ending of furlough, will drive more working-class families, youth and pensioners into poverty.
The Tories are seeking to drive a wedge between young workers and pensioners. The truth is that both young and old are suffering - from low wages on the one hand, and a poverty pension on the other. We must build unity between young and old.
Many young workers on low pay are facing a future with the prospect of low pensions in retirement. We must fight in the trade unions for the idea that workers today are the pensioners of the future. We need to build links between trade unions and pensioners' groups such as the National Pensioners' Convention to stop Tory plans to scrap the triple lock.
Childcare in crisis
It's not just social care that's in crisis. The childcare system also needs a fundamental transformation. And they both have one thing in common - most of the care is in the private sector where profits come first. Government subsidies for childcare mostly don't cover the real cost and often childcare places just don't exist. In a recent survey of 200,000 working parents carried out by organisations like Mumsnet and the TUC:
97% of parents said childcare was too expensive
One-third paid more for childcare than their rent or mortgage
In 94% of cases of parents changing their work patterns childcare costs were a factor
Increasing numbers of women are having to reduce their hours, change their job or give up work altogether because they can't get the childcare they need. At the same time, one in ten childcare workers (mostly women) are living in poverty. Childcare, like social care, is a fundamental necessity. The profit motive should be removed by taking it into the public sector, where it should be fully funded and free to all who need it, guaranteeing quality care and a decent living wage for all childcare workers.