The Socialist 15 September 2021
Take the wealth off the super-rich to fund: NHS and social care, pay and benefit rises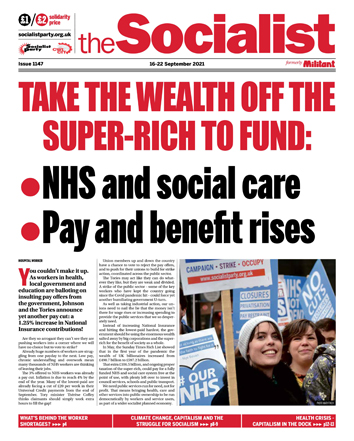 ---
We need a new political party for workers and youth
What's behind the worker shortages, and what can be done about it?
---
Social care plans: A sticking plaster instead of surgery
Hands off the Universal Credit uplift
Unite young and old to defend the pensions triple lock
---
Climate change, capitalism, and the struggle for socialism
---
We won't pay for capitalism's failings
Scrap tuition fees - end university marketisation
Returning to campus: Students need to fight
Campaigning for socialism at Oxford Brookes Uni
Youth Fight for Jobs launches campaign in Brighton
---
NSSN trade union rally reflects working-class anger to fight back
Oaks Park school: Redbridge Labour council backs strike-breaking bullies
Save jobs and services - nationalise rail
Weetabix - workers have had enough
Carmarthenshire Unison: 'Recognise our union!'
Goodlord dispute: Labour's leadership weasled out of backing strike action
---
Take the wealth off the super-rich to fund: NHS and social care, pay and benefit rises
Deaths of despair: Health crisis - capitalism in the dock
On the frontline, and still fighting for the NHS
Solidarity to the striking workers at Charité and Vivantes hospitals in Berlin
---
Putting socialism on the map in Chichester
Reclaiming Pride as protest in Nottingham
Fighting fund target reached: Help us continue to raise our banner and programme
---
Nuclear Folly: A New History of the Cuban Missile Crisis
TV review - Grenfell: The Untold Story
PO Box 1398, Enfield EN1 9GT
020 8988 8777

Link to this page: https://www.socialistparty.org.uk/issue/1147/33027
Home | The Socialist 15 September 2021 | Join the Socialist Party
Subscribe | Donate | Audio | PDF | ebook
We won't pay for capitalism's failings
Join Youth Fight for Jobs protests 9 October
Alex Smith, Liverpool Socialist Party
There are massive attacks against young people on the immediate horizon. The end of the Universal Credit uplift, due at the end of September, is expected to hit young people hardest. Rent outside of London continues to rise, and the Tories' national insurance hike shows that they want to make workers' pay.
With 20% of employers reportedly planning redundancies post-furlough, youth unemployment is set to increase. This is totally unacceptable. Workers and young people must not be made to pay for capitalism's sickness. A determined fightback is needed.
That's why Youth Fight for Jobs (YFJ) marches are taking place in 13 different cities on 9 October, to coincide with the end of furlough. On these marches, young workers, students and trade unionists will mobilise to make it clear that it must be the super-rich, not the working class and youth, who pay for the Covid crisis. The demands being raised will include calls for rent controls and council homes, a £12-an-hour minimum wage as a first step to £15, and proper training, under trade union control, on a full wage, and with a guaranteed job at the end.
Trade Union support
Many of the YFJ marches already have the formal support of local trades councils and trade union branches, and the campaign nationally has won the support of seven trade unions. In Merseyside, we recently won support from the remaining members of the heroic 'Liverpool 47'- the socialist Labour councillors who defied Thatcher in the 1980s.
The solidarity shown by the 'Liverpool 47' to the YFJ campaign cuts across capitalism's efforts to drive a wedge between younger and older generations of the working class. A new generation of class fighters in the YFJ campaign should take heart and pick up the baton of class struggle - and begin to wage our own fight against capitalism.
The trade unions represent potentially the most powerful force in society: the organised working class. It is for this reason that YFJ fights ferociously for the unions to lead a coordinated fightback against the youth jobs crisis, and for a future with decent jobs and decent pay.
Join Youth Fight for jobs in this fight, to help free ourselves from the low pay, poverty and exploitation of capitalism.
For more information and to join visit: youthfightforjobs.com/get-involved