The Socialist 29 September 2021
End profit-fuelled crisis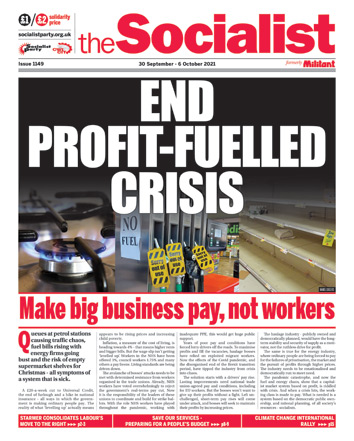 ---
Starmer consolidates post-Corbyn Blairite transformation of Labour
---
German election: A change of capitalist government, but disaster for Die Linke
---
---
NHS workers reject 3% pay insult
Driver shortages - a view from the inside
---
Black history month and its relevance today
---
---
NEU deputy general secretary election
Corby and Burton Latimer Weetabix engineers strike
Fightback to save Birmingham GKN jobs!
Flexibility to suit workers not the bosses
College workers walk out in pay dispute
---
London tenants v greedy contractors
Bromsgrove protest for NHS fair pay
Sabina Nessa vigil: End violence against women
---
More market chaos: York students given digs in Hull
Lots of sign-ups for Socialist Students at freshers
Youth climate protests are back
PO Box 1398, Enfield EN1 9GT
020 8988 8777

Link to this page: https://www.socialistparty.org.uk/issue/1149/33087
Home | The Socialist 29 September 2021 | Join the Socialist Party
Subscribe | Donate | Audio | PDF | ebook
Join the fight for our future
£15-an-hour minimum wage
Scrap zero-hour contracts
Trade union rights now
Protest 9 October
Michael Morgan, Coventry Socialist Party
With attacks on Universal Credit, the rising cost of energy, and the regressive changes to national insurance - a secure job with decent pay has never been more important for young people. As we come out of a pandemic which has seen the proliferation of 'fire and rehire', and as 'key workers' become more and more exploited, many young people feel they don't have a proper future to look forward to.
The so-called 'recovery' from Covid has seen youth unemployment rise, it now stands at 13.1% - higher than it was at this point in 2020. This figure won't include those who are in work and struggling to get the hours they need on zero-hour contracts. With the cost of living increasing, many jobs are not paying enough to get by on. That's why the Socialist Party calls for a £15-an-hour minimum wage, for trade unions to fight against 'fire and rehire' practices, and for benefits that people can survive on.
For young people in particular, the cost of living crisis means many will make it even harder to be able to move out from the family home. It has been reported that the Tories could lower the cap on making repayments for student loans from £27,295 to around £23,000 a year. This is a kick in the teeth for already exploited students, many of whom have to work to fund their studies. The cherry on top of all of this, is that as of 30 September, the government's furlough scheme will end, meaning that many young people will lose their jobs.
It's a desperate time for young people, and it's clear that Keir Starmer's Labour Party is unable to give us the political representation we need to fight the Tories. This is why young members in the Socialist Party will be joining the Youth Fight for Jobs protest on the 9 October. We cannot sit idly by as our futures are wrestled away from us. We will be marching in numerous towns and cities across the country. If you believe in high-quality, secure and well-paying jobs - join us and protest.
Find details of your local protest, visit: youthfightforjobs.com
---
In this issue
---
What we think

Starmer consolidates post-Corbyn Blairite transformation of Labour
---
International

German election: A change of capitalist government, but disaster for Die Linke
---
People's budgets

Save our services
---
News

End profit-fuelled crisis

NHS workers reject 3% pay insult

Driver shortages - a view from the inside

News in brief
---
Black history month

Black history month and its relevance today
---
Climate change

CWI livestream rally report
---
Workplace news

NEU deputy general secretary election

Corby and Burton Latimer Weetabix engineers strike

Fightback to save Birmingham GKN jobs!

Flexibility to suit workers not the bosses

College workers walk out in pay dispute
---
Campaigns

London tenants v greedy contractors

Bromsgrove protest for NHS fair pay

Sabina Nessa vigil: End violence against women
---
Youth and Students

Join the fight for our future

Sunak's student special

More market chaos: York students given digs in Hull

Lots of sign-ups for Socialist Students at freshers

Youth climate protests are back
---
Home | The Socialist 29 September 2021 | Join the Socialist Party