The Socialist 13 October 2021
Fight for the pay rise we deserve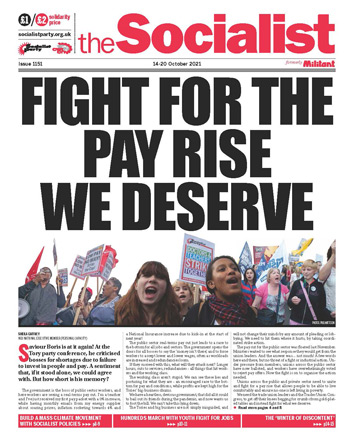 ---
Fight for the pay rise we deserve
---
Cynical Johnson government no friend of workers
---
Pandora property speculators fuel housing crisis
Social care funding needed now
---
Who runs Unison: lay members or the paid officials?
Place Unite at the head of the anti-Tory movement
Oaks Park pickets vote for more strikes to defeat bullies
National Education Union deputy general secretary election
College strikes continue into third week
60 steelworks scaffs march in second week of all-out strike
DVLA: Workers ballot on further strike action
---
Build a mass working-class climate movement with socialist policies
---
Hundreds march with Youth Fight for Jobs
---
The 'winter of discontent' - When workers could take no more
---
Hackney: Stop closure of children's centres
Durning Hall: Hands off our community space
March to save Stratford arts jobs from Newham Labour attacks
---
Newcastle United takeover - no to billionaire Ashley or Saudi despots
Ridley Road: An engaging story of fighting fascism
PO Box 1398, Enfield EN1 9GT
020 8988 8777

Link to this page: https://www.socialistparty.org.uk/issue/1151/33158
Home | The Socialist 13 October 2021 | Join the Socialist Party
Subscribe | Donate | Audio | PDF | ebook
Ridley Road: An engaging story of fighting fascism
Julia Leonard, Hillingdon Socialist Party
The new BBC 1 drama 'Ridley Road' is based on true events: the struggle against fascism in the early 1960s. It opens with the shocking scene of three characters giving Nazi salutes.
The story is very inspiring. Idealistic individuals are prepared to make huge sacrifices for their beliefs and the wellbeing of the wider community. They show enormous bravery when infiltrating a violent fascist movement.
The story centres on the 62 Group. Its members were inspired by previous struggles against fascism - in Cable Street in the 1930s, and the 43 Group in the 40s. The 62 Group used coded messaging to tell supporters where to gather to storm meetings, protests and headquarters of the Nazi groups, as well as wiretapping and infiltration. However, their brand of direct action was not condoned by everyone in the Jewish community.
The programme shows a 1962 rally in Trafalgar Square with a banner saying 'Free Britain from Jewish Control', and swastika flags. The police protect the far right and arrest the counter-protesters when there is any trouble.
At the centre of the story the Epstein family, who seem unremarkable. Their daughter is about to be married, against her wishes, into a wealthy Jewish family. The shadowy figure of cousin Rosa suggests loss of family members in Germany.
The fight is against the National Socialist Movement (NSM), whose slogans are 'Keep Britain white' and 'Free Britain from Jewish Control'. The movement's leaders, including Colin Jordan and his wife Françoise Dior (a niece of the fashion designer) live a luxurious lifestyle. The comment is made that most of the subs paid by members go to pay expensive hotel bills.
One member of the NSM says that he has been promised a nice house and garden for him and his family once they have 'won back control' - sound familiar? They are lent a huge country mansion by a member of the aristocracy for the purpose of training a paramilitary force. George Rockwell from the US Nazi Party is a source of overseas funding.
There is very little about other groups who were involved in the ongoing struggles against the far right, such as the Communist Party, the Labour Party and the trade union movement. There is one passing reference to getting help from the dockers.
There are interesting snapshots of post-war upheavals: slum and bomb clearance, the emergence of the 'swinging sixties' and a generation of young people with money to spend, and the contraceptive pill being available 'without having to wear a wedding ring'.
It shows how working-class communities can be divided into blaming other marginalised groups for their own poor circumstances rather than laying the blame on the bosses and the capitalist system, and how people can come together through shared experiences.
Mrs Epstein has no idea that her husband is involved with recruiting members and forging identity documents. Vivian Epstein says her father would have included her in his activities had she been a boy. Both become far more assertive.
There are shocking scenes of the mixed-race son of Vivian's employer being abused and attacked by the police.
Some of the dialogue and plot come across as a bit lazy, relying on stereotypes, clichés and snippets of old film to set the mood; some of the plot does not bear detailed scrutiny. However, it's an engaging story with a lot of different currents to it.
Ridley Road is available on BBC iPlayer
---
In this issue
---
We need a pay rise!

Fight for the pay rise we deserve

Workers need a pay rise
---
What we think

Cynical Johnson government no friend of workers
---
News

Pandora property speculators fuel housing crisis

Social care funding needed now

News in brief
---
Workplace news

Who runs Unison: lay members or the paid officials?

Place Unite at the head of the anti-Tory movement

Oaks Park pickets vote for more strikes to defeat bullies

National Education Union deputy general secretary election

College strikes continue into third week

60 steelworks scaffs march in second week of all-out strike

DVLA: Workers ballot on further strike action
---
COP26

Build a mass working-class climate movement with socialist policies
---
Youth Fight for Jobs

Hundreds march with Youth Fight for Jobs
---
Winter of Discontent

The 'winter of discontent' - When workers could take no more
---
Campaigns news

Hackney: Stop closure of children's centres

Durning Hall: Hands off our community space

March to save Stratford arts jobs from Newham Labour attacks
---
Readers' opinion

Newcastle United takeover - no to billionaire Ashley or Saudi despots

Ridley Road: An engaging story of fighting fascism

Readers' comments
---
Home | The Socialist 13 October 2021 | Join the Socialist Party