The Socialist 27 October 2021
Tory budget con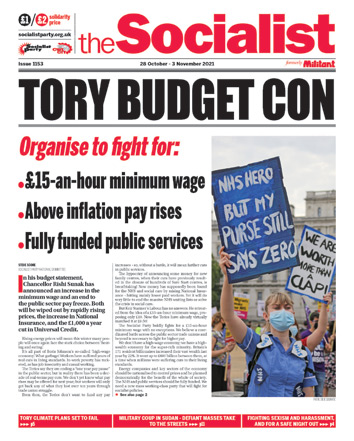 ---
Public spending under further threat from Tories
Tory NHS funding won't fix staff shortage
Public sector pay thaw - union fight is on for a real rise and funding
---
Fighting sexism and harassment, and for a safe night out
---
Tory climate plans set to fail - socialist planning needed
COP26: protest for Socialist change to reverse climate chaos
---
Gwent Stagecoach workers driving for victory on pay
Clarks shoe workers strike to give 'fire and rehire' the boot
Royal Mail workers stand against 'unachievable workloads'
GPs vote to reject government plans
---
The fight for Hackney's children's centres continues
Southampton People's budget Building an alternative to Tory and Labour austerity
Save Southall youth centre - stop all cuts
Carlisle says make the richest pay, not the poorest!
---
Military coup in Sudan - Defiant masses take to the streets
---
TV review The Riots 2011: One Week in August
PO Box 1398, Enfield EN1 9GT
020 8988 8777

Link to this page: https://www.socialistparty.org.uk/issue/1153/33219
Home | The Socialist 27 October 2021 | Join the Socialist Party
Subscribe | Donate | Audio | PDF | ebook
Tory NHS funding won't fix staff shortage
Holly Johnston, Oncology Nurse and GMB member
Rishi Sunak's announcement of nearly £6 billion for the NHS to help clear the backlog of patients on waiting lists would, at first glance, seem a good investment into the NHS. However, it does nothing to address NHS staff shortages. We need the staff to work through the backlog of patients on waiting lists and 5.7 million awaiting treatment.
Much of the spending will no doubt be ploughed into private companies to provide the service; many diagnostic and IT departments are already heavily outsourced. But the money needs to be given to NHS staff to run services in NHS hospitals, in NHS diagnostic departments.
What happens after the scans and tests have been done? Who delivers the treatment? We cannot work through the millions on treatment lists without addressing the staffing crisis.
There is no investment in decent pay for NHS staff, and no attempt to discontinue student debt. Student nurses come out of university with £60,000 worth of debt to enter a profession where working conditions are worse than ever, workloads are unmanageable and staff are undervalued.
Hospital bed numbers have been halved over the last 30 years. We need immediate investment in beds and to end the staffing crisis. We need to address the core issues of health inequality and delays in treatment that were happening before and during the pandemic. It's not even winter and we already have ambulances queueing outside hospitals.
Unless there is a determined struggle led by the unions for adequate funding where we need it, including to fund a decent pay rise for all NHS staff, the £6 billion will simply be used to grow private profits while NHS staff struggle on low pay or continue to leave in droves.
---
In this issue
---
Budget

TORY BUDGET CON

Public spending under further threat from Tories

Tory NHS funding won't fix staff shortage

Public sector pay thaw - union fight is on for a real rise and funding
---
Fighting sexual harassment

Fighting sexism and harassment, and for a safe night out
---
Climate change

Tory climate plans set to fail - socialist planning needed

COP26: protest for Socialist change to reverse climate chaos

Youth climate protests

News in brief
---
Workplace news

Unite policy conference

Gwent Stagecoach workers driving for victory on pay

Clarks shoe workers strike to give 'fire and rehire' the boot

Royal Mail workers stand against 'unachievable workloads'

GPs vote to reject government plans

Workplace news in brief
---
Campaigns

The fight for Hackney's children's centres continues

Southampton People's budget Building an alternative to Tory and Labour austerity

Save Southall youth centre - stop all cuts

Carlisle says make the richest pay, not the poorest!
---
International

Military coup in Sudan - Defiant masses take to the streets
---
Readers' opinion

TV review Maid

TV review The Riots 2011: One Week in August
---
Home | The Socialist 27 October 2021 | Join the Socialist Party