The Socialist 27 October 2021
Tory budget con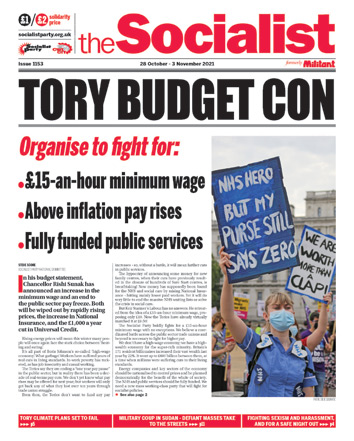 ---
Public spending under further threat from Tories
Tory NHS funding won't fix staff shortage
Public sector pay thaw - union fight is on for a real rise and funding
---
Fighting sexism and harassment, and for a safe night out
---
Tory climate plans set to fail - socialist planning needed
COP26: protest for Socialist change to reverse climate chaos
---
Gwent Stagecoach workers driving for victory on pay
Clarks shoe workers strike to give 'fire and rehire' the boot
Royal Mail workers stand against 'unachievable workloads'
GPs vote to reject government plans
---
The fight for Hackney's children's centres continues
Southampton People's budget Building an alternative to Tory and Labour austerity
Save Southall youth centre - stop all cuts
Carlisle says make the richest pay, not the poorest!
---
Military coup in Sudan - Defiant masses take to the streets
---
TV review The Riots 2011: One Week in August
PO Box 1398, Enfield EN1 9GT
020 8988 8777

Link to this page: https://www.socialistparty.org.uk/issue/1153/33228
Home | The Socialist 27 October 2021 | Join the Socialist Party
Subscribe | Donate | Audio | PDF | ebook
GPs vote to reject government plans
Jon Dale, secretary Unite Nottinghamshire health (personal capacity)
Health workers are dangerously overworked and tired - threatening their own health and the services they can provide to patients.
The latest signal they've had enough is the British Medical Association England GP Committee's 53 to 2 vote rejecting the government's new plans for general practice.
Years of NHS underfunding and increasing privatisation have taken their toll on GPs' physical and mental health. Receptionists and other staff face unrelenting pressure. Despite hollow Tory promises to increase GP numbers, there are 1,800 fewer fully trained full-time equivalent GPs than five years ago.
The pandemic forced massive changes amid increased risks. Crowded waiting rooms had to be closed. Consultations were mostly by phone and video call. A massive vaccination programme has been organised. Many patients with non-Covid problems stayed away - but now have worse health and need more urgent attention. Hospital waiting lists are going through the roof.
Health Secretary Sajid Javid wants GPs blamed for the crisis his government has caused. He demands GP practices collect figures on face-to-face consultations, with 'naming and shaming' league tables and penalties for the bottom 20% - the practices that already have the greatest problems in recruiting staff!
Javid's plan will increase growing abuse of GP staff some frustrated patients feel driven to, whipped up by Tory cheerleaders in the press.
GPs should now join with the health trade unions that voted overwhelmingly to reject the government's insulting 3% pay rise. A co-ordinated campaign of all health workers' trade unions is needed - highlighting the threat to patients from Tory cuts and privatisation. This could gain massive public support and defeat the Tories.
But empty warm words from Starmer's Labour will not end this crisis. Health workers and patients need a party to take the socialist action needed to reverse privatisation and fund the NHS.
---
In this issue
---
Budget

TORY BUDGET CON

Public spending under further threat from Tories

Tory NHS funding won't fix staff shortage

Public sector pay thaw - union fight is on for a real rise and funding
---
Fighting sexual harassment

Fighting sexism and harassment, and for a safe night out
---
Climate change

Tory climate plans set to fail - socialist planning needed

COP26: protest for Socialist change to reverse climate chaos

Youth climate protests

News in brief
---
Workplace news

Unite policy conference

Gwent Stagecoach workers driving for victory on pay

Clarks shoe workers strike to give 'fire and rehire' the boot

Royal Mail workers stand against 'unachievable workloads'

GPs vote to reject government plans

Workplace news in brief
---
Campaigns

The fight for Hackney's children's centres continues

Southampton People's budget Building an alternative to Tory and Labour austerity

Save Southall youth centre - stop all cuts

Carlisle says make the richest pay, not the poorest!
---
International

Military coup in Sudan - Defiant masses take to the streets
---
Readers' opinion

TV review Maid

TV review The Riots 2011: One Week in August
---
Home | The Socialist 27 October 2021 | Join the Socialist Party