The Socialist 27 October 2021
Tory budget con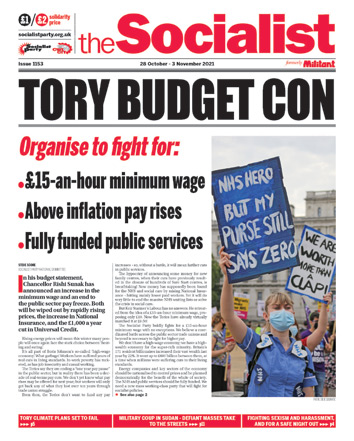 ---
Public spending under further threat from Tories
Tory NHS funding won't fix staff shortage
Public sector pay thaw - union fight is on for a real rise and funding
---
Fighting sexism and harassment, and for a safe night out
---
Tory climate plans set to fail - socialist planning needed
COP26: protest for Socialist change to reverse climate chaos
---
Gwent Stagecoach workers driving for victory on pay
Clarks shoe workers strike to give 'fire and rehire' the boot
Royal Mail workers stand against 'unachievable workloads'
GPs vote to reject government plans
---
The fight for Hackney's children's centres continues
Southampton People's budget Building an alternative to Tory and Labour austerity
Save Southall youth centre - stop all cuts
Carlisle says make the richest pay, not the poorest!
---
Military coup in Sudan - Defiant masses take to the streets
---
TV review The Riots 2011: One Week in August
PO Box 1398, Enfield EN1 9GT
020 8988 8777

Link to this page: https://www.socialistparty.org.uk/issue/1153/33229
Home | The Socialist 27 October 2021 | Join the Socialist Party
Subscribe | Donate | Audio | PDF | ebook
Workplace news in brief
Gary Evans reinstated
Gary Evans, a Communication Workers Union (CWU) member at Llanelli Delivery Office who was wrongfully dismissed, has been reinstated following a 24-hour strike on 13 October that halted postal deliveries after a solid 98.6% vote for action.
Socialist Party members joined the workers on the picket line and congratulated Gary and the CWU branch on their victory.
Scaffs strike into fourth week
"We're on the gate till you pay the rate", is the chant on the picket line outside British Steel Scunthorpe. Now in their fourth week of all-out strike action, around 60 scaffolders employed on the maintenance contract by Actavo, remain solid in their fight for the national industry (NAECI) rate which would be a 10-15% pay rise.
While there have been talks, so far Actavo have made no new offer, so the strikers have increased the pickets and are exploring other ways of stepping up the pressure.
The Unite branch inside the plant has donated £1,000 to the strike fund but needs to organise more active solidarity.
---
In this issue
---
Budget

TORY BUDGET CON

Public spending under further threat from Tories

Tory NHS funding won't fix staff shortage

Public sector pay thaw - union fight is on for a real rise and funding
---
Fighting sexual harassment

Fighting sexism and harassment, and for a safe night out
---
Climate change

Tory climate plans set to fail - socialist planning needed

COP26: protest for Socialist change to reverse climate chaos

Youth climate protests

News in brief
---
Workplace news

Unite policy conference

Gwent Stagecoach workers driving for victory on pay

Clarks shoe workers strike to give 'fire and rehire' the boot

Royal Mail workers stand against 'unachievable workloads'

GPs vote to reject government plans

Workplace news in brief
---
Campaigns

The fight for Hackney's children's centres continues

Southampton People's budget Building an alternative to Tory and Labour austerity

Save Southall youth centre - stop all cuts

Carlisle says make the richest pay, not the poorest!
---
International

Military coup in Sudan - Defiant masses take to the streets
---
Readers' opinion

TV review Maid

TV review The Riots 2011: One Week in August
---
Home | The Socialist 27 October 2021 | Join the Socialist Party
Related links:

News in brief

Workplace news in brief

News in brief

Covid news in brief

COP26 News in brief

Barts NHS workers strike back

Oaks Park School: valiant strike exposed state of schools

Worksop Wincanton logistics workers begin ninth week of strike action

Universities: Strike action at 68 in two disputes

Royal Mail: Unofficial walkouts precede bigger battle to come on pay and workload

Invergordon Royal Mail mutiny wins

Invergordon posties mutiny

Somers 'slaughterhouse' Forge

Trade unionists in the USA fighting back

Education: Workload and inflation goes up, incomes fall