The Socialist 27 October 2021
Tory budget con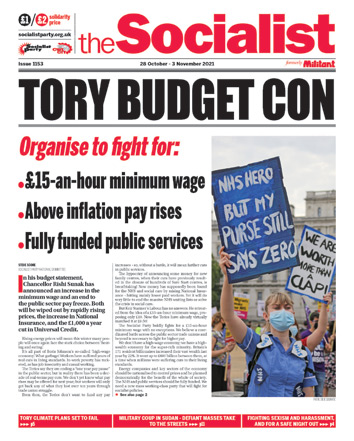 ---
Public spending under further threat from Tories
Tory NHS funding won't fix staff shortage
Public sector pay thaw - union fight is on for a real rise and funding
---
Fighting sexism and harassment, and for a safe night out
---
Tory climate plans set to fail - socialist planning needed
COP26: protest for Socialist change to reverse climate chaos
---
Gwent Stagecoach workers driving for victory on pay
Clarks shoe workers strike to give 'fire and rehire' the boot
Royal Mail workers stand against 'unachievable workloads'
GPs vote to reject government plans
---
The fight for Hackney's children's centres continues
Southampton People's budget Building an alternative to Tory and Labour austerity
Save Southall youth centre - stop all cuts
Carlisle says make the richest pay, not the poorest!
---
Military coup in Sudan - Defiant masses take to the streets
---
TV review The Riots 2011: One Week in August
PO Box 1398, Enfield EN1 9GT
020 8988 8777

Link to this page: https://www.socialistparty.org.uk/issue/1153/33230
Home | The Socialist 27 October 2021 | Join the Socialist Party
Subscribe | Donate | Audio | PDF | ebook
The fight for Hackney's children's centres continues
Rob Thomas, Hackney and Islington Socialist Party
The fight against the closure of two of Hackney's affordable children's centres, Fernbank and Hillside, continued on Wednesday 20 October. Families and staff rallied to protest the closures outside of Hackney Town Hall, supported by trade unionists and Socialist Party members, as a full Labour-controlled council meeting was underway inside.
The closures would see the loss of 109 affordable childcare places and over 25 local jobs at centres that have served the community for 40 years. This is the latest attack on working families already suffering from the recent return to austerity policies at the hands of the Tory government. The continued stripping back of public services forces more and more families into the expensive private sector, which results in more money going into the hands of bosses.
The UK already has some of the highest childcare costs in the world. After real-terms pay freezes caused by ten years of austerity and inflation, national insurance uplifts and recent cuts to Universal Credit, what working families need is more support.
If the mayor and the councillors had looked out the window on Wednesday night, they'd have noticed the growing discontent and appetite for alternative politics. The Save Fernbank and Hillside campaigns were not alone in their demonstration outside the council meeting. Morning Lane People's Space was fighting the council's plans to redevelop the local Tesco site into office space, retail and residential units, with little-to-no affordable housing available to residents.
Save Ridley Road, St Mungo's workers, and Low Traffic Neighbourhood campaigns were also holding rallies against the council's proposed plans. It paints a stark picture of the council's priorities and the growing discontent among the public for real change. It shows the need for a real political alternative and party that fights for working-class people; standing candidates in council elections who demand what is needed for our local communities and are prepared to take on the Tory government for the necessary funding.
Over 1,000 people have already signed the petition to save Fernbank and Hillside Children's Centres. Help us fight back against these cuts by searching for the petition online and adding your signature. See 'Save Fernbank and Hillside Children's Centres' at change.org
---
In this issue
---
Budget

TORY BUDGET CON

Public spending under further threat from Tories

Tory NHS funding won't fix staff shortage

Public sector pay thaw - union fight is on for a real rise and funding
---
Fighting sexual harassment

Fighting sexism and harassment, and for a safe night out
---
Climate change

Tory climate plans set to fail - socialist planning needed

COP26: protest for Socialist change to reverse climate chaos

Youth climate protests

News in brief
---
Workplace news

Unite policy conference

Gwent Stagecoach workers driving for victory on pay

Clarks shoe workers strike to give 'fire and rehire' the boot

Royal Mail workers stand against 'unachievable workloads'

GPs vote to reject government plans

Workplace news in brief
---
Campaigns

The fight for Hackney's children's centres continues

Southampton People's budget Building an alternative to Tory and Labour austerity

Save Southall youth centre - stop all cuts

Carlisle says make the richest pay, not the poorest!
---
International

Military coup in Sudan - Defiant masses take to the streets
---
Readers' opinion

TV review Maid

TV review The Riots 2011: One Week in August
---
Home | The Socialist 27 October 2021 | Join the Socialist Party