The Socialist 1 December 2021
NHS Critical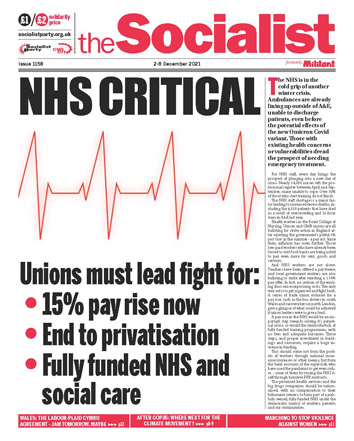 ---
Covid-19: New variant emerges but same old capitalist disease
27 dead in channel migrant tragedy
Bulb bailed out, nationalise energy to solve price crisis
Khan threatens further London transport cuts
Kickstart scheme 'insufficient and flawed'
Tories strengthen repressive laws
---
After COP26: where next for the climate movement?
---
Argentine elections see deepening polarisation
---
Wales: The Labour-Plaid Cymru agreement - jam tomorrow, maybe
---
Behind the rural idyll - the problems of everyday life
---
NHS workers - vote yes for action to win a decent pay rise
Staff and students unite against university bosses' attacks
Education unions lead campaign against Leicester academisation
RMT strikes against abolition of night tube train operators
South Yorkshire Stagecoach drivers strike against measly 1% pay offer
Nottingham and Mansfield trade unions rally against cuts and for better pay
Oaks Park school strike ends following forced concessions
---
East London mass non-payment wins housing victory
Marching to stop violence against women
Housing campaigners protest CEO champagners
Building a political alternative to Tory and Labour cuts
Stop the cuts to Uni arts funding
Plymouth: Hundreds attend vigil for Bobbi-Anne McLeod
Socialism 2021: How we reached our fighting fund appeal target
---
TV review: Valley of the Tears
PO Box 1398, Enfield EN1 9GT
020 8988 8777

Link to this page: https://www.socialistparty.org.uk/issue/1158/33414
Home | The Socialist 1 December 2021 | Join the Socialist Party
Subscribe | Donate | Audio | PDF | ebook
NHS Critical
Unions must lead fight for:
15% pay rise now
End to privatisation
Fully funded NHS and social care
The NHS is in the cold grip of another winter crisis. Ambulances are already lining up outside of A&E, unable to discharge patients, even before the potential effects of the new Omicron Covid variant. Those with existing health concerns or vulnerabilities dread the prospect of needing emergency treatment.
For NHS staff, every day brings the prospect of plunging into a new day of crisis. Nearly 14,000 nurses left the professional register between April and September, many unable to cope. Over 30% of those who start training do not finish.
The NHS staff shortage is a major factor leading to increased excess deaths, including the 4,519 patients that have died as a result of overcrowding and 12-hour stays in A&E last year.
Health workers in the Royal College of Nursing, Unison and GMB unions are all balloting for strike action in England after rejecting the government's pitiful 3% pay 'rise' in the summer - a pay cut. Since then, inflation has risen further. Those low-paid workers who have already been forced to visit food banks are being asked to pay even more for rent, goods and services.
And NHS workers are not alone. Teachers have been offered a pay freeze, and local government workers are also balloting to strike after rejecting a 1.75% pay offer. In fact, no section of the working class can escape rising costs. The only way out is to get organised and fight back. A series of trade union victories for a pay rise, such as the bus drivers in south Wales and care workers in north London, give a glimpse of what could be achieved if union leaders were to give a lead.
A pay rise in the NHS would be an important step towards solving it's perpetual crisis; so would the reintroduction of fully funded training programmes, with no fees and adequate bursaries. These steps, and proper investment in buildings and resources, require a huge increase in funding.
This should come not from the pockets of workers through national insurance increases or other means, but from the bank accounts of the super-rich who have used the pandemic to get even richer - some of them by rinsing the NHS itself through lucrative PPE contracts.
The privatised health services and the big drugs companies should be nationalised, with no compensation to their billionaire owners, to form part of a publicly owned, fully funded NHS under the democratic control of workers, patients and our communities.
See also:
---
In this issue
---
News

NHS Critical

Covid-19: New variant emerges but same old capitalist disease

27 dead in channel migrant tragedy

Bulb bailed out, nationalise energy to solve price crisis

Khan threatens further London transport cuts

Kickstart scheme 'insufficient and flawed'

Tories strengthen repressive laws
---
COP26

After COP26: where next for the climate movement?
---
International

Argentine elections see deepening polarisation
---
Wales

Wales: The Labour-Plaid Cymru agreement - jam tomorrow, maybe
---
Rural life

Behind the rural idyll - the problems of everyday life
---
Workplace news

NHS workers - vote yes for action to win a decent pay rise

Staff and students unite against university bosses' attacks

UCU higher education disputes

Education unions lead campaign against Leicester academisation

RMT strikes against abolition of night tube train operators

South Yorkshire Stagecoach drivers strike against measly 1% pay offer

Nottingham and Mansfield trade unions rally against cuts and for better pay

Oaks Park school strike ends following forced concessions
---
Campaigns

East London mass non-payment wins housing victory

Marching to stop violence against women

Housing campaigners protest CEO champagners

Building a political alternative to Tory and Labour cuts

Stop the cuts to Uni arts funding

Plymouth: Hundreds attend vigil for Bobbi-Anne McLeod

Socialism 2021: How we reached our fighting fund appeal target

End fuel poverty
---
Readers' opinion

TV review: Valley of the Tears
---
Home | The Socialist 1 December 2021 | Join the Socialist Party