The Socialist 7 June 2007
Labour cheats NHS
PFI - a licence to print money
Petition on NHS: Stop cuts and privatisations (word)
---
Fight Brown's agenda of war, cuts & privatisation
---
Coventry says 'keep our Post Office open'
CWU delegates attack link with Labour
Come to the Shop Stewards' Network conference
National Shop Stewards Network Founding conference
Ritzy - low-paid workers strike again
---
80,000 demonstrate against the G8 summit
---
---
Young people: a bright future... or different shades of grey
---
Bolivia: Release Adam Ziemkowski
South Africa: Public sector workers in mass fightback
The Arab-Israel 1967 war: repression and bloodshed continues
---
Don't trust the Trust schools - organise!
Tony Blair "brings church into school"
Weekly bin collections AND recycling schemes
Black and Asian group: Socialist ideas to unite all workers
Take part in the 22-28 June Fighting Fund week of action
The fat cat and the 'cleaning lady'
---
Remploy management squander opportunities
PO Box 1398, Enfield EN1 9GT
020 8988 8777

Link to this page: https://www.socialistparty.org.uk/issue/490/2469
Home | The Socialist 7 June 2007 | Join the Socialist Party
Labour cheats NHS
Stop cuts and closures
Pay health workers a living wage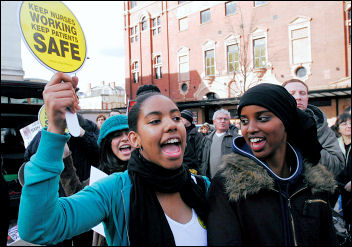 NHS demonstration March 3rd 2007, photo Paul Mattsson
NHS WORKERS were outraged when they heard that there had been a £500 million under-spend in the NHS in England. All over the country hospital trusts have closed wards, sacked staff and delayed operations under orders from health secretary Patricia Hewitt to get deficits wiped out.
Lois Austin
There have been devastating cuts over the last year. 22,300 jobs were lost and these included 1,446 compulsory redundancies. Gordon Brown told health workers that this year's measly pay award of 2.5% could not be afforded in full and its implementation has to be staged.
This latest exposure confirms what campaigners and trade unionists knew all along, that the argument from central government was wrong. The government said the money was not there to maintain health services at the current level and that there was massive overspending by 'irresponsible' hospital trusts and primary care trusts (PCTs). That is simply not true.
This campaign to reduce NHS deficits has really been about 'streamlining' the NHS with cuts and closures, preparing it for further privatisation and ensuring that it meets the requirements of the internal market.
The health trade union rank and file are demanding industrial action over pay. UNISON leaders have so far failed to begin to implement their own health conference policy which was to fight for an above-inflation pay increase.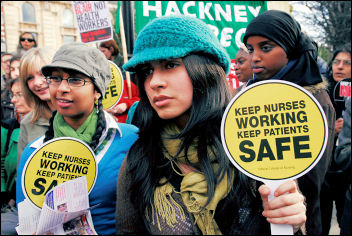 NHS demonstration March 3rd 2007, photo Paul Mattsson
UNISON general secretary Dave Prentis, like the Royal College of Nursing (RCN) leaders, is demanding that the money left over from the £500 million underspend be used to finance the 2.5% increase in full now. The RCN have begun balloting on industrial action over this issue.
It is quite right to say that the money is there to finance the pay award now in full and that is what should happen, but 2.5% is completely inadequate. In effect it means a wage cut when inflation is running at 4.9%.
The unions should be fighting for the demand put forward by left branches at UNISON health conference which was for 5% or a £1,000 a year increase, whatever is the greater, and prepare for industrial action, including strike action on this issue.
Linked to this, the struggle against the privatisation of the NHS, cuts, closures and redundancies must be stepped up.
There are protests all over the country at blood processing centres on 15 June against privatisation and centralisation of the blood service. Supporters of the NHS and other trade unionists should go to these protests.
Don't forget to organise a protest or come to the Central London rally on Parliament Green on Thursday 5 July, the 59th anniversary of the NHS's foundation.
Last but most vital of all, we must build for a massive turnout to the national trade union-led NHS demonstration on 13 October.
---
In this issue

Labour cheats NHS

PFI - a licence to print money

Petition on NHS: Stop cuts and privatisations (word)
---
War and terrorism

Fight Brown's agenda of war, cuts & privatisation
---
Socialist Party workplace news

Postal workers fight closure

Coventry says 'keep our Post Office open'

CWU delegates attack link with Labour

Come to the Shop Stewards' Network conference

National Shop Stewards Network Founding conference

Ritzy - low-paid workers strike again
---
G8 Summit protests

80,000 demonstrate against the G8 summit

Activists with ideas
---
What we think

Drowning in an ocean of debt
---
Socialist Party feature

Young people: a bright future... or different shades of grey
---
International socialist news and analysis

Bolivia: Release Adam Ziemkowski

South Africa: Public sector workers in mass fightback

The Arab-Israel 1967 war: repression and bloodshed continues
---
Socialist Party news and analysis

Don't trust the Trust schools - organise!

Tony Blair "brings church into school"

Weekly bin collections AND recycling schemes

Black and Asian group: Socialist ideas to unite all workers

Take part in the 22-28 June Fighting Fund week of action

The fat cat and the 'cleaning lady'
---
Workplace news and analysis

Remploy management squander opportunities

Tesco strikes show new mood
---
Home | The Socialist 7 June 2007 | Join the Socialist Party