The Socialist 23 November 2010
Youth Fight for Education: No cuts, no fees, save EMA!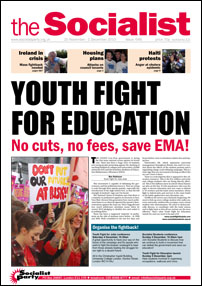 ---
Youth Fight for Education: No cuts, no fees, save EMA!
No to victimisation, defend student protesters!
Defend university access for all!
Universities occupied over fees and cuts
---
Not one job or one service to be cut
Mass organised action can stop cuts
1,000 march in Gloucester against 'scorched earth policy'
Fighting cuts: A militant stance is what's needed
Profiting from the most vulnerable
Government plans are an attack on council tenants
---
McCluskey elected Unite general secretary
---
Scotland and Wales: Don't accept the 'hand you have been dealt'
Cholera epidemic sparks clashes between Haitians and UN troops
Massive food price hikes spell disaster for poorest people
PDFs for this issue

Page1 pdf

Page2 pdf

Page3 pdf

Page4 pdf

Page5 pdf

Centre pages pdf

Page8 pdf

Page9 pdf

Page10 pdf

Page11 pdf

Page12 pdf
PO Box 1398, Enfield EN1 9GT
020 8988 8777

Link to this page: https://www.socialistparty.org.uk/issue/648/10668
Home | The Socialist 23 November 2010 | Join the Socialist Party
Universities occupied over fees and cuts
Sussex
On 15 November, 170 students, including Socialist Student members, occupied a lecture theatre at Sussex university.
On the first night there was a positive mood and we drew up a statement about why we had occupied along with some demands. We also spoke to the local press.
The numbers dwindled as time went on, partly because of a lack of organisation and because we were in a lecture theatre which didn't disrupt management too much.
However on the fourth day more people joined us for a discussion about the controversial appointment of Nato director of policy planning, Jamie Shea, as a lecturer in International Relations.
On the same day we received the welcome news of a potential occupation at London's SOAS university which many regarded as the accomplishment of one of our goals - to encourage other universities to occupy.
We stayed for four nights after which it was decided that it would be tactically better for us to leave. Although not a raving success, the occupation was a starting point and we will learn from our mistakes. We are now focusing on the national day of action called for 24 November and preparing for future struggles.
Jack Auvache Sussex Socialist Students
UWE
At the time of going to press, 60 students from the University of the West of England (UWE) were occupying the 'core 24' building at the university's main campus in Frenchay, Bristol for the second day.
This occupation started in anticipation of other events later in the week including a demonstration on 24 November where students from UWE will link up with students from the University of Bristol, City College of Bristol and secondary schools around the city.
Students inside held discussions about why they are protesting and the way forward for the anti-fees movement. Food was provided by lecturers at the university and the UCU lecturers' union sent speakers to talk to the students about how the cuts will affect them. A local branch of the National Union of Teachers also brought food and solidarity greetings.
Nigel Varley, Chair of the Bristol Anti Cuts Alliance, came down to speak to us about the anti cuts movement in Bristol and how we are all being hit by Tory cutbacks.
Messages of support and solidarity have come in from Socialist Party branches and Socialist Student societies across the country. Messages have also come in from local community groups and trade unionists.
In the evening a sound system was brought in so we could have a party, which brought in more students who we could discuss with.
The success of the occupation and the support shown from outside led us to vote to continue the occupation, hopefully until 24 November when we will join students walking out in protest over tuition fees and education cuts in the centre of Bristol for the student demonstration.
Frankie Langland Bristol Socialist Party
As we went to press, students at Manchester Metropolitan, SOAS and Royal Holloway universities were also occupying in anticipation of 24 November.
SOAS will almost certainly lose 100% of its teaching grant as a result of the funding changes because it offers only arts and humanities degrees.
---
In this issue
---
Youth Fight for Education

Youth Fight for Education: No cuts, no fees, save EMA!

No to victimisation, defend student protesters!

Defend university access for all!

Universities occupied over fees and cuts
---
Anti-cuts campaign

Not one job or one service to be cut

Mass organised action can stop cuts

1,000 march in Gloucester against 'scorched earth policy'

Fighting cuts: A militant stance is what's needed

Profiting from the most vulnerable

Government plans are an attack on council tenants

Fast news
---
Socialist Party workplace news

Firefighters on the march

McCluskey elected Unite general secretary
---
International socialist news and analysis

Ireland in crisis

Scotland and Wales: Don't accept the 'hand you have been dealt'

Cholera epidemic sparks clashes between Haitians and UN troops

Massive food price hikes spell disaster for poorest people
---
Home | The Socialist 23 November 2010 | Join the Socialist Party