The Socialist 8 December 2010
Movement to defeat tuition fees and cuts: This is just the start!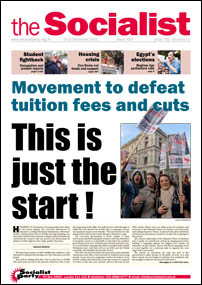 ---
The fight goes on against fees and cuts
---
Youth Fight for Education launch
Youth Fight for Jobs conference report
30 November: student day of action on cuts and fees
Con-Dems can be defeated: Welsh Assembly backs down on EMA and fees
---
Tories' secret job cuts plan exposed
'We need fighting unions to halt cuts'
Nottingham march against billionaire tax dodgers
---
All-Britain Anti-Cuts Campaign to be launched
Building the anti-cuts movement
Scotland: Unison votes for fighting cuts strategy
TUSC calls election campaign conference
---
---
Housing under attack: Ripping off the roof over our heads
---
Medirest health workers need help to fight multinational
Campaign stops health bosses' closure plan
Don't let profit become the bottom line in care
---
---
Protesters demand halt to opencast coal mining in Bangladesh
Egypt's regime perpetrates a massive election fraud
Warmonger Rajapaksa forced to abandon his Oxford Union speech
Kazakhstan - a repressive and corrupt state
PDFs for this issue

Page1 pdf

Page2 pdf

Page3 pdf

Page4 pdf

Page5 pdf

Centre pages pdf

Page8 pdf

Page9 pdf

Page10 pdf

Page11 pdf

Page12 pdf
PO Box 1398, Enfield EN1 9GT
020 8988 8777

Link to this page: https://www.socialistparty.org.uk/issue/650/10780
Home | The Socialist 8 December 2010 | Join the Socialist Party
Protesters demand halt to opencast coal mining in Bangladesh
PROTESTERS VOICED their anger at Global Coal Management Resources Ltd (GCM), outside the mining company's annual general meeting (AGM) in central London on 6 December. The focus of the protest was GCM's aim to develop one of the world's largest opencast coal mines in Phulbari, northwest Bangladesh.
Manny Thain
Clearly nervous at the attention, they locked themselves into the building. GCM then announced the AGM's 'success' at 11.46am - just three-quarters of an hour after it was due to start!
If this project goes ahead, up to 120,000 people will be displaced and vital food-producing land will be destroyed in a country where there is widespread hunger. On top of this, water access of tens of thousands of people will be cut while the risk of pollution to existing water sources will be greatly increased. A huge area of mangroves, which play a critical role in controlling extreme weather event devastation, will also be severely damaged.
There is mass opposition to this project. This came to a head when over 70,000 people demonstrated in Phulbari in August 2006 against the same plan by Asia Energy - as GCM was known at the time.
Paramilitary forces opened fire on that demonstration killing three young people. But the determination of that campaign and of its supporters internationally, forced Asia Energy out of Bangladesh.
The Bangladesh Awami League went on to win the subsequent general election in 2008 promising to protect the interests of the people in Phulbari.
Enjoying a massive majority, the government then broke its word. Once again, however, the government is being pushed back by the strength of the campaign - which recently organised a long march through Bangladesh. (See Socialist Party website's interview with the leader of the National Committee to Protect Oil, Gas, Mineral Resources, Power and Ports - posted on 18 November.)
The protest in London was organised by the London branch of that campaign and its speakers were supplemented by other eye-witness reports, the London Mining Network campaign group, and the Socialist Party, among others.
GCM's plan is to ruthlessly exploit the resources of Bangladesh, exporting massive profits while leaving devastation in its wake - a new colonialism.
What is clear is that the company does not like to be put under the spotlight, as it was by the London protest. The campaign continues, as does the Socialist Party's solidarity with our sisters and brothers in Bangladesh.
---
In this issue
---
Fighting cuts and fees

This is just the start!

The fight goes on against fees and cuts

Resisting police intimidation
---
Youth Fight for Education

Youth Fight for Education launch

Youth Fight for Jobs conference report

Socialist Students conference

30 November: student day of action on cuts and fees

Con-Dems can be defeated: Welsh Assembly backs down on EMA and fees

Organising a college walkout
---
Anti-cuts campaign

Cuts cost lives

Tories' secret job cuts plan exposed

'We need fighting unions to halt cuts'

Nottingham march against billionaire tax dodgers
---
National Shop Stewards Network

All-Britain Anti-Cuts Campaign to be launched

Building the anti-cuts movement

Scotland: Unison votes for fighting cuts strategy

TUSC calls election campaign conference
---
Keep the post public campaign

Keep the Post Public campaign
---
Trade Unionist and Socialist Coalition

Housing under attack: Ripping off the roof over our heads
---
Socialist Party NHS campaign

Medirest health workers need help to fight multinational

Campaign stops health bosses' closure plan

Don't let profit become the bottom line in care
---
Anti-racism

Battle for Barking

Hull: racist BNP demo stopped
---
International socialist news and analysis

Protesters demand halt to opencast coal mining in Bangladesh

Egypt's regime perpetrates a massive election fraud

Warmonger Rajapaksa forced to abandon his Oxford Union speech

Kazakhstan - a repressive and corrupt state
---
Home | The Socialist 8 December 2010 | Join the Socialist Party