The Socialist 13 February 2013
Defend the NHS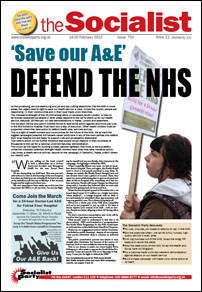 ---
'Save our A&E' - Defend the NHS
Mid Staffs hospital scandal: Big business culture kills
---
GCSE U-turn shows all Gove's 'reforms' can be stopped
Smash the blacklist - not the unions!
Victory over 'workfare' sanctions
Horsemeat scandal: good for profit, bad for health
"Fully funded" social care plan - still needed
---
15 February 2003: A million on the streets to stop the war
---
TUSC: 'No cuts' candidate in Eastleigh
Nottingham: Campaigning for comedy without misogyny
Support the fight for a socialist alternative
Socialist Party 2013 national youth and student meeting
---
Unison region calls for general strike
Care workers fight cuts in pay and conditions
---
Greece: Martial law ends ferry workers' strike
---
Low pay + high prices = debt misery
Film review: 'No' - an exercise in rewriting Chile's history
Spielberg's Lincoln by Tony Mulhearn
PO Box 1398, Enfield EN1 9GT
020 8988 8777

Link to this page: https://www.socialistparty.org.uk/issue/752/16109
Home | The Socialist 13 February 2013 | Join the Socialist Party
Subscribe | Donate | PDF | ebook
Unison South East region calls for general strike
By Paul Couchman, branch secretary, Surrey County Unison (in a personal capacity)
Calls for a general strike of all workers came thick and fast at Saturday's AGM of the Unison south east region.
Resolutions calling for coordinated 24-hour general strike action came in from Surrey and Portsmouth local government branches and from Bucks Health branch.
Only one person spoke against the motions with speaker after speaker pushing for Unison's leadership to take the lead within the TUC.
In moving the Surrey motion, I argued the need for our union to give a lead to the millions of working class people already struggling in Britain.
Food banks are appearing in Surrey County Council offices for the first time in living memory. I also said that the trade union movement needs a general strike to remind the government we exist and that workers hold the real power in society.
Delegates from social workers to admin workers to health workers all spoke of a growing mood of anger and determination amongst Unison members and the support that could be built across the whole union for a general strike.
James Morbin from Oxford Health explained how the tragedies and scandals now unfolding in the NHS are a direct result of the Con-Dem government's privatisation and austerity programme.
Jane Armitage from Surrey County reminded delegates how many new members joined Unison when we took coordinated strike action on pensions.
All three motions were passed overwhelmingly by the 100+ delegates present and the meeting agreed to send them as a combined motion to the Unison national conference in June.
Many delegates made it clear that we don't want to wait until June for our national leaders to step up to the mark but agreed that the motion should go to conference just in case we are still waiting.
---
This version of this article was first posted on the Socialist Party website on 11 February 2013 and may vary slightly from the version subsequently printed in The Socialist.
---
In this issue
---
Socialist Party NHS campaigning

'Save our A&E' - Defend the NHS

Mid Staffs hospital scandal: Big business culture kills
---
Socialist Party news and analysis

GCSE U-turn shows all Gove's 'reforms' can be stopped

Smash the blacklist - not the unions!

Victory over 'workfare' sanctions

Horsemeat scandal: good for profit, bad for health

"Fully funded" social care plan - still needed

Them & Us
---
Socialist Party feature

15 February 2003: A million on the streets to stop the war
---
Socialist Party reports and campaigns

Campaigning against cuts

TUSC: 'No cuts' candidate in Eastleigh

Nottingham: Campaigning for comedy without misogyny

Support the fight for a socialist alternative

Socialist Party 2013 national youth and student meeting
---
Socialist Party workplace news

Unison region calls for general strike

Care workers fight cuts in pay and conditions

Workplace In Brief
---
International socialist news and analysis

Greece: Martial law ends ferry workers' strike
---
Reviews and readers' comments

Low pay + high prices = debt misery

Film review: 'No' - an exercise in rewriting Chile's history

Spielberg's Lincoln by Tony Mulhearn
---
Home | The Socialist 13 February 2013 | Join the Socialist Party