The Socialist 13 February 2013
Defend the NHS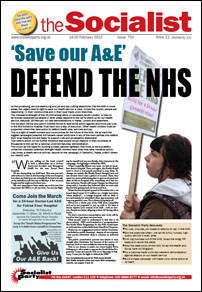 ---
'Save our A&E' - Defend the NHS
Mid Staffs hospital scandal: Big business culture kills
---
GCSE U-turn shows all Gove's 'reforms' can be stopped
Smash the blacklist - not the unions!
Victory over 'workfare' sanctions
Horsemeat scandal: good for profit, bad for health
"Fully funded" social care plan - still needed
---
15 February 2003: A million on the streets to stop the war
---
TUSC: 'No cuts' candidate in Eastleigh
Nottingham: Campaigning for comedy without misogyny
Support the fight for a socialist alternative
Socialist Party 2013 national youth and student meeting
---
Unison region calls for general strike
Care workers fight cuts in pay and conditions
---
Greece: Martial law ends ferry workers' strike
---
Low pay + high prices = debt misery
Film review: 'No' - an exercise in rewriting Chile's history
Spielberg's Lincoln by Tony Mulhearn
PO Box 1398, Enfield EN1 9GT
020 8988 8777

Link to this page: https://www.socialistparty.org.uk/issue/752/16128
Home | The Socialist 13 February 2013 | Join the Socialist Party
Subscribe | Donate | PDF | ebook
Care workers fight cuts in pay and conditions
Unison members in South Derbyshire healthcare branch are having an activity in Derby on Saturday afternoon, 16 February, to publicise how the Thera Trust treats its workforce.
Staff at Thera East Midlands (TEM), part of Thera Trust, support people who have learning difficulties and challenging behaviours.
A Thera employee spoke to Gary Freeman:

Thera is proposing to bring in a draconian contract in the East Midlands and in some (possibly all) other Thera companies which will mean wage cuts for TUPEd [transferred] staff and an end to overtime at weekends, at night and on bank holidays. Staff will lose over £300 a month.
The company wants cuts in sick pay, and a workforce at the beck and call of the employer. The employer's proposed contract means that they can send staff to any site in TEM and if it is at the beginning of the shift, the employee will have to get there in their own time and expense.
Similarly, if staff are not at their usual base at the end of a shift, they are expected to get home in their own time and expense.
The employer wants to introduce annualised hours with no pay for extra hours worked and due to staff shortages, we are concerned about not being paid and also that we will never get the hours back.
The employer wants to include a clause in the contract giving them the right to change the contract when they want. They have also threatened further wage cuts for all.
The company's contract will inevitably lead to a loss of its skilled workforce and will affect the quality of care that support workers are able to give.
Our union branch organises TEM workers in Derbyshire; other Unison branches organise members in other parts of the East Midlands.
We recently had a consultative ballot across the whole East Midlands with a 93% vote for strike action.
Unison members from Thera North in Lancashire (where the union is recognised) are attending the protest.
The union is now preparing for an official ballot in the East Midlands and we hope to win union recognition from this dispute.
Scrap the proposed contract
No reduction of TUPEd terms and conditions
£8 per hour as a minimum for Thera contracted workers
Trade union recognition
Protest Saturday 16 February, Osnabruck Square, Derby, 12.30pm-2.15pm
Informal meeting immediately afterwards in the upstairs room at the Dolphin Inn, Queen Street DE1 3DL
---
In this issue
---
Socialist Party NHS campaigning

'Save our A&E' - Defend the NHS

Mid Staffs hospital scandal: Big business culture kills
---
Socialist Party news and analysis

GCSE U-turn shows all Gove's 'reforms' can be stopped

Smash the blacklist - not the unions!

Victory over 'workfare' sanctions

Horsemeat scandal: good for profit, bad for health

"Fully funded" social care plan - still needed

Them & Us
---
Socialist Party feature

15 February 2003: A million on the streets to stop the war
---
Socialist Party reports and campaigns

Campaigning against cuts

TUSC: 'No cuts' candidate in Eastleigh

Nottingham: Campaigning for comedy without misogyny

Support the fight for a socialist alternative

Socialist Party 2013 national youth and student meeting
---
Socialist Party workplace news

Unison region calls for general strike

Care workers fight cuts in pay and conditions

Workplace In Brief
---
International socialist news and analysis

Greece: Martial law ends ferry workers' strike
---
Reviews and readers' comments

Low pay + high prices = debt misery

Film review: 'No' - an exercise in rewriting Chile's history

Spielberg's Lincoln by Tony Mulhearn
---
Home | The Socialist 13 February 2013 | Join the Socialist Party