The Socialist 5 June 2013
Food bank Britain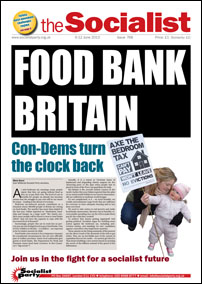 ---
Food bank Britain: Con-Dems turn the clock back
NSSN conference : Unite to fight all the cuts
Legal aid cuts: Justice in the balance
Continued deterioration of the Labour Party
---
Mass joblessness wrecks lives! Youth must fight for a future
A day in the life of a Primark employee
---
NHS crisis: Turn anger into action
---
Turkey: Mass movement challenges Erdogan's authoritarian government
---
97% vote for strike action at Carling brewery
Thera Trust: the campaign moves up a gear
Unison and Labour: Welsh government cuts are still cuts
Lecturers' union UCU members vote to fight austerity
---
1983: A political voice for the working class
---
Campaigning against the bedroom tax
Standing for TUSC in Woolston, Southampton
Save the Independent Living Fund
Needed: new social housing NOT unaffordable rents
Support the Fighting Fund collectathon!
Socialist Party national organisers' school
---
Crackdown on democratic rights
PO Box 1398, Enfield EN1 9GT
020 8988 8777

Link to this page: https://www.socialistparty.org.uk/issue/768/16825
Home | The Socialist 5 June 2013 | Join the Socialist Party
Subscribe | Donate | PDF | ebook
Food bank Britain: Con-Dems turn the clock back
Steve Score, East Midlands Socialist Party secretary
At anti-bedroom tax meetings many people report that they are going without food as they try to pay their rent. The level of cuts in benefits for people on already low incomes means that the struggle to pay rent will be too much for many - leading to the threat of evictions.
Bedroom tax-enforced poverty contributes to a situation where 500,000 people in Britain are relying on food banks. The number has more than tripled in the last year. Oxfam reported on "destitution, hardship and hunger on a large scale". The charity predicts more people will be forced to turn to food banks which "may not have the capacity to cope with the increased level of demand."
Increasingly, people who are in work but on poverty pay are also being forced to go to food banks. One in four children in Britain - 3.4 million - are expected to be in relative poverty by 2020.
Food banks were meant to be a temporary measure for exceptional circumstances, but are now officially part of welfare provision. Some local authorities give grants to food banks. The Department for Work and Pensions issues food bank vouchers. Is this Cameron's "big society"?
Actually, it is a return to Victorian times of haphazard and degrading charity support for the 'deserving poor', or the days when people had to plead in front of the Poor Law guardians for help.
But Britain is the seventh richest country in the world. Earlier this year Oxfam reported that the piles of un-taxed wealth hidden in tax havens internationally are sufficient to eradicate world hunger.
It's not complicated, is it - we need benefits, tax credits and minimum wage levels that are sufficient for everyone to have adequate housing and to buy their own food.
We need to take action to end poverty and make food banks unnecessary. Reverse cuts in benefits, reverse public spending cuts, tax the rich to make them pay for the crisis they created!
To achieve that means getting organised! And getting political. Socialists argue for building mass action against the bedroom tax, including anti-eviction armies, and standing 'no cuts' candidates against councillors who implement austerity.
These attacks on the living standards of the poorest are the direct result of the demands of the rich to get richer. They are an inevitable part of the system of capitalism that we live under - we need to get rid of it. That means building a new system based on meeting the needs of the billions instead of the greed of the billionaires.
Join us in the fight for a socialist future
---
In this issue
---
Socialist Party news and analysis

Food bank Britain: Con-Dems turn the clock back

NSSN conference : Unite to fight all the cuts

Legal aid cuts: Justice in the balance

Continued deterioration of the Labour Party

Them & Us
---
Youth feature

Mass joblessness wrecks lives! Youth must fight for a future

A day in the life of a Primark employee
---
NHS feature

NHS crisis: Turn anger into action
---
International socialist news and analysis

Turkey: Mass movement challenges Erdogan's authoritarian government
---
Socialist Party workplace news

PCS rolling strike programme

97% vote for strike action at Carling brewery

Thera Trust: the campaign moves up a gear

Unison and Labour: Welsh government cuts are still cuts

Lecturers' union UCU members vote to fight austerity

Workplace news in brief
---
Socialist history

1983: A political voice for the working class
---
Socialist Party reports and campaigns

Campaigning against the bedroom tax

Stopping the BNP in London

EDL blocked by counter demo

Standing for TUSC in Woolston, Southampton

Save the Independent Living Fund

Needed: new social housing NOT unaffordable rents

Support the Fighting Fund collectathon!

Socialist Party national organisers' school
---
Readers' comments

Stop drone attacks!

Crackdown on democratic rights
---
Home | The Socialist 5 June 2013 | Join the Socialist Party