The Socialist 5 June 2013
Food bank Britain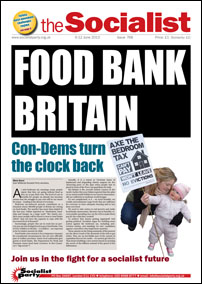 ---
Food bank Britain: Con-Dems turn the clock back
NSSN conference : Unite to fight all the cuts
Legal aid cuts: Justice in the balance
Continued deterioration of the Labour Party
---
Mass joblessness wrecks lives! Youth must fight for a future
A day in the life of a Primark employee
---
NHS crisis: Turn anger into action
---
Turkey: Mass movement challenges Erdogan's authoritarian government
---
97% vote for strike action at Carling brewery
Thera Trust: the campaign moves up a gear
Unison and Labour: Welsh government cuts are still cuts
Lecturers' union UCU members vote to fight austerity
---
1983: A political voice for the working class
---
Campaigning against the bedroom tax
Standing for TUSC in Woolston, Southampton
Save the Independent Living Fund
Needed: new social housing NOT unaffordable rents
Support the Fighting Fund collectathon!
Socialist Party national organisers' school
---
Crackdown on democratic rights
PO Box 1398, Enfield EN1 9GT
020 8988 8777
editors@socialistparty.org.uk

Link to this page: https://www.socialistparty.org.uk/issue/768/16826
Home | The Socialist 5 June 2013 | Join the Socialist Party
Subscribe | Donate | PDF | ebook
NHS crisis: Turn anger into action
A former GP wrote to the Independent last week saying that the National Health Service (NHS) "is being intentionally destroyed in order that the sick and injured can be fully exploited for private profit. Doctors, nurses and even patients are being systematically demonised to facilitate the process and shift blame from government". "Wake up! Get angry!" he implored.
Such a view echoes what the Socialist has been saying for years; ie through 'efficiency savings', job cuts, A&E and ward closures, PFI privatisations, Foundation Trusts and, in England, the government's Health and Social Care Act, previous Labour governments and now the Con-Dems are systematically dismantling the NHS to benefit private profit vultures.
People are angry about this assault on a vital public service but they need to get organised. Health campaigners should get behind the call for health unions to build a massive national weekend demo and for trade unions to organise a 24-hour general strike to defeat this NHS-wrecking government.
No cuts at Royal Glamorgan Hospital
United campaign against the South Wales Programme needed
Dave Reid
People in Rhondda Cynon Taff have reacted with anger and alarm at the threat from the Welsh government to close a fully functioning A&E at Royal Glamorgan hospital near Pontypridd.
The cuts at the Royal Glamorgan are part of the South Wales Programme recently proposed by the Welsh government to centralise core hospital services in South Wales in just five hospitals.
Rhondda Cynon Taff has one of the highest levels of health needs in the UK. People in the Rhondda have already lost a doctor-led service at Llwynypia hospital. Now they will be expected to travel long distances in emergencies. And the ambulance service cannot cope with the distances it already has to cover.
The South Wales Programme has been put out to public consultation ending on 19 July. Various other 'options' for centralising the services are offered as alternatives, but the downgrading of Royal Glamorgan is the preferred option. All options should be rejected because they all mean cuts.
The Welsh government has cut funding to the NHS by at least £300 million this year, close to a whopping £1 billion so far since the cuts began.
In reality the different options really come down to a choice between downgrading Royal Glamorgan or downgrading the Princess of Wales in Bridgend. The Welsh Labour government is cynically trying to play off hospital against hospital, borough against borough, working class against working class, in the hope that by dividing them they can force the programme through.
And the Labour Party representatives are more than happy to play that game. Labour Assembly Members (AMs) and MPs have trotted out in Pontypridd and the Rhondda to oppose the downgrading of Royal Glamorgan while supporting the South Wales Programme overall.
As the ITV interviewer put it to Mick Antoniw, AM for Pontypridd, "you are just Nimbys ('Not In My Back Yard') really aren't you?" It would be more accurate to describe Antoniw and his partner in crime Leighton Andrews as 'Himbys' - they want a 'Hospital In My Back Yard' instead of someone else's. Incredibly, Leighton Andrew is a prominent member of the same cabinet that is putting forward the plan to close core services at Royal Glamorgan.
The danger is that hospital campaigners in Rhondda Cynon Taff and Bridgend will be drawn into a war against each other. The Royal Glamorgan would be likely to lose out because the First Minister, Carwyn Jones, is the Assembly Member for Bridgend.
And what will be the situation for the 'victorious' hospital? Thousands more patients from outside the area pouring into its A&E. All the A&Es are at breaking point with six hour waiting times common. There can be no winners in the war between hospitals - the NHS will be loser.
Campaign
The only way to save services at the Royal Glamorgan is to unite health campaigners across South Wales against the whole South Wales Programme. Unity really IS strength.
Unfortunately trade union leaders in Wales are so close to the Labour leadership that they prefer to bury their heads in the sand and pretend there are no significant cuts in Wales.
On the same day that the South Wales Programme was announced the Wales TUC conference dominated by trade union bureaucrats rejected a call by Swansea Trades Council to oppose the Programme. The convener of Unison Cymru, 'representing' the majority of the tens of thousands of health workers in Wales, opposed the motion, uttering the immortal words "if we pass this motion we will have to oppose all NHS cuts in Wales"!
But trade union members across South Wales will not support the campaign to downgrade any hospital. Welsh trade unionists were at the forefront of the struggle for the NHS and we will not surrender it easily.
Socialist Party members will be at the very forefront of this campaign: a united campaign to defend the NHS in Wales. But time is short. We must not let the Labour leaders set our communities against each other.
No cuts in the health service
Kick big business out of the NHS
Cancel privatisation and outsourcing contracts - reintegrate all health services back into the NHS.
All hospitals to be fully run and funded by the NHS
Adequate staffing levels to provide good quality care for all patients. Decent pay and conditions for all staff
Health service unions to organise industrial action to defend every part of the NHS
---
>
Private vultures target pathology services
Lee Payne
A national directive is seeing pathology services, which include microbiology and haematology, undergo a radical transformation which has been driven by the Carter Report (2008). The report recommended the centralisation of services to both concentrate expertise and cut costs.
As a result most local district general hospitals already have or will have either a limited or no capacity to perform certain types of tests as they will become 'satellites'. Specimens will instead be transported many miles by road to the nearest super lab or 'Hub' site.
It is feared that this in itself may prove more costly, be prone to delays with the potential mix up or even loss of specimens.
Laboratory staff around the country have faced many months or even years of uncertainty surrounding the status of their laboratories and indeed their future employment prospects.
These dedicated professionals will now have to face a selection process for the jobs which remain available to them; most of those who are successful in securing a position will face either a lengthy commute or a costly relocation. Those who are unsuccessful will be likely to face the spectre of compulsory redundancy.
Voluntary redundancy is unlikely to be offered for the fear of the more costly staff electing for this option! The lucky ones will be those who are in a position to take the option of early retirement.
By and large the new service provision will remain within the NHS and the civil service organisation Public Health England which replaces the Health Protection Agency.
However, there are grave concerns that under the government's preference of 'any qualified provider' it will not be long before the vultures such as Virgin Health and Serco swoop down and pick over the bones and carry away the most profitable services, which has already begun in some areas.
---
>
Transfer out of NHS or quit
Hundreds of NHS pathology staff at the Royal Free and University College London hospitals are being told to transfer to a new "joint venture" private health company - The Doctors Laboratory - or resign. It means that new staff cannot belong to the pension scheme nor receive childcare vouchers nor enjoy cycle schemes as at present in the NHS.
This private sector takeover is the result of previous Labour governments' decision to set up self-governing Foundation Trusts which are then able to tie in with private companies to bid for NHS work.
The Doctors Laboratory is owned by Sonic Healthcare, an Australian-based multinational company with an annual turnover of three billion Australian dollars.
In tackling outsourcing, health trade unions, such as Unison, say union reps should seek a commitment from the new employer guaranteeing no two-tier workforce. But what if the employer refuses? Clearly the unions need to build a campaign to take industrial action.
---
>
National Shop Stewards Network (NSSN)
Defend the NHS - new bulletin
Downloadable resource - available at
---
>
Needed: a strategy to stop the destruction of the NHS
A collection of articles from the Socialist
£2 including postage, Available from Socialist Books
PO Box 24697, London E11 1YD
020 8988 8789 www.socialistbooks.org.uk
---
In this issue
---
Socialist Party news and analysis

Food bank Britain: Con-Dems turn the clock back

NSSN conference : Unite to fight all the cuts

Legal aid cuts: Justice in the balance

Continued deterioration of the Labour Party

Them & Us
---
Youth feature

Mass joblessness wrecks lives! Youth must fight for a future

A day in the life of a Primark employee
---
NHS feature

NHS crisis: Turn anger into action
---
International socialist news and analysis

Turkey: Mass movement challenges Erdogan's authoritarian government
---
Socialist Party workplace news

PCS rolling strike programme

97% vote for strike action at Carling brewery

Thera Trust: the campaign moves up a gear

Unison and Labour: Welsh government cuts are still cuts

Lecturers' union UCU members vote to fight austerity

Workplace news in brief
---
Socialist history

1983: A political voice for the working class
---
Socialist Party reports and campaigns

Campaigning against the bedroom tax

Stopping the BNP in London

EDL blocked by counter demo

Standing for TUSC in Woolston, Southampton

Save the Independent Living Fund

Needed: new social housing NOT unaffordable rents

Support the Fighting Fund collectathon!

Socialist Party national organisers' school
---
Readers' comments

Stop drone attacks!

Crackdown on democratic rights
---
Home | The Socialist 5 June 2013 | Join the Socialist Party