The Socialist 5 June 2013
Food bank Britain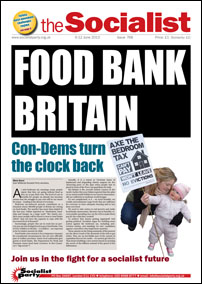 ---
Food bank Britain: Con-Dems turn the clock back
NSSN conference : Unite to fight all the cuts
Legal aid cuts: Justice in the balance
Continued deterioration of the Labour Party
---
Mass joblessness wrecks lives! Youth must fight for a future
A day in the life of a Primark employee
---
NHS crisis: Turn anger into action
---
Turkey: Mass movement challenges Erdogan's authoritarian government
---
97% vote for strike action at Carling brewery
Thera Trust: the campaign moves up a gear
Unison and Labour: Welsh government cuts are still cuts
Lecturers' union UCU members vote to fight austerity
---
1983: A political voice for the working class
---
Campaigning against the bedroom tax
Standing for TUSC in Woolston, Southampton
Save the Independent Living Fund
Needed: new social housing NOT unaffordable rents
Support the Fighting Fund collectathon!
Socialist Party national organisers' school
---
Crackdown on democratic rights
PO Box 1398, Enfield EN1 9GT
020 8988 8777
editors@socialistparty.org.uk

Link to this page: https://www.socialistparty.org.uk/issue/768/16837
Home | The Socialist 5 June 2013 | Join the Socialist Party
Subscribe | Donate | PDF | ebook
Socialist Party national organisers' school
Ninety Socialist Party members from every region of England and Wales attended a weekend organiser's school in Staffordshire on 1-2 June. Siobhan Friel from Coventry reports.
There were a lot of sessions to choose from over the weekend. I went to a discussion about British Perspectives, one on the transitional programme for socialism, a workshop on how we can increase sales of the Socialist and recruit new party members, and also sessions on Scotland and South Africa.
I found all of them very comprehensive and enjoyable. They were also helpful, both politically and more practically, in terms of helping me develop my understanding and ability to gain support for the party.
I found the recruitment and paper sessions particularly useful as they were set up in a way which meant everyone there spoke an almost equal amount. Nobody was given the option of not contributing - which is often tempting for shyer members!
I greatly enjoyed the discussion on the transitional programme. I felt everyone there was challenged by different parts of the topic which meant we had a really involved discussion.
My favourite session of the weekend was probably Scotland and the referendum. It gave a clear description of our party's approach to the question of independence in general.
Between the sessions there was a great atmosphere, everyone seemed to have a lot of fun and to gain a lot from the sessions. All in all, a fantastic weekend.
---
In this issue
---
Socialist Party news and analysis

Food bank Britain: Con-Dems turn the clock back

NSSN conference : Unite to fight all the cuts

Legal aid cuts: Justice in the balance

Continued deterioration of the Labour Party

Them & Us
---
Youth feature

Mass joblessness wrecks lives! Youth must fight for a future

A day in the life of a Primark employee
---
NHS feature

NHS crisis: Turn anger into action
---
International socialist news and analysis

Turkey: Mass movement challenges Erdogan's authoritarian government
---
Socialist Party workplace news

PCS rolling strike programme

97% vote for strike action at Carling brewery

Thera Trust: the campaign moves up a gear

Unison and Labour: Welsh government cuts are still cuts

Lecturers' union UCU members vote to fight austerity

Workplace news in brief
---
Socialist history

1983: A political voice for the working class
---
Socialist Party reports and campaigns

Campaigning against the bedroom tax

Stopping the BNP in London

EDL blocked by counter demo

Standing for TUSC in Woolston, Southampton

Save the Independent Living Fund

Needed: new social housing NOT unaffordable rents

Support the Fighting Fund collectathon!

Socialist Party national organisers' school
---
Readers' comments

Stop drone attacks!

Crackdown on democratic rights
---
Home | The Socialist 5 June 2013 | Join the Socialist Party