The Socialist 5 June 2013
Food bank Britain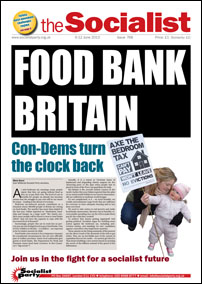 ---
Food bank Britain: Con-Dems turn the clock back
NSSN conference : Unite to fight all the cuts
Legal aid cuts: Justice in the balance
Continued deterioration of the Labour Party
---
Mass joblessness wrecks lives! Youth must fight for a future
A day in the life of a Primark employee
---
NHS crisis: Turn anger into action
---
Turkey: Mass movement challenges Erdogan's authoritarian government
---
97% vote for strike action at Carling brewery
Thera Trust: the campaign moves up a gear
Unison and Labour: Welsh government cuts are still cuts
Lecturers' union UCU members vote to fight austerity
---
1983: A political voice for the working class
---
Campaigning against the bedroom tax
Standing for TUSC in Woolston, Southampton
Save the Independent Living Fund
Needed: new social housing NOT unaffordable rents
Support the Fighting Fund collectathon!
Socialist Party national organisers' school
---
Crackdown on democratic rights
PO Box 1398, Enfield EN1 9GT
020 8988 8777
editors@socialistparty.org.uk

Link to this page: https://www.socialistparty.org.uk/issue/768/16847
Home | The Socialist 5 June 2013 | Join the Socialist Party
Subscribe | Donate | PDF | ebook
Standing for TUSC in Woolston, Southampton
Socialist and campaigner Sue Atkins explains why she is standing for TUSC in the Southampton Woolston ward byelection on 13 June. Sue has the support of rebel councillors Don Thomas and Keith Morrell who have been expelled from Labour for voting against cuts!
The Tories, Lib Dems and Labour are all signed up to making the working class pay for the crimes of the bankers and the political establishment.
I want to join like-minded people on the council, such as anti-cuts councillors, Keith Morrell and Don Thomas, who put principles first, rather than lining their own pockets.
In the face of Con-Dem cuts, people in Woolston are increasingly unhappy with the way local Labour councillors have voted through cuts to Sure Start, local libraries and the Woolston Youth Centre.
As well as having a hard-working local councillor, electing a third anti-cuts councillor in Southampton would send a powerful message to the political establishment in Southampton: 'It doesn't have to be like this - there is a choice - enough is enough.'
The bedroom tax will hit many Woolston ward residents. We have met many people worried about how it will affect them.
Last month the two Coxford ward rebel councillors proposed that the council remove the threat of eviction if a tenant falls into arrears because they are unable to pay the bedroom tax increase in their rent.
With a large majority, you would think Labour councillors would have backed their verbal opposition to the Bedroom Tax with decisive action to end the financial stress and anxiety many families currently face, yet they voted with the Tories and Lib Dems to oppose the motion.
If elected, I will play my part in the campaign to force the government to repeal this spiteful tax on those least able to afford it.
This year's council budget saw £1 million axed from the Sure Start programme across Southampton. Parents are furious about the cuts to these services, where staff have been cut along with money for children's trips.
Woolston library has had its opening hours cut by one day a week. The Save Southampton Youth Services campaign fought hard to stop the closure of the local youth centre in Woolston.
While a reprieve for a year has been won, its sessions have been cut from three to one a week.
How many of these services will disappear next year unless Labour councillors stand up and refuse to implement the Con-Dem cuts?
On the day after this byelection, Labour will still have a majority whatever the result. What is the point of electing one more Labour councillor who will put their hand up for Con-Dem cuts? Every vote we receive will be a powerful message to Labour councillors, 'Stand up and fight the cuts, or step aside for those who will!'
---
>
The Trade Unionist and Socialist Coalition (TUSC) is an electoral alliance that stands candidates against all cuts and privatisation.
It involves the RMT transport workers' union, leading members of other trade unions including the PCS, NUT and POA and socialist groups including the Socialist Party.
---
In this issue
---
Socialist Party news and analysis

Food bank Britain: Con-Dems turn the clock back

NSSN conference : Unite to fight all the cuts

Legal aid cuts: Justice in the balance

Continued deterioration of the Labour Party

Them & Us
---
Youth feature

Mass joblessness wrecks lives! Youth must fight for a future

A day in the life of a Primark employee
---
NHS feature

NHS crisis: Turn anger into action
---
International socialist news and analysis

Turkey: Mass movement challenges Erdogan's authoritarian government
---
Socialist Party workplace news

PCS rolling strike programme

97% vote for strike action at Carling brewery

Thera Trust: the campaign moves up a gear

Unison and Labour: Welsh government cuts are still cuts

Lecturers' union UCU members vote to fight austerity

Workplace news in brief
---
Socialist history

1983: A political voice for the working class
---
Socialist Party reports and campaigns

Campaigning against the bedroom tax

Stopping the BNP in London

EDL blocked by counter demo

Standing for TUSC in Woolston, Southampton

Save the Independent Living Fund

Needed: new social housing NOT unaffordable rents

Support the Fighting Fund collectathon!

Socialist Party national organisers' school
---
Readers' comments

Stop drone attacks!

Crackdown on democratic rights
---
Home | The Socialist 5 June 2013 | Join the Socialist Party