The Socialist 4 December 2013
Corporate killers - nationalise the bix six energy companies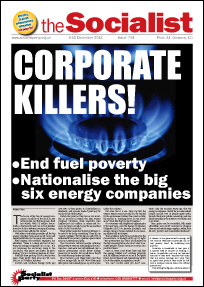 ---
Boris - it's the system, stupid
SNP's white paper will not deliver decisive change
---
The fight against low pay in the United States
---
Kent: Unions and parents unite against all the cuts
Council uses court against Bedroom Tax victims
Support the fightback in Con-Dems' Dickensian Britain
---
London TUSC groups plan for 2014 elections
---
Npower job cuts must be fought!
Universities: second coordinated strike over pay
London University: strike by support staff
Support striking St Mungos workers
Civil service union calls for an end to violence in Jobcentres
---
Is workfare coming to Morrisons?
PO Box 1398, Enfield EN1 9GT
020 8988 8777
editors@socialistparty.org.uk

Link to this page: https://www.socialistparty.org.uk/issue/791/17836
Home | The Socialist 4 December 2013 | Join the Socialist Party
Subscribe | Donate | PDF | ebook
Universities: second coordinated strike over pay
East London
The University of East London docklands site was quieter than usual this morning as staff and students stayed away to support the one-day coordinated national strike for higher pay.
Jill, lecturers' University and College Union (UCU) representative for part-time staff told the Socialist: "The strike is going rather well. A lot of people have not come in. It's very effective to have all the unions out together - it gives a sense of solidarity."
The Unison shop steward on the picket line said that this second day of strike action, involving the four unions on campuses in the UK, has taken place after a real-terms 13% fall in pay over the last four years, while staff have been offered just 1%.
On average, vice-chancellors were paid £207,318 back in 2009-10 and in addition, management have said they have a massive war chest - "yet we're expected to make do with a 1% pay rise". Nationally universities have amassed a surplus of £1.1 billion.
Teaching staff, Jill said, were now being offered contracts guaranteeing only 20 hours paid teaching a year - not far from zero-hour contracts - and that this was: "becoming more prevalent. But today is about pay. With inflation at 2.2%, we are being offered a pay cut."
The four unions on strike are UCU, Unison, Unite and in Scotland the Educational Institute of Scotland (EIS). The picket was officially backed by the students' union NUS as a result of a resolution put by Socialist Party and NUS NEC member Edmund Schluessel (see the Socialist, issue 790).
After the first strike by higher education workers on 31 October, further education workers in UCU are also taking part in the second strike day.
Pete Mason
---
>
Newcastle and Gateshead FE Colleges
At Newcastle college students joined the picket line in support of their lecturers. Those on the picket line outside the sixth form building commented that there were far fewer students around than usual.
Liam Carr, branch secretary at Newcastle FE college told the Socialist: "Today the reason people have come out is because the Association of Colleges (AOC) have offered a 0.7% pay increase.
"This increase is at a time when the cost of living and prices are going through the roof."
He went on to explain: "The 0.7% offer comes with strings attached. The AOC want to see an end to national pay agreements, with a move towards regional pay. This would be a disaster for the north east economy."
Lecturers on the picket line in Gateshead talked about the general worsening of conditions they were facing.
They talked about the 15% pay cut lecturers have faced over the last few years. There was a mood of: our backs are against the wall - we have no alternative but to fight.
At both of the colleges our Socialist Party leaflet, which outlined the necessity of building for a 24-hour general strike to fight austerity, was well received.
Elaine Brunskill
---
>
Brunel University
Three large and cold picket lines took place at Brunel University in London today. Students came out in force to support the staff.
The largest picket had 15 people. There was a fighting mood among the staff who were looking forward to the new year and discussed how to take the fight forward and win a living wage for outsourced staff.
Helen Pattison
---
>
Swansea
Swansea Socialist Students brought solidarity, cakes and biscuits to our staff at Swansea University today taking strike action for the second time this term.
Forty members of staff held a very visible picket line at the university entrance. Everyone having met at the previous strike, the atmosphere was cheerful and familiar.
The picket was a real forum, with students and staff discussing grievances around pay and a shared outrage over what has been branded "toxic" behaviour of the self-styled "CEO" of the School of Management.
The picket also discussed where the campaign for fair pay would be heading next term if employers refused to budge.
But one thing staff at Swansea University know for certain is that they can count on students to support them. "See you next strike!" they said.
Ben Golighlty
---
>
Manchester Met
Patrick Gannon, Manchester Metropolitan University Unison branch chair, spoke to the Socialist:
"The first thing I'd say, is that the strike is noticeably affecting a wider span of areas today, the impact of our action has broadened.
"So, there's noticeably fewer cleaners and domestics going in, those at the worst end of low pay are increasingly engaging with the unions' campaign.
"The strike is looking even more solid across the whole workforce, from the lowest-paid to academics and everyone in between.
"This is a really important campaign, which the unions need to seize hold of and do something with.
"We need to push harder before entering next year's pay claim, to seize a victory against low pay, and set an example to all workers that we can fight and we can win."
---
>
Salford University
Bernie Maguire, Salford University UCU branch president, told Socialist Party members:
"What we need to do is escalate in January, hit them hard then because that's when management panics the most, and the UCU national executive needs to show more leadership to fight and win this dispute."
---
>
Kings College
At London University's King's College, more people had joined Unite, representing support staff, since the last strike. The campus was quieter as more people stayed away.
King's College Students' Union members were supporting the strike, and were on the picket lines from 7am.
Three strikers and their supporters bought copies of the Socialist. One student agreed to stand as a Trade Unionist and Socialist Coalition (TUSC) candidate in 2014.
Ian Pattison, Socialist Students national chair
---
>
Keele University
Pickets were out today on both entrances to Keele University near Stoke-On-Trent. One picket complained at the way in which: "Over years Keele has introduced a system where managers are paid more than myself to tell me to do what I was already doing successfully in the first place! And now they want us to except a 1% pay increase."
The call for a 24-hour general strike against austerity went down well with all those we spoke to and the majority thought Labour were no different to the Tories or Lib Dems.
Andy Bentley
---
>
Liverpool
Socialist Party members in Liverpool visited picket lines at two city centre universities and saw that at every university building was picket by UCU, Unite and Unison members.
The strike was solid with only a few staff members going in. Students were also supportive with many choosing to vote with their feet and stay at home.
A lunchtime demo and march to the Casa Pub in Hope Street were a rally was taking place showed the strength of feeling to get the universities to increase the miserable 1% pay offer.
John Marston
---
>
Southampton University
Union activists were upbeat about the support for the second strike at Southampton University as growing numbers of education workers had joined the union, the picket lines and todays rally.
Listening to stories on the picket line showed there were plenty of reasons why. "You know the money's there to pay a living wage, especially when we were asked to put up a £900 xmas tree in the vice-chancellor's garden! People are working full time and having to claim benefits, this is the 21st century, it's disgusting."
A senior unite rep told me: "People are at breaking point and can't take anymore. Five years we've had this, a 13% pay cut! Our people are working hard and can't afford to live.
"The VC gets a bonus of £40,000. If we're doing so well, why aren't we being rewarded?"
"This is about pay but also about respect, we don't feel we are valued for what we do and people have had enough," explained another union rep and this was the view of many people who spoke to us on the picket lines.
There is a deep anger and bitterness about the double standards, the class division that has opened up in the education sector.
In the last three years at Southampton University the numbers earning over £100,000 has risen from 64 to over 300.
"There are a few living in a big bubble at the top of this university, but no one would notice if they weren't at work today, but look at the uni today, it's like a ghost town.
"We're the ones that make this place tick, the admin staff processing student applications, maintenance staff, cleaners, caterers, teaching staff."
Despite the pressure on families in the run up to Chirstmas, support for the strike action was growing.
Everyone wants to see management open serious negotiations but they are clearly determined, angry and willing to take further action to win their claim.
Nick Chaffey
---
>
Queen Mary University
"Today is an escalation of the last strike, as FE colleges and the EIS union in Scotland are also on strike.
"Next time we're discussing a two day strike to escalate it further," said a picket at Queen Mary University in East London.
A lively and determined picket at the main entrance was asking people not to cross the picket line with a megaphone, as well as face to face.
There are lots of entrances but every one had a picket, with staff from all three unions present and plenty of students supporting them.
Pickets commented on how good it was to have joint action between the unions. Hopefully the next time the HE and FE sectors come out on strike other unions will join them!
Several pickets signed up to support TUSC, and were bowled over by the news of socialist Kshama Sawant's election in Seattle last month, with over 90,000 votes.
Naomi Byron
---
Sheffield
Pictures from the Sheffield strike
---
>
Leeds
Over 500 people took part in the strike march in Leeds. Unions provided speakers at the rallies who made it clear they would support any further action.
The FBU speaker gave a passionate rendition of a poem about austerity and the tyranny it brings.
At Leeds Metropolitan, non-academic staff face the prospect of zero hour contracts.
Left-wing parties and student groups, including Socialist Students, were also present from Leeds Metropolitan University, Leeds University, Bradford University and Leeds College of Art.
Sean Culligan, Leeds Met Socialist Students
---
>
This version of this article was first posted on the Socialist Party website on 3 December 2013 and may vary slightly from the version subsequently printed in The Socialist.
---
In this issue
---
Socialist Party news and analysis

Corporate Killers!

Boris - it's the system, stupid

SNP's white paper will not deliver decisive change

We need mass house building

Build action to save our NHS!

Them & Us
---
International socialist news and analysis

The fight against low pay in the United States
---
Socialist Party reports and campaigns

Kent: Unions and parents unite against all the cuts

Fracking comes North...

Council uses court against Bedroom Tax victims

Support the fightback in Con-Dems' Dickensian Britain
---
Trade Unionist and Socialist Coalition

London TUSC groups plan for 2014 elections
---
Socialist Party workplace news

Save our fire service!

Npower job cuts must be fought!

Universities: second coordinated strike over pay

London University: strike by support staff

Support striking St Mungos workers

Civil service union calls for an end to violence in Jobcentres

Workplace news in brief
---
Socialist Party comments and reviews

Is workfare coming to Morrisons?

Film review: Catching Fire

Why I believe in socialism
---
Home | The Socialist 4 December 2013 | Join the Socialist Party
Related links:

Reject the university employers' offer on pay, workload and casualisation

Pay full fees for virtual courses? - No way!

Plymouth students discuss rent strike

Uni strike takes fight to bosses

York freshers success

Tower Hamlets council strike

1920s Britain: A "country nearer Bolshevism than at any time since"

The Tyneside apprentices' strike during WW2

Refuse collection workers strike

Readers' opinion

socialism2020

Change in leadership needed to secure union's future

Socialist Students speaking tour

Nottingham uni occupation ends

BLM has not stopped - protesters flock to Socialists

How students can fight and win

Tory full return to school plans gamble with lives