The Socialist 9 July 2014
Super-rich flash cash at Tory bash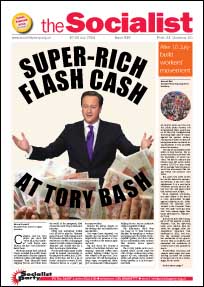 ---
Super-rich flash cash at Tory bash
After 10 July - build workers' movement
NSSN - Organising the resistance
Junk Juncker, Cameron and the anti-worker EU
New Tory attacks on trade union strikes
Super-rich Tory MP profits from evictions
Coulson faces prosecution over Tommy Sheridan
Emergency: Con-Dems don't care
---
Israel-Palestine: Netanyahu government fuels protests
---
Unite conference reflects growth of socialist ideas
Argos workers strike for work-life balance
Locked-out pathology staff "cannot give in"
NSSN supporters back striking Tyneside Safety Glass workers
---
Help fund the fight against the 1%
Why I joined the Socialist Party
Exposing Ukip's lies in Bracknell
---
Fracking: short-term profit before safety
Labour rejects rail renationalisation
Robert Service's historical prejudice on Liverpool
Britain's non-investing, cheap wage bosses
PO Box 1398, Enfield EN1 9GT
020 8988 8777

Link to this page: https://www.socialistparty.org.uk/issue/818/18936
Home | The Socialist 9 July 2014 | Join the Socialist Party
Subscribe | Donate | PDF | ebook
Super-rich Tory MP profits from evictions
Brian Debus, Hackney Socialist Party
Market rents of £2,000 a month are the aim of rapacious landlord Benyon Estates for the 90 flats on the New Era estate in Hoxton, east London.
In the last year the rents have been increased by over £100 a month. The clear intention is to drive out the existing tenants and to make massive profits at their expense.
Benyon Estates is owned by Britain's richest Tory MP, Richard Benyon, who happens to be 'worth' £110 million. He also owns 300 properties in De Beauvoir town, a short distance from Hoxton.
The New Era estate is about the same size as Richard Benyon's home, Englefield House in Berkshire, which has a slightly bigger back garden containing its own deer park and farmland of 20,000 acres. It also rakes in a significant farm subsidy from the European Union, totalling £2 million since 2000.
There have been some words of sympathy for tenants from the local Labour Mayor Jules Pipe who has criticised these rent rises, but his council is just as guilty.
On the Woodberry Down estate, previously the biggest council estate in Europe, large sections have been knocked down and replaced with new private developments that local people cannot afford to live in. They are being used instead as investment opportunities by property speculators.
The only answer to these profiteers is rent controls and a mass council house building programme of hundreds of thousands of new homes to be built every year to house the homeless and knock the profit out of homes.
---
Angry residents meet to plan campaign
On Wednesday 9th July over 60 New Era estate tenants packed into a meeting room in a pub next to the estate to discuss building a campaign to stop the threatened rent rises and evictions.
A handful of energetic campaigners on the estate had already managed to get coverage of the threat to their homes in the national media, including in the Daily Mirror and the Times.
This was an excellent start to exposing the profiteering of Tory MP Benyon and the foreign investors who have bought the estate to line their own pockets.
All tenants at the lively meeting were fully supportive of building a strong campaign, with many ideas put forward on actions that can be carried out.
An e-petition has been set up, and there was applause when a Socialist Party member handed the residents many signatures on a petition supporting their campaign, from participants at the recent National Shop Stewards Network conference.
It was agreed to set up a tenants' association immediately which will meet regularly, and there were plenty of volunteers to serve on its committee.
Judy Beishon
---
In this issue
---
Socialist Party news and analysis

Super-rich flash cash at Tory bash

After 10 July - build workers' movement

NSSN - Organising the resistance

Junk Juncker, Cameron and the anti-worker EU

New Tory attacks on trade union strikes

Super-rich Tory MP profits from evictions

Coulson faces prosecution over Tommy Sheridan

Emergency: Con-Dems don't care

Them & Us
---
International socialist news and analysis

Israel-Palestine: Netanyahu government fuels protests
---
Socialist Party workplace news

Unite conference reflects growth of socialist ideas

Argos workers strike for work-life balance

Locked-out pathology staff "cannot give in"

NSSN supporters back striking Tyneside Safety Glass workers

Workplace news in brief
---
Socialist Party reports and campaigns

NHS: No to cuts!

Help fund the fight against the 1%

Why I joined the Socialist Party

Reading the revolution

Exposing Ukip's lies in Bracknell
---
Readers' comments

Fracking: short-term profit before safety

Labour rejects rail renationalisation

Robert Service's historical prejudice on Liverpool

Britain's non-investing, cheap wage bosses
---
Home | The Socialist 9 July 2014 | Join the Socialist Party