The Socialist 25 March 2015
A voice for the 99%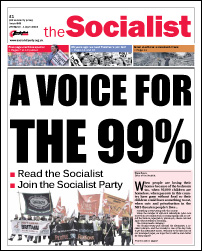 ---
Tory candidate attempted to divide community
---
Israel-Palestine: Likud election victory
Ireland: Mass protest against austerity charges
---
Inspired by Bob Crow to stand for TUSC
Fighting against the cuts for the most vulnerable
Attempt to exclude TUSC from Leicester hustings
Socialist Party election appeal 2015
---
Anti-blacklisting leader arrested at Hilton protest
Lewisham: Marching against academies
Refuse workers strike against wages theft
Unite conference hears how zero-hours were beaten
---
Fighting racism, austerity and capitalism
Saving libraries: it's a page-turner!
---
TV review: Suffragettes Forever!
---
How we defeated Thatcher's poll tax
PO Box 1398, Enfield EN1 9GT
020 8988 8777

Link to this page: https://www.socialistparty.org.uk/issue/849/20375
Home | The Socialist 25 March 2015 | Join the Socialist Party
Subscribe | Donate | PDF | ebook
Saving libraries: it's a page-turner!
Bristol backs books
Bristol City Council has been slammed for low school results in reading. So what does it do? It plans to close seven branch libraries.
These are places where people can self-educate; use a computer for free; apply for jobs; enjoy books; meet people; access free training... the list goes on.
It follows a sham consultation where questions like "Do you use Amazon?" suggested we no longer need libraries.
On 7 March, Socialist Party members and TUSC supporters gauged opinion on this. Campaigning against these cuts, we sold out our 35 copies of the Socialist and collected over 100 signatures in just over an hour.
Sheila Caffrey
---
A story of a girl
Covenrty Socialist Party took part in a library "read-in" protest on 2 March against closures. It involved the telling of stories. So here is a story of a girl, who as a child had nothing.
This girl got kicked out of school aged 14 without being able to read or write and was branded a good-for-nothing.
This girl used to pass a house often, and in that house lived Dave Nellist. The girl heard that this MP stood up for people like her, but didn't ever dare to think that one day she would meet him. That girl was me, and now I campaign alongside Dave!
It's thanks to libraries and adult education classes that I learned how to read and write and got diagnosed with dyslexia aged 25.
Now I have been selected to stand in the local elections. Vote TUSC for fighting councillors who'll stand up for you!
Sarah Smith
---
Authors speak out
Authors Cathy Cassidy and Alan Gibbons addressed Coventry campaign Save Our Libraries on 3 March. Coventry National Union of Teachers president and TUSC supporter Nicky Downes chaired the meeting of around 50.
Read an interview with Cathy Cassidy at coventrysocialists.com. "Be a thorn in the side of the council!"
Dan Crowter
---
In this issue
---
Socialist Party news and analysis

A voice for the 99%

Defend the NHS

Osborne's total eclipse

Tory candidate attempted to divide community

Them & Us
---
International socialist news and analysis

Israel-Palestine: Likud election victory

Ireland: Mass protest against austerity charges
---
Elections 2015

Reject the austerity lies

Inspired by Bob Crow to stand for TUSC

Fighting against the cuts for the most vulnerable

Attempt to exclude TUSC from Leicester hustings

Socialist Party election appeal 2015
---
Socialist Party workplace news

Anti-blacklisting leader arrested at Hilton protest

Lewisham: Marching against academies

Refuse workers strike against wages theft

Unite conference hears how zero-hours were beaten
---
Socialist Party reports and campaigns

Fighting racism, austerity and capitalism

Saving libraries: it's a page-turner!
---
Socialist Party review

TV review: Suffragettes Forever!
---
Socialist history

How we defeated Thatcher's poll tax
---
Home | The Socialist 25 March 2015 | Join the Socialist Party