The Socialist 3 June 2015
Strikes get results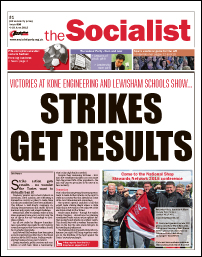 ---
Labour leadership 'choice' confirms need for new party
Bruised and Blattered - Fifa's boss eventually resigns
Finance capital - taking Liborties
Setting the anti-war record straight
Filipino nurses fight Daily Mail smears
---
The lessons of Labour's 1945 victory
Heysel: How socialist councillors built bridges
---
Budget Day: Smash Tory austerity!
Queen's Speech protests: determination to fight back
---
Lewisham academy schools plans dropped
Glasgow council concedes over pay grading
Network Rail forced to make new offer
PCS members rally in Trafalgar Square
Bromley anti-privatisation action continues
---
Spain: left 'popular unity' lists win key victories
Britain: end deportations - solidarity needed
Chile: 200,000 protest in Santiago
Hong Kong: refugee campaign victory
---
Mental health services gutted by Labour cuts
How the unemployed are targeted with sanctions
PO Box 1398, Enfield EN1 9GT
020 8988 8777

Link to this page: https://www.socialistparty.org.uk/issue/858/20792
Home | The Socialist 3 June 2015 | Join the Socialist Party
Subscribe | Donate | PDF | ebook
Homelessness caseworkers force Glasgow council to concede pay grading principle
Matt Dobson
The all-out indefinite strike by Glasgow's homelessness caseworkers for fair pay - now in its tenth week - has pushed an anti-union Labour council management to concede the principle that the caseworkers should be on pay grade six.
However the regrade offered by the council would only cover two thirds of the strikers. Socialist Party Scotland supports the argument that this current offer should be rejected and the strike should continue.
The management have been pushed back from their original position, which was that the caseworkers had no case for a regrade. The council made their first real offer on 29 May.
Management rushed to put this offer together. Days before they maintained that there would be nothing on the table until the end of June.
This achievement has been due to the strike remaining absolutely solid with the fantastic commitment of all strikers and the leadership of the Unison union branch.
Labour funding
The impact on the homeless service and the political pressure exerted by calling for all payments to the Labour Party to be suspended has pushed the council into this retreat.
With this offer the council are testing the resolve of the strike. The best way to respond to the test is to continue keeping the strike solid with full participation at the daily pickets, meetings with other social work staff and lobbying of councillors to demand all workers are regraded.
---
In this issue
---
Socialist Party news and analysis

Strikes get results

Tories deepen housing crisis

Labour leadership 'choice' confirms need for new party

Bruised and Blattered - Fifa's boss eventually resigns

Finance capital - taking Liborties

Setting the anti-war record straight

Filipino nurses fight Daily Mail smears

Them & Us
---
Socialist history

The lessons of Labour's 1945 victory

Heysel: How socialist councillors built bridges
---
Socialist Party youth and students

Budget Day: Smash Tory austerity!

Queen's Speech protests: determination to fight back

Sri Lankan students protest
---
Socialist Party workplace news

Lewisham academy schools plans dropped

Victory for Kone strikers!

Glasgow council concedes over pay grading

Network Rail forced to make new offer

PCS members rally in Trafalgar Square

Bromley anti-privatisation action continues

Workplace news in brief
---
International socialist news and analysis

Spain: left 'popular unity' lists win key victories

Britain: end deportations - solidarity needed

Chile: 200,000 protest in Santiago

Hong Kong: refugee campaign victory
---
Readers' comment

Mental health services gutted by Labour cuts

How the unemployed are targeted with sanctions

Human rights hypocrisy
---
Home | The Socialist 3 June 2015 | Join the Socialist Party