The Socialist 3 June 2015
Strikes get results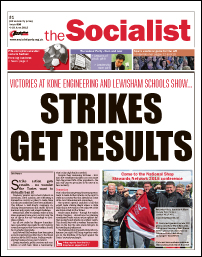 ---
Labour leadership 'choice' confirms need for new party
Bruised and Blattered - Fifa's boss eventually resigns
Finance capital - taking Liborties
Setting the anti-war record straight
Filipino nurses fight Daily Mail smears
---
The lessons of Labour's 1945 victory
Heysel: How socialist councillors built bridges
---
Budget Day: Smash Tory austerity!
Queen's Speech protests: determination to fight back
---
Lewisham academy schools plans dropped
Glasgow council concedes over pay grading
Network Rail forced to make new offer
PCS members rally in Trafalgar Square
Bromley anti-privatisation action continues
---
Spain: left 'popular unity' lists win key victories
Britain: end deportations - solidarity needed
Chile: 200,000 protest in Santiago
Hong Kong: refugee campaign victory
---
Mental health services gutted by Labour cuts
How the unemployed are targeted with sanctions
PO Box 1398, Enfield EN1 9GT
020 8988 8777

Link to this page: https://www.socialistparty.org.uk/issue/858/20797
Home | The Socialist 3 June 2015 | Join the Socialist Party
Subscribe | Donate | PDF | ebook
Filipino nurses fight Daily Mail smears
North Kent Socialist Party
The Daily Mail has a habit of blanket scapegoating of the blameless. It was recently the turn of Filipino health workers. On 19 May, the Mail screeched: "NHS STILL hiring Filipino nurses" after the trial of Victorino Chua.
Chua is originally from the Philippines. While working as a nurse in Greater Manchester, he poisoned 22 patients. He has recently been brought to justice.
Of course, his crimes were heinous. So were Harold Shipman's. But the Mail didn't run headlines saying the NHS was "still hiring" bearded white men.
Britain's Filipino community is largely NHS staff. They are well-educated, English-fluent, skilled professionals.
Since the headlines, Filipino nurses have complained about being abused at work by patients, including being asked whether they are 'safe' to practise.
Representatives formed a planning committee, including members of health union Unison. They rightly slammed the Daily Mail for "besmirching the reputation and character of Filipino workers in the UK".
Lively
Around 300 attended their lively rally outside Mail headquarters in leafy Kensington, London. Speakers included Jacqui Berry, a registered nurse and member of Unison's executive.
She said: "It was a Filipino nurse who took me by the hand on my first day in the front line. Another showed me how to measure blood pressure. Another comforted me when my first patient died."
Jacqui said the Mail wants to divide NHS workers - at a time when they face drastic cuts and privatisation. The best way to fight the hate is for health workers of all nationalities to join the union, and fight together against government and right-wing media attacks.


---
In this issue
---
Socialist Party news and analysis

Strikes get results

Tories deepen housing crisis

Labour leadership 'choice' confirms need for new party

Bruised and Blattered - Fifa's boss eventually resigns

Finance capital - taking Liborties

Setting the anti-war record straight

Filipino nurses fight Daily Mail smears

Them & Us
---
Socialist history

The lessons of Labour's 1945 victory

Heysel: How socialist councillors built bridges
---
Socialist Party youth and students

Budget Day: Smash Tory austerity!

Queen's Speech protests: determination to fight back

Sri Lankan students protest
---
Socialist Party workplace news

Lewisham academy schools plans dropped

Victory for Kone strikers!

Glasgow council concedes over pay grading

Network Rail forced to make new offer

PCS members rally in Trafalgar Square

Bromley anti-privatisation action continues

Workplace news in brief
---
International socialist news and analysis

Spain: left 'popular unity' lists win key victories

Britain: end deportations - solidarity needed

Chile: 200,000 protest in Santiago

Hong Kong: refugee campaign victory
---
Readers' comment

Mental health services gutted by Labour cuts

How the unemployed are targeted with sanctions

Human rights hypocrisy
---
Home | The Socialist 3 June 2015 | Join the Socialist Party