The Socialist 3 June 2015
Strikes get results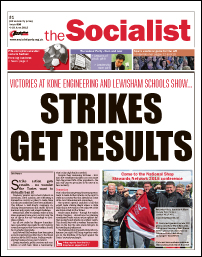 ---
Labour leadership 'choice' confirms need for new party
Bruised and Blattered - Fifa's boss eventually resigns
Finance capital - taking Liborties
Setting the anti-war record straight
Filipino nurses fight Daily Mail smears
---
The lessons of Labour's 1945 victory
Heysel: How socialist councillors built bridges
---
Budget Day: Smash Tory austerity!
Queen's Speech protests: determination to fight back
---
Lewisham academy schools plans dropped
Glasgow council concedes over pay grading
Network Rail forced to make new offer
PCS members rally in Trafalgar Square
Bromley anti-privatisation action continues
---
Spain: left 'popular unity' lists win key victories
Britain: end deportations - solidarity needed
Chile: 200,000 protest in Santiago
Hong Kong: refugee campaign victory
---
Mental health services gutted by Labour cuts
How the unemployed are targeted with sanctions
PO Box 1398, Enfield EN1 9GT
020 8988 8777

Link to this page: https://www.socialistparty.org.uk/issue/858/20803
Home | The Socialist 3 June 2015 | Join the Socialist Party
Subscribe | Donate | PDF | ebook
Them & Us
No Tory freebie
The Tories' Childcare Bill announced in the Queen's Speech promises to extend free childcare from 15 to 30 hours a week by 2017. What's the catch?
The Pre-School Learning Alliance says the government grant to childcare providers for the current 15 hours falls, on average, 20% short of the true cost.
"The so-called 'free' childcare scheme is nothing of the sort. For years now, the initiative has been subsidised by providers and parents because of a lack of adequate government funding," says learning Alliance chief executive Neil Leitch "I think this is crunch time, I think there will be a meltdown," he added.
Top dogs
MPs are expected to get a 10% pay rise, making a backbenchers annual salary (excluding generous expenses) £74,000.
Public sector workers, at best, can expect a measly 1% rise, after years of pay freezes,
Hard to swallow
The UK has one of the highest rates of obesity in the world. One in five cancer deaths are now caused by obesity. Odd then that the British Nutrition Foundation has produced a seven-page document which makes no reference to obesity or indeed the links between foods high in saturated fat and sugar and heart disease and diabetes. Well not so strange, as Coca-Cola, Mars and British Sugar helped write the document's "core competencies" on diet and health.
Swingeing fees
If renting a home isn't daunting enough, given the huge increase in rents charged by private landlords, then rip-off estate agent and letting agent fees will bankrupt you. According to Citizens Advice these unjustified fees, in March, were costing an average of £337 for each tenant. On top of a finding a deposit and advance rent, a tenant can face paying thousands of pounds upfront.
Non-doms
Having 'non-dom' status means that foreign super-rich people don't have to pay tax on overseas earnings, despite living in Britain.
However, it seems that 800 fat cats born and resident in the UK also enjoy non-domicile tax status. HSBC bank boss Stuart Gulliver is one of these.
To qualify all it seems they need do is declare an overseas "domicile of choice", making that location their home.
Buy-to-profit
Buy-to-let landlords now own properties worth £990.7 billion.
Mortgage lender Kent Reliance reckons that private landlords made £67.2 billion in capital gains and £44.3 billion in rent in 2014-15.
---
In this issue
---
Socialist Party news and analysis

Strikes get results

Tories deepen housing crisis

Labour leadership 'choice' confirms need for new party

Bruised and Blattered - Fifa's boss eventually resigns

Finance capital - taking Liborties

Setting the anti-war record straight

Filipino nurses fight Daily Mail smears

Them & Us
---
Socialist history

The lessons of Labour's 1945 victory

Heysel: How socialist councillors built bridges
---
Socialist Party youth and students

Budget Day: Smash Tory austerity!

Queen's Speech protests: determination to fight back

Sri Lankan students protest
---
Socialist Party workplace news

Lewisham academy schools plans dropped

Victory for Kone strikers!

Glasgow council concedes over pay grading

Network Rail forced to make new offer

PCS members rally in Trafalgar Square

Bromley anti-privatisation action continues

Workplace news in brief
---
International socialist news and analysis

Spain: left 'popular unity' lists win key victories

Britain: end deportations - solidarity needed

Chile: 200,000 protest in Santiago

Hong Kong: refugee campaign victory
---
Readers' comment

Mental health services gutted by Labour cuts

How the unemployed are targeted with sanctions

Human rights hypocrisy
---
Home | The Socialist 3 June 2015 | Join the Socialist Party
Related links:

Them & us

Them & Us

Them & Us

Them & us

Them & Us

Lots of sign-ups at freshers

Sunak's student special

Scrap tuition fees - end university marketization

University funding reform: Fight for free, fully funded education for all

Tory Universal Credit crumbs no solution to cost of living crisis

Unite young and old to defend the pensions triple lock

Tories deliberately underfund childcare

Support uni workers' walk-out on pay and pensions

Tesco warehouse workers ballot for strike action

Race to top for bankers

Slough: Adult service cuts will leave vulnerable homeless