The Socialist 3 June 2015
Strikes get results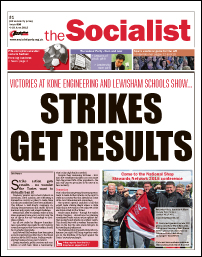 ---
Labour leadership 'choice' confirms need for new party
Bruised and Blattered - Fifa's boss eventually resigns
Finance capital - taking Liborties
Setting the anti-war record straight
Filipino nurses fight Daily Mail smears
---
The lessons of Labour's 1945 victory
Heysel: How socialist councillors built bridges
---
Budget Day: Smash Tory austerity!
Queen's Speech protests: determination to fight back
---
Lewisham academy schools plans dropped
Glasgow council concedes over pay grading
Network Rail forced to make new offer
PCS members rally in Trafalgar Square
Bromley anti-privatisation action continues
---
Spain: left 'popular unity' lists win key victories
Britain: end deportations - solidarity needed
Chile: 200,000 protest in Santiago
Hong Kong: refugee campaign victory
---
Mental health services gutted by Labour cuts
How the unemployed are targeted with sanctions
PO Box 1398, Enfield EN1 9GT
020 8988 8777

Link to this page: https://www.socialistparty.org.uk/issue/858/20804
Home | The Socialist 3 June 2015 | Join the Socialist Party
Subscribe | Donate | PDF | ebook
How the unemployed are targeted with payment sanctions
A Jobseeker's Allowance claimant describes how she was subjected to the Department for Work and Pensions (DWP) draconian sanctions regime.
"I asked my Jobcentre adviser today why I was being sanctioned for missing an appointment that had never been made. She looked at the letter, frowned, looked at something on her computer and said 'Oh, that was your worksearch review. Didn't you know about it?'
Oh yes, I just thought I'd miss it to see what having no money at all for a month is like! I wanted to see if I could live on fresh air and felt that being homeless was an experience I couldn't afford to miss!
Of course I didn't bloody know about it! If I'd known about it I would have gone to it. Why don't you just admit you forgot to tell me about the appointment? Or is it now standard Jobcentre practice to arrange appointments by telepathy?
It came as no surprise - I had been on a Jobcentre Plus (JCP) course last week and met three other people, out of a group of eleven, who had experienced the same thing. I am not sure if the sanction will be upheld this time, but they are always finding new and inventive ways to sanction people.
I make detailed notes of all my job searching, plus my voluntary work (that I found and undertook myself, nothing to do with JCP and not in a charity shop or litter picking) on my Universal JobMatch (UJM) account.
Everything is timed, I copy and paste reference numbers from other job sites, email acknowledgements, everything, into my UJM account. I jump through every hoop they hold up. And they still found a way to sanction me. Believe me: they sanction people because they can!"
The civil service union PCS, which represents Jobcentre workers, opposes the sanctions regime. It says the DWP's appraisal system's linked disciplinary procedure is used to enforce 'expectation levels'. In other words, staff are forced to meet targets for the numbers they sanction.
---
In this issue
---
Socialist Party news and analysis

Strikes get results

Tories deepen housing crisis

Labour leadership 'choice' confirms need for new party

Bruised and Blattered - Fifa's boss eventually resigns

Finance capital - taking Liborties

Setting the anti-war record straight

Filipino nurses fight Daily Mail smears

Them & Us
---
Socialist history

The lessons of Labour's 1945 victory

Heysel: How socialist councillors built bridges
---
Socialist Party youth and students

Budget Day: Smash Tory austerity!

Queen's Speech protests: determination to fight back

Sri Lankan students protest
---
Socialist Party workplace news

Lewisham academy schools plans dropped

Victory for Kone strikers!

Glasgow council concedes over pay grading

Network Rail forced to make new offer

PCS members rally in Trafalgar Square

Bromley anti-privatisation action continues

Workplace news in brief
---
International socialist news and analysis

Spain: left 'popular unity' lists win key victories

Britain: end deportations - solidarity needed

Chile: 200,000 protest in Santiago

Hong Kong: refugee campaign victory
---
Readers' comment

Mental health services gutted by Labour cuts

How the unemployed are targeted with sanctions

Human rights hypocrisy
---
Home | The Socialist 3 June 2015 | Join the Socialist Party