The Socialist 13 April 2016
Panama papers, steel crisis, junior doctors' contract, austerity...Tories out!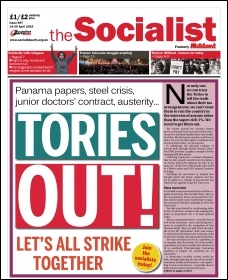 ---
Panama Papers reveal corrupt system of the 1%
Reactionary EU campaigners implicated by Panama Papers
Another Fifa corruption scandal
Houses for offshore investment, we're stuck at home
---
Nationalise to save all Steel jobs
Save BIS Sheffield: we won't be a Northern Poorhouse!
RMT branch calls for TUSC backing to continue
Doctors fight on against imposed contracts
Construction workers defend jobs and pay
---
Review: 'Militant' by Michael Crick
---
Solidarity with refugees: fight for jobs, homes and services for all
Campaigning for scholarships for refugees - and free education for all
---
France: full-scale struggle with government is erupting
Bangladesh: stop the Rampal power project
Brazil: solidarity with attacked civil servants
International Panama Papers protests
---
Bosses back EU to boost NHS sell-offs
---
Library occupation ends with march on cutting council
Sales of the Socialist on the rise, read all about it!
No A-level courses in Knowsley thanks to 'academies' system
Workers and youth unite to defend vital services
"Not the church, not the state - women must decide their fate!"
---
Huddersfield A&E fightback grows
Demonstration to defend the NHS in Leicester
Worcestershire: hands off our health service!
---
PO Box 1398, Enfield EN1 9GT
020 8988 8777
editors@socialistparty.org.uk
Review: Militant by Michael Crick