The Socialist 4 May 2016
Bring down the Tories: organise to fight austerity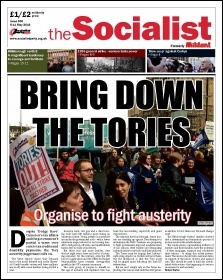 ---
Livingstone suspension: 'Slow coup' against Corbyn.
Bring down the Tories: organise to fight austerity
Doctors and teachers lead buoyant London march
Political censorship used against TUSC candidates
Ex-TUC chief lines up with David Cameron
Aston Villa owners threaten 500 jobs
---
1926 general strike: when workers tasted power
---
Hillsborough verdict - a magnificent testimony to courage and fortitude
---
National Union of Students conference: mood to fight education cuts must be turned into determined action
---
Solidarity with junior doctors: TUC call a national demonstration now!
Usdaw conference shifts left and demands "backbone" from the union
Civil service: fighting the pay freeze
Library assistants strike against unviable shift patterns
Society of Radiographers conference: "We may be small but we are going to fight back!"
---
Eyewitness account of France protests: build a general strike movement!
Ireland: Campaigners celebrate suspension of water charges
---
PO Box 1398, Enfield EN1 9GT
020 8988 8777