The Socialist 13 July 2016
Organise the resistance: fight the Tories and the Blairites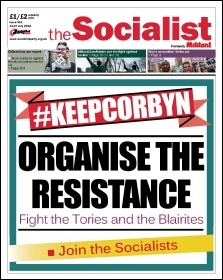 ---
Child poverty rises by 200,000 in a year
Welsh Assembly to scrap 'right to buy'
Nine-month prison sentence for fleeing ethnic cleansing
What we saw: Angela Eagle Facebook meme
---
Fight racism: for jobs, homes and services for all
Police racism still lethal in Britain
Majority support migrants staying - fight hate crime
---
Step up the campaign to back Corbyn's fight
Tory coronation is attempt at stability that can't work
---
Chilcot Iraq report: More piles of evidence against the blood-soaked war for oil
---
Angry prison officers walk out over reforms
New threat to impose junior doctors contract must be met with strike action
Vote Chas Berry for Napo national chair
Unite policy conference 2016: Blairite coup, Trident and cuts dominate opening days
---
Spain: Disappointment for left in re-run general election
---
Thousands mobilising to #KeepCorbyn
Why I joined: "I no longer felt isolated from politics"
Fight back is on to save NHS heart services
Sales of the Socialist through the roof since the referendum
PO Box 1398, Enfield EN1 9GT
020 8988 8777

Link to this page: https://www.socialistparty.org.uk/issue/910/23215
Home | The Socialist 13 July 2016 | Join the Socialist Party
Subscribe | Donate | Audio | PDF | ebook
Nine-month prison sentence for fleeing ethnic cleansing
Vlad Bortun
Abdul Rahman Haroun, a 40-year-old Sudanese refugee, was sentenced to nine months in prison for trying to reach the UK by walking the Channel Tunnel.
However, Abdul - who fled Darfur in 2004 in fear of ethnic cleansing - will not have to serve the sentence, because of the time he had already spent in prison awaiting trial. His sentence was based on a 19th century law - the Malicious Damage Act 1861 - which prohibits "obstructing an engine or a carriage using a railway".
The political nature of this Kafkaesque decision is obvious: to dissuade refugees from trying to come to the UK. It fits with the wider anti-refugee policy of the Tory government, which - together with its French counterpart - has been spending millions on erecting walls and fences around the tunnel's exits.
Such a strategy is not only cruel, but utterly bankrupt. People will keep trying to cross the channel, and many of them will keep dying, suffocated, electrocuted or run over by trains - just as the EU's 'deterrence' approach has only led to more boats sinking in the Mediterranean.
Granting immediate asylum to people fleeing war and persecution - including many unaccompanied children - should not be an issue in 2016 for one of the richest countries in the world.
This policy must be backed by public investment in social housing, education, healthcare and well-paid jobs for all - refugees and the local population alike. We all are victims of the same oppressive and bankrupt capitalist system.
---
In this issue
---
Socialist Party news and analysis

Child poverty rises by 200,000 in a year

Welsh Assembly to scrap 'right to buy'

Nine-month prison sentence for fleeing ethnic cleansing

HSBC jailbreak

Rail fail

What we saw: Angela Eagle Facebook meme

Them & Us
---
Fighting racism

Fight racism: for jobs, homes and services for all

Police racism still lethal in Britain

Majority support migrants staying - fight hate crime
---
What we think

Step up the campaign to back Corbyn's fight

Tory coronation is attempt at stability that can't work
---
Chilcot report

Chilcot Iraq report: More piles of evidence against the blood-soaked war for oil
---
Socialist Party workplace news

Angry prison officers walk out over reforms

New threat to impose junior doctors contract must be met with strike action

Vote Chas Berry for Napo national chair

Unite policy conference 2016: Blairite coup, Trident and cuts dominate opening days

Workplace news in brief
---
International socialist news and analysis

Spain: Disappointment for left in re-run general election

CWI in brief
---
Socialist Party reports and campaigns

Thousands mobilising to #KeepCorbyn

Why I joined: "I no longer felt isolated from politics"

Fight back is on to save NHS heart services

Sales of the Socialist through the roof since the referendum
---
Home | The Socialist 13 July 2016 | Join the Socialist Party