The Socialist 14 September 2016
#KeepCorbyn: Fight workhouse conditions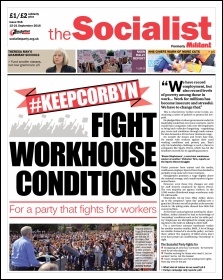 ---
Labour party needs democratic structures and socialist policies
---
#KeepCorbyn: Fight workhouse conditions
NHS chiefs warn cuts mean rationing or charges
Fund smaller classes - not new grammars
Benefit cap could shut 67% of women's refuges
---
New 'strongman' president threatens martial law - while leaning on left parties for support
---
Obesity crisis: government strategy offers no solution
---
Westbourne Park bus dispute continues
NSSN lobby of the TUC: an urgent time for our movement
Library workers defeat Tory cuts
Thousands of Post Office workers to strike against job losses
---
Why you should become a socialist student!
Students and workers unite to cut rents
Why I joined the Socialist Party
Join the Socialist Party - join the fightback
---
Fighting fascism with motorbike stunts
---
Labour loses byelection but Corbyn isn't the problem
Protest against closure of vital heart unit
Socialist Party members join disability rights week of action
PO Box 1398, Enfield EN1 9GT
020 8988 8777

Link to this page: https://www.socialistparty.org.uk/issue/916/23544
Home | The Socialist 14 September 2016 | Join the Socialist Party
Subscribe | Donate | Audio | PDF | ebook
Library workers defeat Tory cuts
A Unite the Union member
Library workers in Bromley, south London, have defeated their Tory council's plans to turn eight libraries into volunteer services.
The council had decided to force plans through despite massive public opposition. Petitions - and even the council's own biased consultation exercise - returned a massive majority against.
General union Unite, which organises Bromley library workers, led sustained strike action. This was alongside a huge publicity campaign to explain exactly why the union opposes volunteer libraries. The attack was also a main factor in two of the biggest marches through the borough in decades.
We have no problem with volunteering in principle - but not when it replaces public services, and not at the cost of paid jobs. The experience from volunteer libraries all over the country is slow death.
Organisations such as charities are sometimes more interested in using the space for themselves rather than functioning as a library. And the loss of staff professionalism is often there for all to see.
Tactically, we focussed on 'Bromley Community Links' - the organisation the council had chosen to put the volunteer plan together. We leafletted outside its HQ, targeted its events, and contacted affiliated groups and trustees.
Our message was clear. If the organisation assisted in destroying libraries, Unite would escalate the campaign against it. Last week Bromley Council announced Bromley Community Links had pulled out.
This is a magnificent victory against a vicious Tory council. It is hugely significant that this was trade union-led, rather than relying solely on a community campaign. Clearly there is space and a need for both - but this emphasises the role of unions in winning.
The council will now try to hand libraries to a private employer. But the victory against volunteer status is a huge boost. It's 1-0 to Unite - now we need to beat privatisation.
---
In this issue
---
What we think

Labour party needs democratic structures and socialist policies
---
Socialist Party news and analysis

#KeepCorbyn: Fight workhouse conditions

NHS chiefs warn cuts mean rationing or charges

Fund smaller classes - not new grammars

Benefit cap could shut 67% of women's refuges

Them & Us

What We Saw
---
International socialist news and analysis

New 'strongman' president threatens martial law - while leaning on left parties for support

International news in brief
---
Socialist Party feature

Obesity crisis: government strategy offers no solution
---
Workplace news and analysis

Westbourne Park bus dispute continues

NSSN lobby of the TUC: an urgent time for our movement

Library workers defeat Tory cuts

Thousands of Post Office workers to strike against job losses

Southern Rail dispute update

Workplace news in brief
---
Socialist Party youth and students

Why you should become a socialist student!

Students and workers unite to cut rents

Why I joined the Socialist Party

Join the Socialist Party - join the fightback
---
Socialist readers' comments and reviews

Fighting fascism with motorbike stunts

The Socialist inbox
---
Socialist Party reports and campaigns

Labour loses byelection but Corbyn isn't the problem

Protest against closure of vital heart unit

Socialist Party members join disability rights week of action

#KeepCorbyn
---
Home | The Socialist 14 September 2016 | Join the Socialist Party