The Socialist 14 September 2016
#KeepCorbyn: Fight workhouse conditions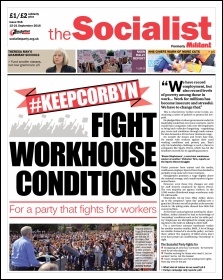 ---
Labour party needs democratic structures and socialist policies
---
#KeepCorbyn: Fight workhouse conditions
NHS chiefs warn cuts mean rationing or charges
Fund smaller classes - not new grammars
Benefit cap could shut 67% of women's refuges
---
New 'strongman' president threatens martial law - while leaning on left parties for support
---
Obesity crisis: government strategy offers no solution
---
Westbourne Park bus dispute continues
NSSN lobby of the TUC: an urgent time for our movement
Library workers defeat Tory cuts
Thousands of Post Office workers to strike against job losses
---
Why you should become a socialist student!
Students and workers unite to cut rents
Why I joined the Socialist Party
Join the Socialist Party - join the fightback
---
Fighting fascism with motorbike stunts
---
Labour loses byelection but Corbyn isn't the problem
Protest against closure of vital heart unit
Socialist Party members join disability rights week of action
PO Box 1398, Enfield EN1 9GT
020 8988 8777

Link to this page: https://www.socialistparty.org.uk/issue/916/23547
Home | The Socialist 14 September 2016 | Join the Socialist Party
Subscribe | Donate | Audio | PDF | ebook
New 'strongman' president threatens martial law - while leaning on left parties for support
US president Barack Obama was involved in a diplomatic spat with Philippines president Rodrigo Duterte at the recent Asean summit in Cambodia. Duterte called Obama a "son of a whore" after the White House criticised his human rights record. Duterte said he wouldn't take orders from a former colonial power.
The coming to power of Duterte on 9 May marked a sharp turn in Philippines politics. He has a reputation as a 'strongman' who as Mayor of Davao city ruled with an iron fist.
His shoot-to-kill policy against alleged criminals and drug dealers has so far claimed 2,400 lives in his presidency - half of them slain by shadowy death squads. Human Rights Watch slammed this as "state sanctioned butchery". Duterte also threatened to declare martial law in response to reports that the Supreme Court might intervene to block his hardline policy against street crime.
At the same time, Duterte has boasted he is the country's first 'socialist' president and has invited representatives of the Communist Party of the Philippines (CPP) into his cabinet, and uses populist rhetoric against foreign mining companies and sections of the establishment.
On the other hand, his alliance with the family of ex-dictator Ferdinand Marco - which remains an influential force in the country's crony political system even after the dictator was overthrown in 1986 - led Duterte to announce yet another highly controversial step: allowing Marcos' embalmed corpse to be buried in Manila's Heroes' Cemetery with full military honours on 18 September.
---
Vincent Kolo (CWI) interviewed Philippines-based socialist, Gabriel, on the new president and what he represents
Duterte has been compared to Donald Trump, another erratic right-wing populist figure. How would you sum up his politics?
Like Trump, he's impossible to map neatly on the political spectrum. At best he's a populist with a more authoritarian bent. His election campaign rode on the promise of change - which has meant different things to different audiences.
Duterte is a member of a political clan in the Southern Philippines, making him a representative of this faction of the oligarchy. Part of his appeal lay in him being a candidate from Mindanao, the "neglected south".
He is an expression of current frustrations at the political elite, as much as he is a product of the social conditions over which he governed in Davao city, in Mindanao, for over two decades. He has earned his reputation as a strongman who will get things done, as a marked contrast to the departing Aquino administration which was seen as corrupt and inept, despite its promises of reform.
Davao under Duterte is repeatedly compared to Singapore under Lee Kuan Yew, but this is greatly exaggerated. Davao is no Singapore, and remains notorious for drugs and crime. The latter are rather symptoms of deeper, structural crises that Duterte promises to do away with at the national level in the same manner that he's dealt with them in Davao: strong-arm rule, death squads, Machiavellian manoeuvring with both the left and the right.
Ultimately Duterte will prove unable to resolve the problems he set out to defeat. Already his economic platform promises no departure from that of previous administrations [ie neoliberalism]. He has also appointed cabinet members from a different faction of the same political oligarchy, gravitating toward allies of the former Gloria Arroyo administration (2001-2010).
What is the Communist Party of the Philippines's (Maoist) position on Duterte? In what way can he claim a 'left' label?
The CPP is by no means united on the Duterte question. It has released official statements critical of Duterte while at the same time favouring a 'critical honeymoon period' with the man. It is unclear who is really making the decisions within the party.
The CPP has cultivated a long relationship with Duterte in the Davao region. Members of the party there, and the Southern Mindanao command of their armed wing, the New People's Army (NPA), clearly leaned toward Duterte.
Duterte has given the CPP four cabinet posts, including positions in the labour and agrarian reform ministries. This was premised on the condition that the NPA lay down their arms. The CPP got around that clause by saying whoever they nominate won't be members of the party per se but members of their legal fronts that are "nationalist" and "progressive".
The CPP is also banking on Duterte's commitment to revive the country's steel industry. There are illusions that national industrialisation is still possible through partnerships with a 'national bourgeoisie', which is in reality bound hand and foot to foreign capital and has no real progressive dimension.
But it's not just the CPP that is joining the Duterte bandwagon. Another broad 'left' party, Akbayan, joined a coalition of party lists in Duterte's camp (PDP-Laban) in congress.
Members of its leadership were highly critical of Duterte - so the sudden shift is alarming, if not really surprising.
This means there is no viable opposition among the self-defined left. In both cases, the strategy consists of thinking that the left 'wins' when members of particular parties are in government - rather than seeing their role as an opportunity to raise the political programme and put a distinct and independent alternative across, for political opposition to emerge from the bottom up.
This can't bode well for the rest of an already fragmented left who remain critical of Duterte. Should they decide to go along this route, the 'left' will for a long time be tainted by an alliance with Duterte, diluting what progressive politics even means, which is almost everything Duterte is not.
Can you see a popular backlash and protests coming in the future - as for example against president Estrada in 2001?
Duterte's populist streak has in the past been compared to Estrada, popularly known as Erap. But Erap's base of support was solidly among the urban poor. The 'People Power II' protests that overthrew Erap in 2001 were mostly led by the urban middle classes, with the CPP joining the fray. But this buried smaller revolts among urban poor groups that felt it was a 'coup' against their president.
Duterte's appeal at this stage cuts across classes, so he has actually had a pacifying effect on public unrest. His ability to build widely different political coalitions in his favour makes him an unusually useful prop for the ruling class. Mass protests against his rule are unlikely in the near future in my opinion.
But given perpetual political instability, the faith people have in Duterte can just as rapidly turn against him.
One positive development that has emerged out of all this is the fact that it has exposed the bankruptcy of political elites who pose as reformists, as Aquino did. Part of Duterte's stylistic appeal was the fact that he stood as Aquino's antithesis.
Should Duterte himself prove disappointing, it will become clearer than ever that change can never come about through the actions of one man, or by a mere change of president, but rather requires a collective struggle by the majority against the entire oligarchy.
This was an election with only capitalist and elite candidates; there was no option representing the working class and the poor. What is the way forward for creating a real left alternative?
What we lacked was an independent political alternative based on an explicitly class-based programme - one that exposes the bankruptcy of our so-called democracy.
The association between the 'left' and Duterte will be hard to break, especially given that the latter has openly described himself as a 'leftist'. And given the way the self-ascribed Philippine left - Maoists, social democrats, other progressives, even liberals - are now gravitating around Duterte, you'd think we elected Nelson Mandela or Che Guevara as president!
There is space, in the future, for a movement that can in turn lead to the formation of new political parties. This cannot be a repeat of 'People Power', which essentially pivoted around individual 'heroes' and factions of the oligarchy.
Forwarding an independent alternative will probably entail a break from the traditional left parties. I personally still hold out some hope that bridges can, and must, be built with at least some individuals within the CPP's ranks.
Full interview on socialistworld.net
---
In this issue
---
What we think

Labour party needs democratic structures and socialist policies
---
Socialist Party news and analysis

#KeepCorbyn: Fight workhouse conditions

NHS chiefs warn cuts mean rationing or charges

Fund smaller classes - not new grammars

Benefit cap could shut 67% of women's refuges

Them & Us

What We Saw
---
International socialist news and analysis

New 'strongman' president threatens martial law - while leaning on left parties for support

International news in brief
---
Socialist Party feature

Obesity crisis: government strategy offers no solution
---
Workplace news and analysis

Westbourne Park bus dispute continues

NSSN lobby of the TUC: an urgent time for our movement

Library workers defeat Tory cuts

Thousands of Post Office workers to strike against job losses

Southern Rail dispute update

Workplace news in brief
---
Socialist Party youth and students

Why you should become a socialist student!

Students and workers unite to cut rents

Why I joined the Socialist Party

Join the Socialist Party - join the fightback
---
Socialist readers' comments and reviews

Fighting fascism with motorbike stunts

The Socialist inbox
---
Socialist Party reports and campaigns

Labour loses byelection but Corbyn isn't the problem

Protest against closure of vital heart unit

Socialist Party members join disability rights week of action

#KeepCorbyn
---
Home | The Socialist 14 September 2016 | Join the Socialist Party