The Socialist 14 September 2016
#KeepCorbyn: Fight workhouse conditions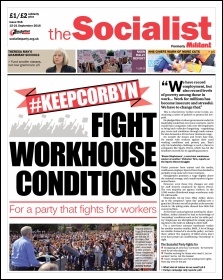 ---
Labour party needs democratic structures and socialist policies
---
#KeepCorbyn: Fight workhouse conditions
NHS chiefs warn cuts mean rationing or charges
Fund smaller classes - not new grammars
Benefit cap could shut 67% of women's refuges
---
New 'strongman' president threatens martial law - while leaning on left parties for support
---
Obesity crisis: government strategy offers no solution
---
Westbourne Park bus dispute continues
NSSN lobby of the TUC: an urgent time for our movement
Library workers defeat Tory cuts
Thousands of Post Office workers to strike against job losses
---
Why you should become a socialist student!
Students and workers unite to cut rents
Why I joined the Socialist Party
Join the Socialist Party - join the fightback
---
Fighting fascism with motorbike stunts
---
Labour loses byelection but Corbyn isn't the problem
Protest against closure of vital heart unit
Socialist Party members join disability rights week of action
PO Box 1398, Enfield EN1 9GT
020 8988 8777

Link to this page: https://www.socialistparty.org.uk/issue/916/23553
Home | The Socialist 14 September 2016 | Join the Socialist Party
Subscribe | Donate | Audio | PDF | ebook
Thousands of Post Office workers to strike against job losses
Carl Harper, CWU member (personal capacity)
Thousands of Communication Workers Union (CWU) members working in the Post Office will take strike action on 15 September against attacks on their job security and pensions.
In a programme of cuts, including a further 2,000 job losses, the loss of thousands of pounds in retirement pay and the ultimate privatisation of its 'flagship branches', the Post Office is continuing to attack the network and supply chain.
In closing down the pension scheme, the Post Office is stealing money workers have built up over many years of service. This is despite there being a surplus of over £130 million - making it one of the best funded pension schemes in the country. In attempts to defeat the strike, the Post Office has offered staff money not to go on strike. CWU representatives could be targeted. This highlights the desperation to achieve the savings.
With similar cuts being made across Royal Mail, there is a desperate need for coordinated action in defence of jobs, pay and terms and conditions right across the industry. This should be linked up with other unions and workers working in the courier companies.
Coordinated action
The National Shop Stewards Network (NSSN) rally and lobby of the TUC on 11 September called on delegates to demand such action be coordinated right across the union movement, starting with a national demonstration, linking it to the junior doctors dispute.
Defeat of this Tory government and its cuts programme and the election of an anti-austerity Corbyn government would be a significant step forward in giving workers the confidence to defend themselves against cuts at all levels.
---
In this issue
---
What we think

Labour party needs democratic structures and socialist policies
---
Socialist Party news and analysis

#KeepCorbyn: Fight workhouse conditions

NHS chiefs warn cuts mean rationing or charges

Fund smaller classes - not new grammars

Benefit cap could shut 67% of women's refuges

Them & Us

What We Saw
---
International socialist news and analysis

New 'strongman' president threatens martial law - while leaning on left parties for support

International news in brief
---
Socialist Party feature

Obesity crisis: government strategy offers no solution
---
Workplace news and analysis

Westbourne Park bus dispute continues

NSSN lobby of the TUC: an urgent time for our movement

Library workers defeat Tory cuts

Thousands of Post Office workers to strike against job losses

Southern Rail dispute update

Workplace news in brief
---
Socialist Party youth and students

Why you should become a socialist student!

Students and workers unite to cut rents

Why I joined the Socialist Party

Join the Socialist Party - join the fightback
---
Socialist readers' comments and reviews

Fighting fascism with motorbike stunts

The Socialist inbox
---
Socialist Party reports and campaigns

Labour loses byelection but Corbyn isn't the problem

Protest against closure of vital heart unit

Socialist Party members join disability rights week of action

#KeepCorbyn
---
Home | The Socialist 14 September 2016 | Join the Socialist Party