The Socialist 14 September 2016
#KeepCorbyn: Fight workhouse conditions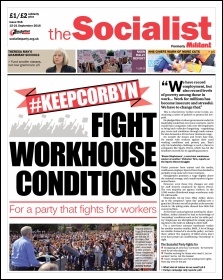 ---
Labour party needs democratic structures and socialist policies
---
#KeepCorbyn: Fight workhouse conditions
NHS chiefs warn cuts mean rationing or charges
Fund smaller classes - not new grammars
Benefit cap could shut 67% of women's refuges
---
New 'strongman' president threatens martial law - while leaning on left parties for support
---
Obesity crisis: government strategy offers no solution
---
Westbourne Park bus dispute continues
NSSN lobby of the TUC: an urgent time for our movement
Library workers defeat Tory cuts
Thousands of Post Office workers to strike against job losses
---
Why you should become a socialist student!
Students and workers unite to cut rents
Why I joined the Socialist Party
Join the Socialist Party - join the fightback
---
Fighting fascism with motorbike stunts
---
Labour loses byelection but Corbyn isn't the problem
Protest against closure of vital heart unit
Socialist Party members join disability rights week of action
PO Box 1398, Enfield EN1 9GT
020 8988 8777

Link to this page: https://www.socialistparty.org.uk/issue/916/23556
Home | The Socialist 14 September 2016 | Join the Socialist Party
Subscribe | Donate | Audio | PDF | ebook
#KeepCorbyn
Thousands of people have attended rallies and meetings in support of Jeremy Corbyn. A few are reported here, for more detail and further reports see socialistparty.org.uk
Featherstone
On 10 September Jeremy Corbyn attended his 35th election rally in the last month, at Featherstone Rovers Rugby League ground in Yorkshire. Several hundred gave him a standing ovation.
Introductory speakers commented how it had been difficult to keep the faith with the Labour Party after the experiences of Blair, Brown and Miliband. However, Labour is now potentially back where it belongs, in the hands of the people.
A young, recently joined Labour member asked the question: "Is it too much to want affordable housing, stable jobs with decent wages and free education for future generations?"
Jon Trickett, Labour MP for the area, related back to the Featherstone massacre of 123 years ago, when miners were shot at for striking against pay cuts. Back then, Labour's first MP Keir Hardie spoke in Featherstone and campaigned hard for the miners' case.
It was raised that we face the same question today. Do we want a Labour Party led by socialists, fighting for a political voice of workers, or another set of pale Tory imitators?
He said that we must, and will, offer something very different to the electorate. He went on to explain an alternative programme of good quality, full employment all over the country.
Corbyn summed up by saying Labour would eliminate all discrimination, come together with the people to defeat the Tories and create a society that is better for all.
Socialist Party members held a prominent campaign stall outside the ground and sold 84 copies of the Socialist and raised £35 for our fighting fund, as well as selling other literature including a copy of the 'Rise of Militant' book. Several young people expressed their interest in joining the Socialist Party.
Mick Griffiths. Wakefield Socialist Party
---
Nottingham
Jeremy Corbyn received a fantastic reception from 2,500 people at an open air rally in Nottingham on 7 September. Jeremy spelled out the ten points of his programme for leader of the Labour Party.
He represents a break with the past Blairite leadership highlighting that Labour's programme at the last general election was at fault and led to defeat: "Sure Start workers and teachers were not to blame for the recession of 2008" he said.
It was the greed of the unregulated banking sector which caused the crash. He went on to say that the measure of success of a Labour government would be taking people out of poverty and extending workers' rights.
He explained his policies on housing and the NHS which were greeted with cheering and enthusiasm by the audience.
Corbyn spent some time explaining his energy programme. He is in favour of the establishment of hundreds of publicly owned energy companies to provide competition for big energy providers.
This should be a subject for debate as nationalisation of the big energy companies should be a priority in any such programme. Socialist Party members received a good response from the audience.
We sold 120 copies of the Socialist and distributed hundreds of leaflets.
This was the largest open air left-wing public rally in Nottingham for probably decades. It was so large it even received a brief report on the local BBC radio station!
Pete Watson, Nottingham Socialist Party
---
Reading
I went to my first Momentum meeting in Reading on 7 September. It was welcoming and friendly with nearly 40 people there with an age range from 17 to the veterans of the movement.
There were people that used to be in the Green Party, Labour Party members and some that haven't yet joined. The main topic was helping Jeremy Corbyn win the election with phone banking.
However lots of people wanted to discuss politics with some saying Jeremy has to be more forceful in getting his policies across. There was some discussion on deselecting the Blairites and organising street campaign stalls to reach people.
I had interesting chats with lots of people, especially on how the Socialist Party has been helping support Jeremy from outside Labour, with our action in the trade unions. For example, getting Unite to pass a reselection resolution and our position (and now the position of the three major trade unions) on Labour councils passing no-cuts budgets.
I sold five copies of the Socialist and Reading Momentum are organising another meeting soon.
John Gillman. Reading Socialist Party
---
Staines
The Socialist Party organised a 'Surrey 4 Corbyn' rally on 8 September in Staines, chaired by Unison rep Paul Couchman. The speakers included Socialist Party Deputy General Secretary Hannah Sell.
Questions were raised concerning what would happen after the Labour leadership contest. Would a split encourage the right to leave the party and set up their own? Or would they fight for the Labour name? We should join with any campaigns that would fight the right.
Whatever the result of the leadership contest, there still needs to be continued campaigning to keep up momentum and support for the socialist ideas that have attracted hundreds of thousands to the Labour Party. The capitalists are well aware of the danger.
One thing is for sure, the civil war in the Labour Party won't end after the result of the leadership election on 24 September. Corbyn represents a massive opportunity for the movement. The Blarite forces in the Labour Party are absolutely determined in their fight and therefore so should we be in ours.
James Bibey, Bracknell
---
In this issue
---
What we think

Labour party needs democratic structures and socialist policies
---
Socialist Party news and analysis

#KeepCorbyn: Fight workhouse conditions

NHS chiefs warn cuts mean rationing or charges

Fund smaller classes - not new grammars

Benefit cap could shut 67% of women's refuges

Them & Us

What We Saw
---
International socialist news and analysis

New 'strongman' president threatens martial law - while leaning on left parties for support

International news in brief
---
Socialist Party feature

Obesity crisis: government strategy offers no solution
---
Workplace news and analysis

Westbourne Park bus dispute continues

NSSN lobby of the TUC: an urgent time for our movement

Library workers defeat Tory cuts

Thousands of Post Office workers to strike against job losses

Southern Rail dispute update

Workplace news in brief
---
Socialist Party youth and students

Why you should become a socialist student!

Students and workers unite to cut rents

Why I joined the Socialist Party

Join the Socialist Party - join the fightback
---
Socialist readers' comments and reviews

Fighting fascism with motorbike stunts

The Socialist inbox
---
Socialist Party reports and campaigns

Labour loses byelection but Corbyn isn't the problem

Protest against closure of vital heart unit

Socialist Party members join disability rights week of action

#KeepCorbyn
---
Home | The Socialist 14 September 2016 | Join the Socialist Party