The Socialist 1 November 2017
Robber bosses own $6trn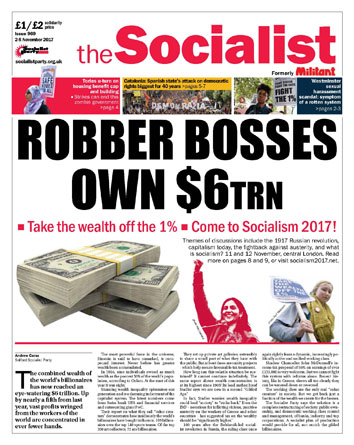 ---
Westminster sexual harassment scandal: symptom of a rotten system
---
Catalonia: Rajoy's furious response to proclamation of Republic
---
Socialism 2017: ideas to change the world
---
Fight for free education: join the budget day protests!
Tories u-turn on social housing benefit cap and borrowing to build
Unions must fight workplace mental health crisis
No to 'Carebnb' privatisation of hospital beds
---
Coordinated strike action on five rail networks against driver-only operation
Arriva bus workers' dispute continues
PCS pay cap ballot closes soon
North east England blacklisting conference success
---
Teachers, students and parents demand an end to the schools funding crisis
The "club no-one wants to be part of" - march by families of those killed in police custody
Derby: expenses for councillors, cuts for everyone else
Health campaign groups come together in Barnsley to protest closures and downgrades in the NHS
Anger over plan to build housing on Yorkshire flood plain
---
New play celebrates Grunwick strike
Skipton show proves draw of socialist art
PO Box 1398, Enfield EN1 9GT
020 8988 8777
editors@socialistparty.org.uk

Link to this page: https://www.socialistparty.org.uk/issue/969/26387
Home | The Socialist 1 November 2017 | Join the Socialist Party
Subscribe | Donate | Audio | PDF | ebook
No to 'Carebnb' privatisation of hospital beds
Nancy Taaffe, Waltham Forest Socialist Party
In the week of Halloween, a truly chilling proposal haunted the NHS under Theresa May's zombie government. Start-up company 'CareRooms' set up a stall in the canteen at Southend University Hospital to find Airbnb-style 'hosts' to take in recovering patients.
It was looking for people who live locally and have a spare room to house hospital users for £50 a night. Hosts would be asked to welcome patients recovering from minor procedures, cook three microwave meals a day, and offer conversation.
According to CareRooms, the scheme targets patients who do not have a family to care for them at home.
Southend Hospital pulled out of the pilot as soon as the story broke. But the supposed justification for the scheme was a 40% increase in so-called 'bed blocking' - peaking at up to 6,000 a day, and blamed by one research team for up to 8,000 deaths.
However, the villains of this horror story are not vulnerable people stuck in hospital beds. It's vampire-like cuts and sell-offs that are sucking the lifeblood out of the NHS and social care.
The Tories and Blairites have drained the whole system of resources, from the moment you walk through the door at A&E to the aftercare at home. Gig economy models like Airbnb are part of the problem, not the solution.
CareRooms is part of the NHS 'clinical entrepreneur programme'. The very existence of that government project reveals the spreading tentacles of private interests in public healthcare.
The chair of one of the Tories' 'sustainability and transformation plan' cuts schemes, Mike Bewick, is an unpaid advisor to CareRooms. Bewick is also NHS England's former deputy medical director. There's a revolving door between management overseeing cuts and privatisation, and firms seeking to profit from it.
What the NHS truly needs is a stake through the heart of all privatisation. The Socialist Party campaigns for an NHS fully funded, fully staffed and free at the point of use. Only a socialist programme can end the Tory and Blairite nightmare in our NHS.
Socialism 2017 (11 and 12 November, central London)
Discussions include: can NHS privatisation be stopped before it's too late?
---
In this issue
---
What we think

Westminster sexual harassment scandal: symptom of a rotten system
---
International socialist news and analysis

Catalonia: Rajoy's furious response to proclamation of Republic
---
Socialism 2017

Socialism 2017: ideas to change the world
---
Socialist Party news and analysis

Robber bosses own $6trn

Fight for free education: join the budget day protests!

Tories u-turn on social housing benefit cap and borrowing to build

Unions must fight workplace mental health crisis

No to 'Carebnb' privatisation of hospital beds

Them and us

What we saw
---
Workplace news and analysis

Coordinated strike action on five rail networks against driver-only operation

Arriva bus workers' dispute continues

PCS pay cap ballot closes soon

North east England blacklisting conference success
---
Socialist Party reports and campaigns

Teachers, students and parents demand an end to the schools funding crisis

The "club no-one wants to be part of" - march by families of those killed in police custody

Derby: expenses for councillors, cuts for everyone else

Health campaign groups come together in Barnsley to protest closures and downgrades in the NHS

Anger over plan to build housing on Yorkshire flood plain
---
Socialist readers' comments and reviews

New play celebrates Grunwick strike

Skipton show proves draw of socialist art

The Socialist inbox
---
Home | The Socialist 1 November 2017 | Join the Socialist Party