The Socialist 1 November 2017
Robber bosses own $6trn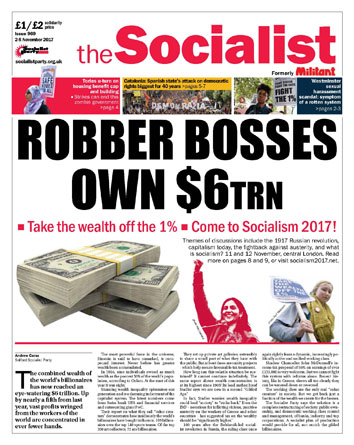 ---
Westminster sexual harassment scandal: symptom of a rotten system
---
Catalonia: Rajoy's furious response to proclamation of Republic
---
Socialism 2017: ideas to change the world
---
Fight for free education: join the budget day protests!
Tories u-turn on social housing benefit cap and borrowing to build
Unions must fight workplace mental health crisis
No to 'Carebnb' privatisation of hospital beds
---
Coordinated strike action on five rail networks against driver-only operation
Arriva bus workers' dispute continues
PCS pay cap ballot closes soon
North east England blacklisting conference success
---
Teachers, students and parents demand an end to the schools funding crisis
The "club no-one wants to be part of" - march by families of those killed in police custody
Derby: expenses for councillors, cuts for everyone else
Health campaign groups come together in Barnsley to protest closures and downgrades in the NHS
Anger over plan to build housing on Yorkshire flood plain
---
New play celebrates Grunwick strike
Skipton show proves draw of socialist art
PO Box 1398, Enfield EN1 9GT
020 8988 8777
editors@socialistparty.org.uk

Link to this page: https://www.socialistparty.org.uk/issue/969/26395
Home | The Socialist 1 November 2017 | Join the Socialist Party
Subscribe | Donate | Audio | PDF | ebook
Anger over plan to build housing on Yorkshire flood plain
Peter Robson, Todmorden resident and Bradford Socialist Party member
One resident at a recent meeting in Todmorden shouted out at Tory MP Craig Whittaker: "We know who you are Whittaker - a friend to the builders!"
The government currently requires local councils to produce a local plan which identifies land to meet their requirements for new housing and economic development, over the next 15 years.
The latest estimates indicate that Calderdale, West Yorkshire, will need over 17,000 new houses by 2032.
Calderdale council wants to build somewhere in the region of 7,000 homes on local green belt land in the near future through this plan.
Whittaker and the council representatives failed time and again to recognise the housing crisis in this community, which of course, is mirrored around the country. These will not be affordable homes and will also be built on a flood plain as well as placing a heavier burden on the town's roads and services.
Whittaker said of the Labour-run council: "The council has serious questions to answer about the way in which this consultation process has been managed and publicised and they urgently need to take steps to rectify this." This is true but it is the Tory government and Communities Minister Sajid Javid who are creating the proposals in the first place.
The whole process has been a farce from day one, with forms to submit objections being delayed by a system that clearly could not cope with the number of objections to these plans.
This was clearly demonstrated at the packed public meeting with 200 people in attendance. Fair to say Whittaker did not have an easy time, struggling to respond to fears and concerns.
Socialism 2017 (11 and 12 November, central London)
Discussions include: local government - the next scene of the anti-austerity battle?
---
In this issue
---
What we think

Westminster sexual harassment scandal: symptom of a rotten system
---
International socialist news and analysis

Catalonia: Rajoy's furious response to proclamation of Republic
---
Socialism 2017

Socialism 2017: ideas to change the world
---
Socialist Party news and analysis

Robber bosses own $6trn

Fight for free education: join the budget day protests!

Tories u-turn on social housing benefit cap and borrowing to build

Unions must fight workplace mental health crisis

No to 'Carebnb' privatisation of hospital beds

Them and us

What we saw
---
Workplace news and analysis

Coordinated strike action on five rail networks against driver-only operation

Arriva bus workers' dispute continues

PCS pay cap ballot closes soon

North east England blacklisting conference success
---
Socialist Party reports and campaigns

Teachers, students and parents demand an end to the schools funding crisis

The "club no-one wants to be part of" - march by families of those killed in police custody

Derby: expenses for councillors, cuts for everyone else

Health campaign groups come together in Barnsley to protest closures and downgrades in the NHS

Anger over plan to build housing on Yorkshire flood plain
---
Socialist readers' comments and reviews

New play celebrates Grunwick strike

Skipton show proves draw of socialist art

The Socialist inbox
---
Home | The Socialist 1 November 2017 | Join the Socialist Party