The Socialist 8 November 2017
'Paradise' for billionaires, austerity for us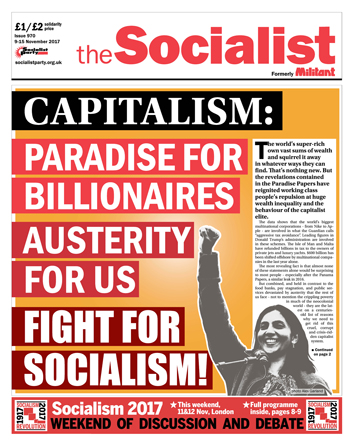 ---
'Paradise' for billionaires - austerity for us
---
Westminster sexual harassment scandal
Walk out against tuition fees!
Bosses say 217 years to close pay gap - workers' struggle can close it now!
Child poverty set to hit 5.2m - unions and Corbyn must act now
---
Pay cap decisively rejected by PCS union members
BA mixed-fleet workers show strikes get results
Unite union sector conferences: coordinate action over pay
Picturehouse strike: "evil corporations are evil"
---
US: Minneapolis Socialist chimes with voters
Ireland: rail workers demand share of 'recovery'
Ireland: dangerous ideas for the ruling class
Spain: Madrid rally celebrates October revolution
Sweden: 'Revolution2017' success
---
Health campaign discusses strategy to save NHS
Chatsworth neuro-rehab ward still open - unions join the campaign
Housing campaigners ask Corbyn to instruct Labour council regeneration ballots
Thousands march in London for Palestine
Opposition to new academy school being built on Leeds playing fields
Orgreave campaigners' Halloween 'Death of Justice' march
Sheffield trees campaigner sentenced to prison
Brum meeting celebrates centenary of 1917
---
Obituary: Derek Robinson, car workers' leader, 1927-2017
Welsh update of Chekhov an engrossing tale of 1980s class conflict
Obituary: Paul Randall, 1959-2017
PO Box 24697, London, E11 1YD
020 8988 8777
editors@socialistparty.org.uk
Socialist readers' comments and reviews




LATEST POSTS

WHAT'S ON

CONTACT US
Locate your nearest Socialist Party branch Text your name and postcode to 07761 818 206
Regional Socialist Party organisers:
Eastern: 0798 202 1969
East Mids: 0773 797 8057
London: 020 8988 8786
North East: 0191 421 6230
North West 07769 611 320
South East: 020 8988 8777
South West: 07759 796 478
Southern: 07833 681910
Wales: 07935 391 947
West Mids: 02476 555 620
Yorkshire: 0114 264 6551

ABOUT US

ARCHIVE
---

2017

2016

2015

2014

2013

2012

2011

2010

2009

2008

2007

2006

2005

2004

2003

2002

2001

2000

1999